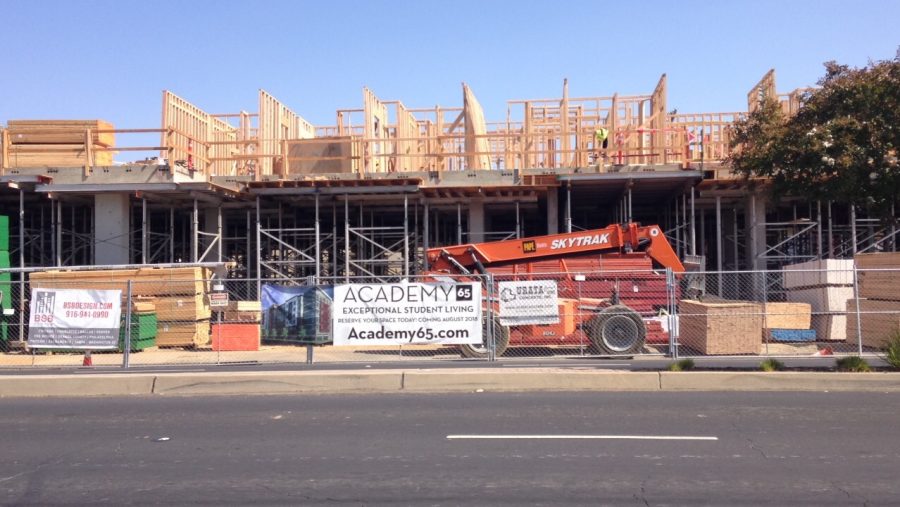 Camille Escovedo - State Hornet
Students may expect more housing options as multiple residential projects surrounding Sacramento State are scheduled for construction over the next few years.
The Crossings, Academy65, Q Street Commons and the new on-campus housing project—to be built where the Dan McAuliffe Memorial Ballparks currently stand—are just four of the seven housing projects newly built or soon to be available for students to reside in.
Less than a mile from campus and recently opened, The Crossings offers a variety of options for students. According to Xena Phomsopha, a community assistant at The Crossings, the apartment complex offers several different room styles, resident activities and amenities.
RELATED: New living complex for students set for fall of 2018
Up to 750 rooms of various floor plans are available to students and non-students with rent prices ranging from the low eight-hundreds to thousands of dollars.
"We have different floor plans, like studios to two-by-twos, to three-by-threes, four-by-four," Phomsopha said. "Our four-by-fours range from the low 800s to the mid 800s, and then our other, our most expensive, would be in the thousands."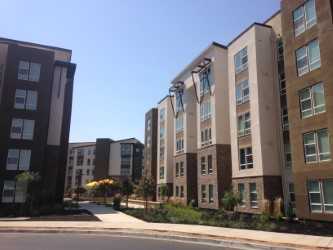 The housing project considers students' needs and interests, including amenities like study rooms, a game room, and a gym, said Aaron Cason, a Sacramento State communication studies major and community assistant at The Crossings.
Alternative payment options are possible on a case-by-case basis for those who struggle financially.
"We allow people to use their financial aid to help qualify to live here, but I know there's other ways we try to help go around [it], depending on the person's case," Phomsopha said. 
Cost matters to public relations major Alexis Roberts. "Honestly, I think the student housing, like The Phoenix, The Foundation, and The Element – if you can afford it, that's good for you, but, like, I can't. I don't get financial aid like that," Roberts said.
The commute from her parents' house to campus takes about 20 minutes, Roberts said. "If I move out, I'd wanna walk to school. Because the parking situation here is ridiculous."
RELATED: Notice a little extra construction around campus? Here's why
Sac State physical therapy major Sarah Curd said the hunt for housing would be easier with more options.
"If there's more housing, I'm going to assume that potentially they could just be a little bit cheaper or have more options," Curd said.
RELATED: 'It's Sacramento, not you': Students caught in the crosshairs of statewide housing crisis
Meanwhile, the Academy65 project on 65th Street, plans to offer a total of 270 beds and claims to complete construction by July 2019, Senior Vice President of Asset Services at GMH Capital Partners Rand Ginsburg said via email.
The floor plans include two-by-two and four-by-four styled rooms, with shared bedrooms starting at $740 a month.
"Academy65 is ideally located adjacent to Sac State so your commute to class will always be a breeze," said Ginsburg. "Approximately (a) two minute walk to campus."
The Q Street Commons, located at 6779 Q Street, is another one of the developments considered as an option for housing to students.
According to an environmental impact report from the City of Sacramento, the six-story building will have 424 bedrooms and is expected to be ready for occupation by June 2020.
Stacy Kincaid, the developer of the project, was unavailable for comment.
Beginning in the summer of 2021, the Dan McAuliffe Memorial Ballparks at Sacramento State are scheduled to transform into new on-campus housing for students.
Brigett Reilly, University Enterprises, Inc. Director of Property Services, said via email that the 1,100-bed project is aimed towards students taking upper division courses.
"Using information gathered from numerous focus groups, this project has been designed with Sacramento State's upper division and transfer students in mind," Reilly said.
Studio, two-bedroom and four-bedroom apartments, each with full kitchens included, will be available. Pricing will be confirmed when leasing begins in 2020, so that students may move in summer 2021, according to Reilly.
Reilly said that the new on-campus housing will offer amenities which include community rooms, study rooms, a swimming pool, fitness center, volleyball and basketball courts, and a cafe.
The McAuliffe baseball fields project aims to allow students to travel to and from classes and events more efficiently, according to Reilly.
As for its impact on students, Reilly said the project's location "will provide easy, time-saving access to the university's academic, recreational and social activities".   
More information about the McAuliffe baseball fields project will be available for students in the fall semester of 2020.
RELATED: Baseball fields to be turned into $150 million on-campus housing
The other three housing projects in the works are 65 East, the Elvas Avenue Apartments, and an unnamed housing project.
65 East, being developed by TriCap Development has five stories, retail, 750 beds and is planned to be located near the 65th Street light rail stop.
The Elvas Avenue Apartments, also by TriCap Development, at 6325 and 6329 Elvas Ave. has 60 units planned.
Lastly, the unnamed housing unit at 7951 Folsom Blvd. will offer 581 beds.
Interactive map created by Caleb Danielson