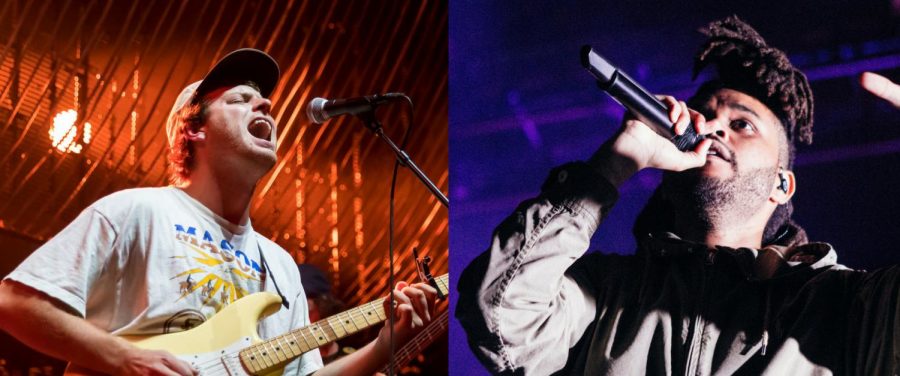 Who's your favorite Outside Lands performer? Two State Hornet editors battle it out for their top pick.
Left: Ralph Arvesen. Right: Kayla Johnson. CC BY 2.0
Who's your favorite Outside Lands performer? Two State Hornet editors battle it out for their top pick.
August 10, 2018
Outside Lands, an annual music festival held at Golden Gate Park in San Francisco, is set to begin Friday. Headliners include The Weeknd, Florence + The Machine and Janet Jackson, and there are over 50 musicians, comedians and politicians slated to perform for the duration of the three-day festival.
Outside Lands has a selection of performers that could please just about anyone — ranging from Sacramento's own Hobo Johnson & The Lovemakers to indie singer Bon Iver. The range of acts may cause some to rejoice, though for others, arguments over who to see may ensue.
Two State Hornet editors with different tastes in music — Robby, who likes rap, chose The Weeknd, and Claire, who likes alternative music, chose Mac DeMarco — argued for their own respective favorite performers of the weekend.

Mac DeMarco
Listen here, people. If you're going to Outside Lands and you don't plan on seeing Mac DeMarco, then what is the point of going at all?
Though Ranger Dave and the rest of the Outside Lands lineup decision-making crew decided not to list DeMarco as a headliner — which is a travesty in and of itself — does not mean he is an act to consider less than his fellow performers.
I remember the first time I heard anything by DeMarco: I discovered "Salad Days" in 2014 one night when I was alone in my dorm room. His sound had me hooked immediately — I played the song over and over until I fell asleep. Sure, other Outside Lands performers are good, but none of them have garnered such a profound reaction upon listening to their music for the first time.
DeMarco is a masterful guitar player. Take a listen to "The Stars Keep On Calling My Name" and that much will be apparent. He also plays many of the instruments that are featured on his recorded music, which goes to show what a talented musician he is.
The way his voice floats over the other sounds is absolutely dreamy, and everything blends together beautifully. Any of his work is the perfect soundtrack to a lazy afternoon — mellow, with mumbled lyrics and guitar riffs that make you feel like you're going to fall into an indie movie about a bunch of stoned skateboarders.
In addition to his musical talent, which was all I really needed in the first place, DeMarco is a character. He listed his physical address — though he has since moved — at the end of the song "My House by the Water," inviting fans to "come over, I'll make you a cup of coffee." His fan club is run by his mother.
DeMarco is known for his personality along with his stage presence, and he often interacts with his audience. Once, he let a fan play his guitar during a show.
Yeah, I know that it's so cliche to love Mac DeMarco, but there's a reason that he was named the "Lovable Laid-Back Prince of Indie Rock" by the New York Times — it's because he's great.
You can catch me at the very front of the crowd when it's his turn to perform, and the second that I hear the intro to "On the Level," I will cry.

The Weeknd
The Weeknd wins my Outside Lands Bracket Challenge 2018 simply because of his well-earned reputation for making beautiful music that can make you cry your hearts out over a past love, as well as for making some groovy dance pop music that sets the mood, if you know what I mean.
The Weeknd's latest release, "My Dear Melancholy," had us fans singing songs like "Call Out My Name" and "Wasted Times" for a week straight.
At Outside Lands I hope to see The Weeknd perform a good mix of all his best stuff. I want to dance like crazy to "Can't Feel My Face." I want him to perform "Wicked Games" or "Die For You" and let the music make me think of past lovers that I probably shouldn't be thinking about. I want The Weeknd to set the mood for the crowd by performing "High For This" or "Earned It."
What I'm most excited about for this performance is that I know it is going to be genuine. Watching past performances by The Weeknd online I see that his live voice is naturally good.
Performers who don't have that great of a live voice try to hide the fact by lip syncing or letting the crowd sing portions of the song. I'm not about that stuff.
I paid a lot of money to see these performers so I want to hear them perform their songs. Not them lip syncing up there or hearing the crowds' rendition.
I have no doubt that The Weeknd is going to put on a great show and set the bar high for other performers the first night of the festival. You will definitely find me somewhere towards the front of the crowd vibing with music that I have waited years to see live.