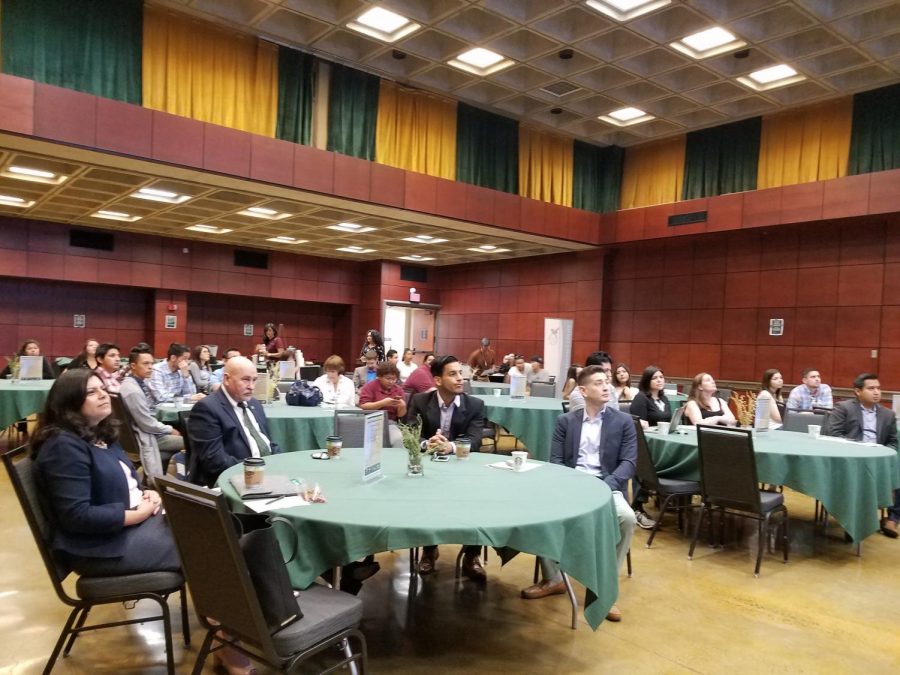 Yajayra Gonzalez
Sacramento State held a forum on Saturday for students and community members concerned as a court ruling could be made as soon as Monday, Aug. 13, in Texas that will affect millions of DACA recipients.
Rossmeri Ramirez, Sac State alumna and now program coordinator of the Dreamer Resource Center, said this forum was motivated by the upcoming court ruling in Texas v. Nielsen that threatens the status of  Deferred Action for Childhood Arrivals (DACA) recipients.
The attendees gathered to listen to President Nelsen, legal experts and community leaders discuss DACA litigation, potential solutions to the upcoming court ruling, and informed at risk DACA recipients of additional resources available to them via the Dreamers Resource Center.
Ramirez said that the Dreamer Resource Center can be classified as a community organization because it provides services and resources to everyone — not just Sac State students.
In the case of Texas v. Nielsen, federal Judge Andrew S. Hanen declined to rule that DACA was unconstitutional on behalf of Texas, and requested specific briefing from both parties before making a decision. Ramirez said since then many students and community members have been reaching out with concerns about what will happen to their status.
"With this forum, we want to let people know they are not alone and create awareness that there are various other services available to them," Ramirez said.
She says that the latest news creates an anxious environment for DACA recipients.
"They don't know what tomorrow will be like," Ramirez said. "Their identity and their future is tied to what happens in these court rulings, a lot of these student's futures are on the line."
Sac State senior Nancy Sanchez attended the forum seeking more information on the latest court ruling and how it will affect her status as a DACA recipient.
"It makes me very fearful because you spend all this time, money, effort to get an education that you may not be able to pursue," Sanchez said. "The biggest concern I have is losing my status and our work authorization. For some of us that will mean we will lose the opportunity to go to school here because we won't be able to afford it anymore."
President Nelsen said that there are many DACA recipients at Sac State that are being affected by the threats DACA is currently facing.
"Right now with what is happening in the court system, everything is unstable, and we need to provide stability," Nelsen said. "We want to protect them, we want to make sure they have a safe environment here at Sac State."
Nelsen said that it is important to have these discussions at Sac State because he wants students to know that  "somos una familia," we are a family.
"Four years ago, when I first arrived, we did not have a Dreamer Resource Center," Nelsen said. "That was one of the very first things we put in place the first week I arrived. It is a top priority and it will remain a priority, and we will continue to fund the center."
Sac State freshman Endrich Sanchez said the forum was helpful because he learned about the resources available to him at Sac State.
"This event encouraged me because there was a point where I was feeling down and wanted to give up because I felt like there was not going to be any change or hope for students like me," Sanchez said.
He said that after he heard President Nelsen and the legal experts speak, he was motivated to keep going.
"I no longer felt scared and alone," Sanchez said. "I found a lot of optimism today. I'm just an incoming freshman, but I already feel at home."