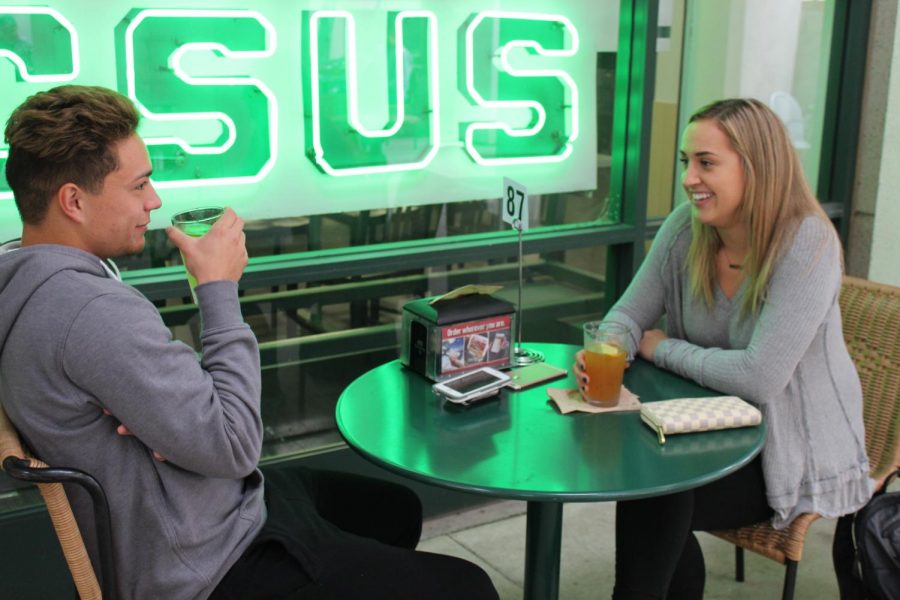 Will Moon - The State Hornet
Round Table Pizza has been selected by State Hornet readers as the best place to get a beer on campus in this year's Best of Sac State poll.
Brian Abrams is a business major who comes exclusively to Round Table when he's looking for a drink on campus.
"I didn't even know there was beer anywhere else," Abrams said.
Beer can also be purchased at Epicure and Baja Fresh.
Anthony Dao, who graduated in 2010 with a degree in mechanical engineering, and Tram Nguyen, who graduated in 2011 with a degree in management information systems, said they like to swing though "the kick it spot" to reminisce when they're on campus visiting their niece.
"There used to be a bar over there," said Nguyen, gesturing vaguely in the direction of the Riverfront Center. "I don't think they have it anymore. This was the main kick it spot. Everyone came here to get breadsticks and a beer."
RELATED: Round Table Pizza voted 2018 'Best on-campus dining' at Sac State
Tyler Shaw, a public relations major, said he likes Round Table's selection of heavy, hoppy beers, but he also said he would like more variety.
Haylee Chan, a child development major agreed with him.
"Ciders would be good," Chan said. "And sours — you know, more crafty tasting beers."
Shaw said he thinks there are a lot of missed opportunities for beer on campus. He said Sacramento has a lot of breweries that he has done marketing for as part of his coursework, and he would love to see some of them partner with the school.
RELATED: Class untaps beer knowledge for students
"It's a great thing to do for local Sacramento projects, so they could promote that, and they could tie that into how they do their advertising," Shaw said. "I think it'd be a cool thing to see local breweries."