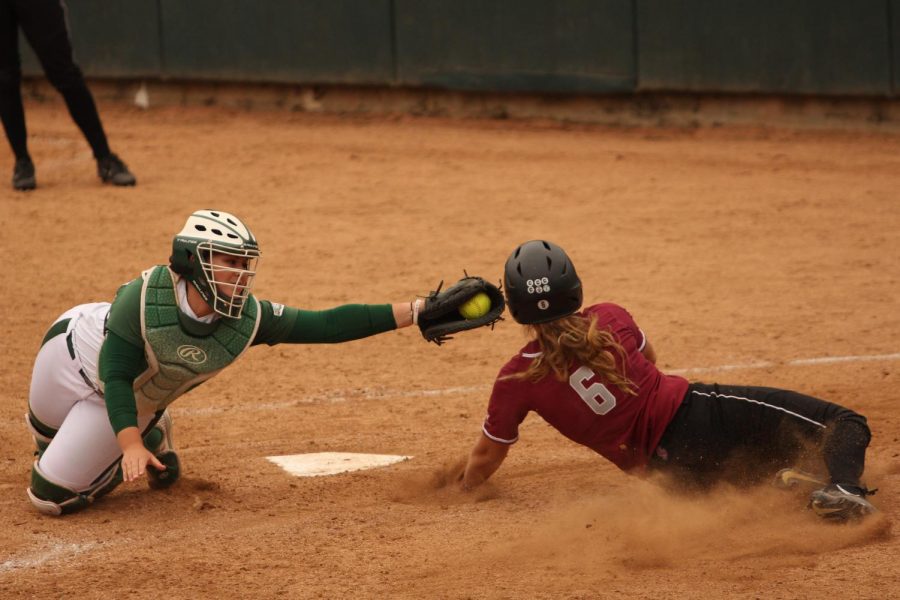 Alex Daniels - The State Hornet
The Sacramento State softball team defeated Santa Clara University 3-1 thanks to timely hitting on Wednesday at Shea Stadium.
The Hornets (21-11, 6-3 Big Sky Conference) — which have now beaten the Broncos (5-28, 0-3 West Coast Conference) in all four meetings this season — started sophomore pitcher Danielle Sperry.
She pitched five and a third innings, giving up one run on four hits and striking out two batters. Prior to the game, Sperry had an ERA of 7.00.
"I was just really in command with my pitches and spinning the ball," Sperry said. "So, it just seemed to work.
"It felt really good (to have a good performance). I was a little in my head at first with nerves since I haven't pitched in awhile, but I think today really just settled those and it felt good."
The Hornets — which came into the game batting .300 as a team — struggled to get hits throughout the contest as Santa Clara sophomore pitcher Aubree Kim threw six innings, giving up two earned runs on six hits and striking out four batters.
Despite these struggles at the plate, Sac State coach Lori Perez said she was proud with how her team battled.
"Their pitcher threw well against us," Perez said. "She had us guessing and taking pitches we would normally swing at and throwing us off balance. I thought we did a good job just chipping away and staying in the game.
"Sometimes, you'll go into the game and the pitcher will get you to guess a little bit and you're going to have to play a little small ball and catch a few breaks."
The Hornets took an early lead on a pop-fly error at first base from Broncos freshman first baseman Samantha Needham in the second inning.
Santa Clara answered back with a sacrifice fly out by junior outfielder Jordan Dawkins in the sixth inning to tie the game.
Sac State then took the lead again after Nene Alas' go-ahead two RBI single with two outs in the sixth inning which was enough for the Hornets to get the victory.
"I was just trying to keep things simple," Alas said. "(Kim) had me on the first at-bat striking out, and I just wanted to come through for my team and get something (in play)."
Senior pitcher Celina Matthias — who came in for Sperry with one out in the sixth inning — got the win after pitching one and two thirds innings, giving up one hit and striking out one batter.
Junior outfielder Sydnee Strong went 2-for-3, while junior shortstop Sydney Rasmussen and senior second baseman Zamari Hinton added a hit each.
Hinton, with her 1-for-4 performance, extended her hit streak to 20 straight games which puts her one game away from tying the Division I program record.
The Hornets will next take on Idaho State on Friday and Saturday at Miller Ranch Stadium in Pocatello.