Students walk for suicide prevention
Posters, puppies, walking and suicide awareness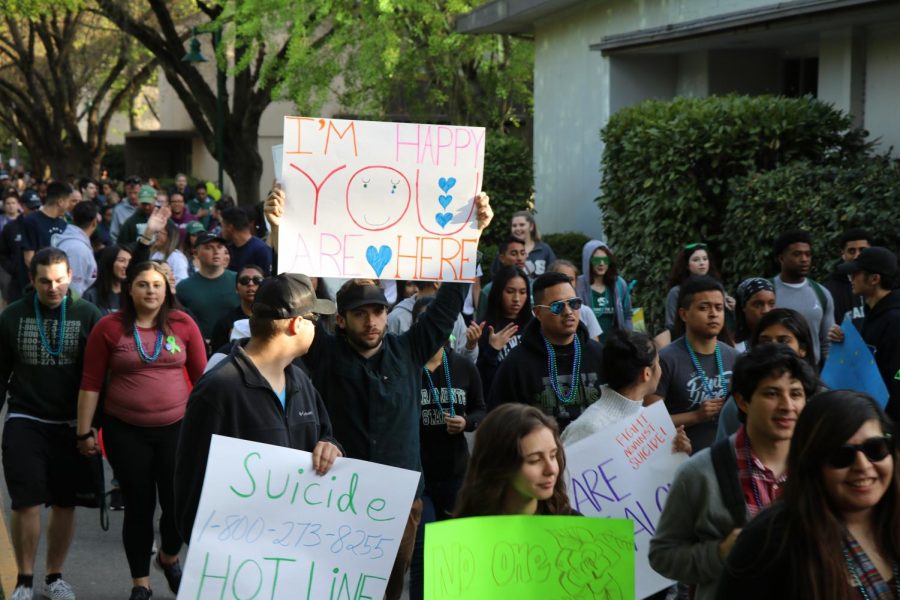 Sacramento State's Out of the Darkness Campus Walk was held Thursday in front of The WELL and centered around bringing awareness to the cause of suicide prevention.
The event ended with a two-mile walk that was run by volunteers.
Before the event began, a resource fair took place on the lawn. Students, staff and family shared their stories and gathered to receive information and attention from therapy dogs.
Criminal justice major Alexandra Morgan has dealt with deep depression for the last few years.
Hundreds of students, staff and other civilians are streaming through the Sac State campus for the Out of the Darkness Walk supporting the fight for suicide prevention and awareness @TheStateHornet pic.twitter.com/UT6GrysvQP

— Oscar rZod (@OscarRzod) April 13, 2018
"I almost went into a mental hospital myself," she said. "There were a bunch of times in high school where I had to drop out just to deal with suicide prevention.
"I never thought I could go to college. It's always kind of empowering just driving through seeing the Sac State sign and being like 'I did it, I made it through.' "
Kyle Shea, a political science major, said he attended the event to promote general awareness.
"It affects a lot more people than we realize, in my opinion, and I know, I lost my mother to suicide, so I'm aware of the burden it can have on a person."
Before the walk, participants created posters and put on honor beads that represented who and what they were walking for.
"One of my friends committed suicide last summer and it was just the most shaking thing because she was the happiest person, and no one would have seen it coming from her," said student Jane Nathan. "It just made me realize how unpredictable suicide is."
At 5:30 p.m. the opening ceremony began and seven speakers shared their testimonies.  
President Robert Nelsen's wife, Jody Nelsen, spoke and walked in memory of her son, Seth, who took his life at age 25.
"We thought that he had turned the corner on his depression and then one evening the police came to our door and gave us the horrific news that he had taken his life," Jody Nelsen said. "It's really hard to realize that we can't control what happens in life and even harder for a parent to not be able to protect their child.
It is such a struggle to overcome these struggles, but I know from personal experience that if we share our stories, bring them out of the darkness our burden is a little bit easier to bare."
Alyssa Lopez has obsessive-compulsive disorder.
Lopez said she didn't want to be labeled as crazy or deal with the stereotypical jokes.
"For example, people with depression are told just to think happy thoughts, people with anxiety are told to worry less and people with OCD are labeled as clean freaks but (like) most mental illnesses my disorders symptoms are unique," Lopez said. "I used to take 10-15 minutes bubbling in one problem. I used to count when I walked. I used to lock everything twice and do rituals every morning. My mind is a constant cycle of thought that would drive the average mad."
Lopez said the anxiety attacks included symptoms such as hyperventilating, crying and shaking.
"I convinced myself that I was of no value to this world. At the age of 15, I attempted to end my life. By the time I was 18, I had memorized the suicide hotline number. Like the famous quote from 'The Perks of Being a Wallflower,' you accept the love that you think you deserve."  
Suicide tends to be a topic that is very taboo and stigmatised, said Jennifer Burton, a Sac State Health Educator.
"I've had students tell me they've had suicidal thoughts and ideation and knowing that we are here to support them to decrease their shame," she said.
"I'm finally in a place where I have never been happier," said senior and psychology major Lisa Raimondo, who said she struggled with ongoing mental illness and suicide ideation. "I didn't think I'd live this long to graduate college and here I am graduating in 30 days."
The walk started at The WELL and continued through the quad to the Residence Halls.
Participants held up signs as they looped around the campus and walked back to The WELL.
Donations for the event exceeded the original goal of $10,000, bumping the mark from $15,000 to $18,000. As of today $16,350 has been raised and that number continues to grow.
The proceeds go back to The American Foundation for Suicide Prevention, according to Burton. The funds are then used for events like this, research and education. The window to donate closes on June 30.
According to the foundation's website, its goal is to reduce the annual suicide rate 20 percent by 2025.
"It's a sign of strength to ask for help, not weakness," Raimondo said. "There's always tomorrow; it may feel like the world is crumbling around you but you will get through it, it will pass."
Additional reporting by Oscar Rzodkiewicz