Salsa Loca club prepares for its biggest event of the year
Walking through the University Union on a Wednesday night makes it almost inevitable you will be drawn in by the loud, upbeat, Latin music. People stop by and peek their head in to see what is going on.
At the door, people immediately encounter eager Salsa Loca officers with big smiles on their faces greeting the regular members, and encouraging the shy newbies to come in and join them.
Salsa Loca Treasurer Milagros Collins talked about opportunities available for becoming involved with Salsa Loca.
On Thursday, she said, the club will be hosting its biggest event of the year, Salsa Loca Live.
She explained that Salsa Loca Live is a community-wide event, and there will be a live band playing salsa music.
Alumna Alexandria Ybarra explained why she's looking forward to the event.
"To listen to music live is a very different vibe then listening through the stereo system," she said. "I am pretty excited."
This free event will take place Thursday from 6 to 11 p.m. in the University Union Ballroom.
Miguel Angeles is a mechanical engineering major and he is a regular member of the Salsa Loca club.
"Salsa Loca is just a Latin social dancing club," he said. "We just dance and have fun here."
Angeles said he likes to come to Salsa Loca to dance, de-stress and make new friends.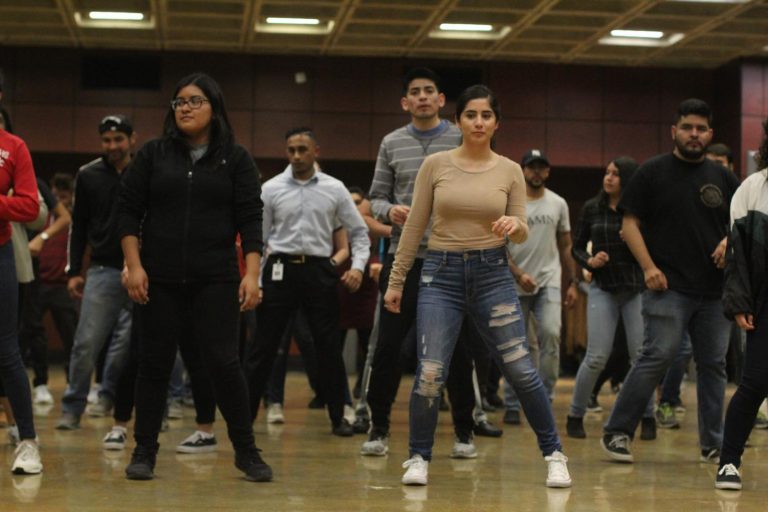 Angeles encourages people to come to Salsa Loca.
"You don't have to be a Latin American," he said. "There are a lot of races and variety in this club. It's amazing. It's really welcoming; it's like home. Everyone is just very kind."
Salsa Loca is the largest dance club on campus. This club holds its weekly meetings Wednesday nights in the Union, though the specific room varies. The doors open at 7 p.m., the dance lesson starts at 7:30 p.m., then social dancing begins at 8:30 p.m. and goes until 10 p.m.
The dance lesson varies from week to week, depending on what the instructors decide to teach.
Salsa, bachata and cumbia are all Latin dances taught at Salsa Loca. The music that is played at Salsa Loca is typically lively, fun, loud — and contagious.
Once the lesson begins, the dance instructors introduce themselves and explain in detail what they plan to teach that night.
Then they organize the crowd into lines, and begin to break down the steps slowly.
After all the steps are explained, the instructors direct the students to form a large circle and begin partner work.
Everyone grabs a partner, and people who didn't bring one are assigned a temporary partner.
Leaders of the club encourage people in the crowd to stay for the social dance and put what they learned into practice.
Paola Beyer is an art history major who recently started coming to Salsa Loca.
"I meet a bunch of different people," she said. "It's not like you are assigned a partner. You switch every couple minutes, and it's just a lot of fun."
Beyer said she likes coming to Salsa Loca because there is good energy. "You just can't help but feel positive and have a good time," she explained. "I have a good time every time."
UPDATE: April 10 at 12:51 p.m. — The initial version of this story had one part reporting that Salsa Loca Live is being held this Wednesday and another part reporting the event is being held Thursday. The story has been corrected to clarify the event will be held Thursday.