Sac State basketball teams missing out on March Madness
The champions have yet to be crowned in the 2018 NCAA men's and women's national basketball tournaments, but one thing remains certain — both Sacramento State programs will be nowhere to be seen on the podiums.
Both the men's and women's teams have competed together in Division I as members of the Big Sky Conference since 1996, but neither Sac State squad has ever earned a birth into its respective March Madness tournaments during that time span.
While each program has seen postseason success at a smaller scale — the women with a national invitation tournament run in 2015 and the men with a CollegeInsider.com postseason tournament victory in the same year — since entering the Big Sky, neither have secured a spot in the big dance.
Sac State men's coach Brian Katz, who is 111-190 in 10 seasons with the Hornets, said his goals of winning a league title and earning a trip to the NCAA Tournament remain the same despite the elusive invitation.
"We haven't done it yet, but I don't lower my standards," Katz said. "We will not ever compromise on it and say, 'Well, we just want to compete.' That's not good enough."
While this year's men's team battled injuries to key players en route to a 7-25 overall record during the 2017-18 season, the move to Division I in 1991 for the Hornets proved to be an even tougher challenge.
Sac State men's basketball, which dates back to 1948 with roots in Division II, saw four NCAA Tournament appearances and a championship game overtime loss to Mount Saint Mary's University in 1962, according to Sacramento State Athletics.
However, the Hornets began to struggle after the program made the move to Division I in 1991 as an independent team and eventually the Big Sky for the 1996-97 season.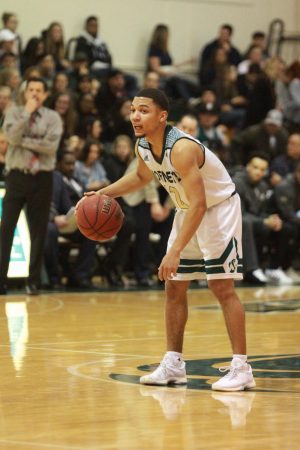 In 22 seasons in the Big Sky, Sac State has finished only one season with an above-.500 win percentage. The Hornets have endured 13 seasons with fewer than 10 total wins, including the 1997-98 season, in which they won just one game en route to finishing 305th out of 306 Division I schools, according to Sports-Reference.com.
The program's 207-425 all-time record in the Big Sky includes zero regular season conference titles, conference tournament championship game appearances and NCAA Tournament invites.
However, the men's team has seen more success of late under Katz after he was hired in 2008. Katz has since posted the highest win percentage of any coach in Sac State's Division I era at 0.369 with 111 wins, including a stretch of five seasons from 2012-17 with 13 or more total wins.
Katz — who won the 2015 National Mid-Major Coach of the Year award and the 2015 Big Sky co-Coach of the Year award — also led Sac State to its most successful year since joining the Big Sky in the 2014-15 season. The Hornets finished with their first winning record since 1989, including a Big Sky Tournament win and a CollegeInsider.com postseason tournament invitation and victory.
Katz said he hopes to build upon the current season and make a push toward his goal of the NCAA Tournament.
"This year makes you think we're not right on track, but we are," Katz said. "Barring injuries, I don't think we'd be having this conversation right now about this. I think we've been very good, but that's OK: injuries occur, things happen — no excuses."
The women's team follows a similar trajectory as it made the move to Division I and into the Big Sky Conference at the same time as the men.
After years of erratic success, the women's program has found more consistency lately under coach Bunky Harkleroad, who was hired in 2013.
The Sac State women's team has four wins in the Big Sky Tournament since joining the conference in 1996, and two of those victories have come during Harkleroad's five-year tenure.
"We just have to keep working and putting in the effort every day," said Harkleroad regarding his goal to win a conference championship and qualify for the NCAA Tournament.
Harkleroad, who is 67-88 in five seasons at the helm of the Hornets, led the women's team to the two NIT postseason tournament victories in 2015 after finishing 13-5 in Big Sky play.
"We can win the Big Sky, and I think we're on the right track," Harkleroad said. "We just have to continue to stay strong and get better."
Katz and Harkleroad have seen a combined six of their players make all-Big Sky teams during their years coaching at Sac State, including four other honorable mentions.
These players were, of course, recruited by Katz and Harkleroad, which takes a certain amount of luck and persuasion.
"There are a lot of schools in the area," Harkleroad said. "We have to find a way to separate ourselves and make ourselves unique and find the right kids."
Both teams play in the Nest, which is one of smallest gyms in Division I basketball (it seats only 1,012), but Katz said he does not let that set him back.
"People want to give you excuses for recruiting," Katz said. "Recruiting is hard at any level. It's hard. It is what it is. I think there's always a misnomer, in my mind, that, sure, would having a bigger gym help? Sure, but we prove that you can overcome it."
Katz, who has had 30 of out 31 student-athletes graduate under his watch, also said his goal in recruiting is not to simply find a basketball player, but a student who will fit in at Sac State in terms of education and surroundings.
"We haven't gotten guys and just tried to babysit them through," Katz said. "I think we've got true student-athletes that make great players and have transitioned well here and represented us well both on and off the court."
While Sac State's NCAA Tournament hopes are on hold until next season, both coaches are optimistic about the futures of their teams.
"Certainly disappointed with the result of this year," Katz said. "We won't make excuses or try to sweep that under the rug. In the end, we'll come back with more resolve, and we'll be better."