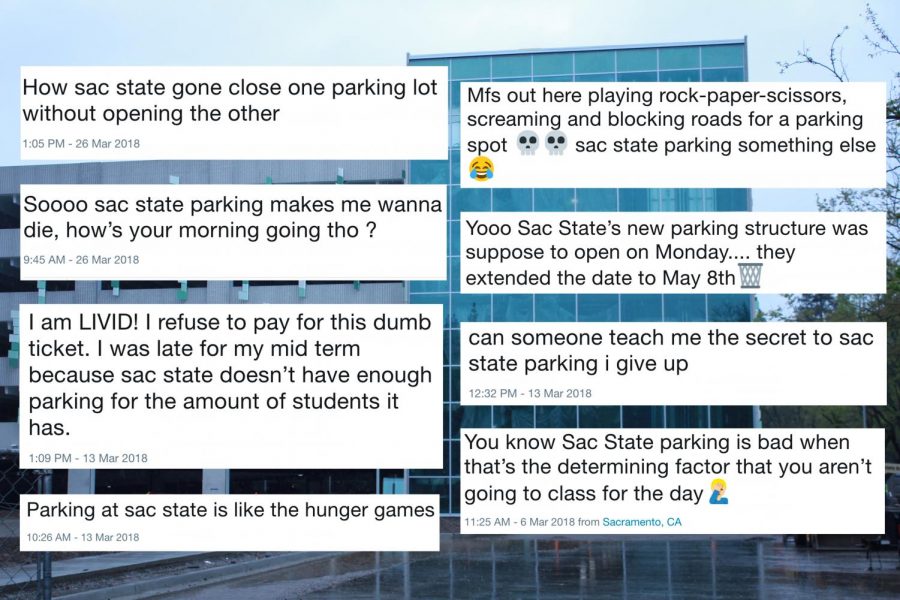 Screenshots from Twitter
Now that we all know the highly anticipated Parking Structure V will not open until May 8 at the earliest, Sacramento State and University Transportation and Parking Services have to deal with the wake of angry comments, posts and memes that are already in the offing.
The university and its diet DMV need to make true amends to students who eagerly anticipated the addition of more parking, and those who made their much-important parking pass decision based on the promise of a new garage to keep their cars in.
For those unfamiliar, UTAPS has made a special parking pass available to specifically be used for students willing to park in the Ramona Lot for a discounted rate.
The lot is over one mile from campus and has routine shuttles that can bring students into campus if they couldn't or wouldn't make the near 30-minute walk to the southern edge of campus.
The Ramona Lot pass was only intended to be offered for last fall semester, since Parking Structure V was supposed to open at the beginning of this semester.
When it became clear that this would not be the case, UTAPS extended the deal, hiking the price of the Ramona pass and promising students who purchased it that they would be able to park anywhere on campus after Parking Structure V opened by spring break at the latest.
Spring break came and went; the structure is once again delayed, and rain is being blamed, despite Sacramento and California in general once again experiencing a historically dry winter after the drought-ending rains of 2017.
The closure of Ramona Lot despite Parking Structure V not opening is confusing at best.
UTAPS claimed to have estimated that by this point in the semester, there would be enough parking for all students who purchased the Ramona pass with the promise that when the lot was closed at spring break, the new garage would be open and all the numbers would line up.
Ramona Lot was expanded last semester to contain nearly 1,000 parking spaces, many of which aren't being utilized.
But those who were utilizing them are now being told to come find spots on campus that have already been few and far between for a full year now, and aren't being supplanted by the 1,750 spots of Parking Structure V.
Parking was bad before spring 2017. But it was at the end of that semester that campus construction projects removed 1,200 spaces from use, some temporarily and some permanently.
Sac State President Robert Nelsen referred to the then-coming changes as a "nightmare."
He wasn't wrong. The spots closest to buildings are gone by 8 a.m., and spots anywhere not on the outer edges of campus are gone by 9 a.m.
From that point until the early afternoon, finding a spot that has not already been taken or double-parked in is indeed like a horrible dream you can't wake up from.
At last spring's groundbreaking ceremony for Parking Structure V, Nelsen was excited that the structure would be finished by the beginning of the following spring semester.
"Can you imagine a parking garage being built in a semester and a half?" Nelsen said. "Normally it takes three years but (Clark Pacific is) putting it together in a semester and a half."
Turns out that, no, we can't imagine a parking garage being built in a semester and a half.
And now Sac State will likely be paying an extra $5,500 a day for the extra time past April 5, the day that the University's contract with Clark Pacific ends.
Maybe you've heard, maybe you haven't, but money is tight around the CSU right now.
Not to kick UTAPS while it is financially down, but those Ramona Lot passholders were sold on one specific promise, and Sac State didn't hold up its end of the bargain.
They deserve a refund, or a discounted price on their passes next semester.
As for what Sac State could have done differently, maybe the next time it builds something (like the Union expansion and the Tschannen science complex), it can be realistic with expectations and avoid egg on its face.