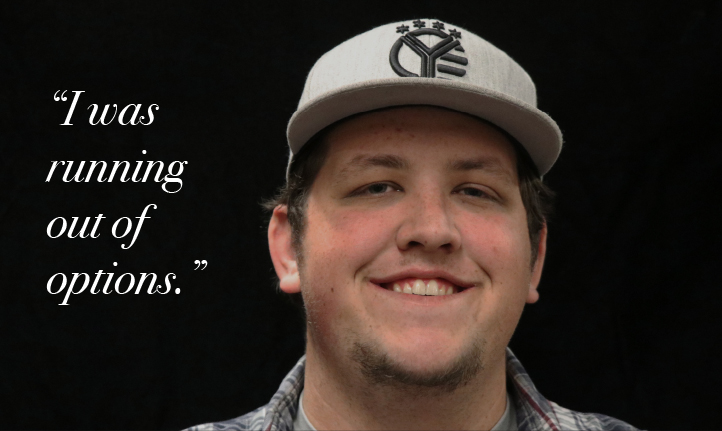 Kelly Kiernan - The State Hornet
olan Jolly's day started early and it started with stress. From waking up in a trailer that didn't always have heat, he would then fight traffic through his 40-mile commute to campus that began in the city of Rescue where he lived.
After a long day of classes, he returned home through that same tiring drive. On top of this, Jolly had to figure out a way to squeeze in 20 hours of work a week on an outdoor ranch where it got darker and colder earlier each night.
Jolly transferred from the College of the Sequoias to Sacramento State to pursue a degree in communications for the fall 2017 semester. Prior to attending Sacramento State, Jolly didn't know what he was going to do for housing. It was difficult for him to visit because he worked six days a week in Tulare, which is about a three-hour drive away.
   RELATED: 'It's Sacramento, not you': Students caught in the crosshairs of statewide housing crisis
One day late in summer 2017, Jolly was serving ice cream to a customer at his work when he found out the customer had a spot on his land available for him. That land is about 30 miles from Sac State.
"I was running out of options, which is why I jumped on that so quickly," Jolly said. "I was looking everywhere I could."
Story continues below
The next weekend, Jolly went up to visit, and he came to an agreement with the landowner to park his travel trailer on their property. If Jolly worked for 20 hours a week on the recently-purchased ranch the owners were building and fixing up, he could live there for free and would receive $10 an hour for his work.
That all sounded ideal to Jolly. He knew how far away the ranch would be from school, but he only expected to have classes twice a week. Once school started, that changed to four days a week.
He quickly learned how long of a drive it would be. Without traffic, the drive is about 30 minutes, but during peak working times, he had to leave 90 minutes to two hours early for school.
Driving to school was also a gamble for Jolly — about 10 percent of the time something would go wrong with his truck.
"I drive a piece-of-crap truck," Jolly said. "I had lots of car trouble. I missed classes and stuff because I was overheating or ran out of oil, whatever it was, little things just kept falling apart."
Mechanical trouble wasn't the only car issue he needed to worry about. Although he received about $200 a week for work performed on the ranch, that wasn't enough.
He said the money wasn't enough to get to school each week and that when he would run out of money, he racked up credit card debt on food.
"If I couldn't afford gas then I wouldn't go to school," Jolly said. "I'd say, 'I couldn't afford the gas so I'll just stay and work today, then I'll have the extra money (and) that way I can go to all my classes next week.' "
He said his living situation began to become his top priority, instead of school. He spent his entire weekend on the 10-acre property clearing brush, cutting down trees or helping to remodel the house to get himself to that 20-hour mark so he could receive his money and not have to pay rent.
One weekend, Jolly hadn't finished his 20 hours of work and became sick. He wasn't able to complete his time but he had to pay rent that week.
It wasn't too much money that he had to pay, but the tough part was that without receiving the full amount of money he expected, Jolly was forced to turn to his credit card to get to school and pay for food.
While suffering financially due to the long drive to school, he also suffered at home. His trailer didn't have consistent running water or a bathroom.
When necessary, he could use the shower in the home on the property he stayed on, but he didn't like to intrude too much. He said that he would often shower at a friend's house on his way home.
One night in particular that Jolly remembers, his electricity went out and he lost heat to his trailer leading to it getting very cold inside on the winter night. That night he texted one of his friends and left the trailer to go to their house for the night.
"I knew really early on that once that stuff started going out, that I wasn't going to be there for long," Jolly said. "So after the semester was over, I moved home to work."
Jolly said that he benefited from working at the ranch because when he went home over winter break, he took the skills he learned working and got a job remodeling a house.
He spent the entire break working and when he moved back to Sacramento this semester, he found a place to live that is six miles away.
He said that now, he only has to leave his house 30 minutes before his first class because it takes 15 minutes to drive and 15 minutes to walk to class.
"It's pretty awesome," Jolly said. "I haven't filled up my truck since I moved in two weeks ago. I'm done commuting."