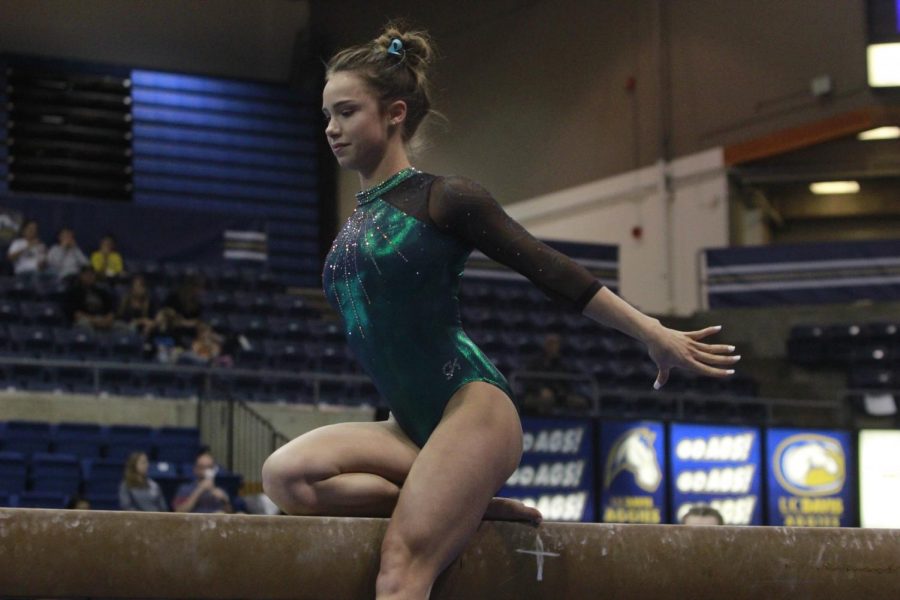 Thomas Frey - The State Hornet
Sacramento State gymnastics has competed in eight meets this season and that story can be told in two parts.
In the first four meets of their turbulent season, the Hornets struggled with injuries — most notably to seniors Lauren Rice, Caitlin Soliwoda and Courtney Soliwoda — and had trouble completing events without their athletes taking a fall. However, these past four competitions can be told around a stick.
Prior to arriving to Alaska to compete against the University of Alaska Anchorage and Air Force on Feb. 3, the new year hadn't offered much hope and the team was in need of some fun.
It helped that on the trip, Rice found a stick outside of the snowy Alaska Airlines Center. It was then quickly decorated by assistant coach Nicole Meiller and it became the "stick stick," as the team calls it.
Since that meet, each time a Hornet sticks a landing — which means to plant themselves perfectly on the mat without any wobbles or missteps — they get awarded the stick by the previous owner in an almost knighting-like ceremony.
"We wanted a new, fun way to motivate ourselves," Caitlin Soliwoda said. "It is super fun and very different from anything we have ever done.
"It is honestly just a really fun way to motivate us and keep the sport light and fun."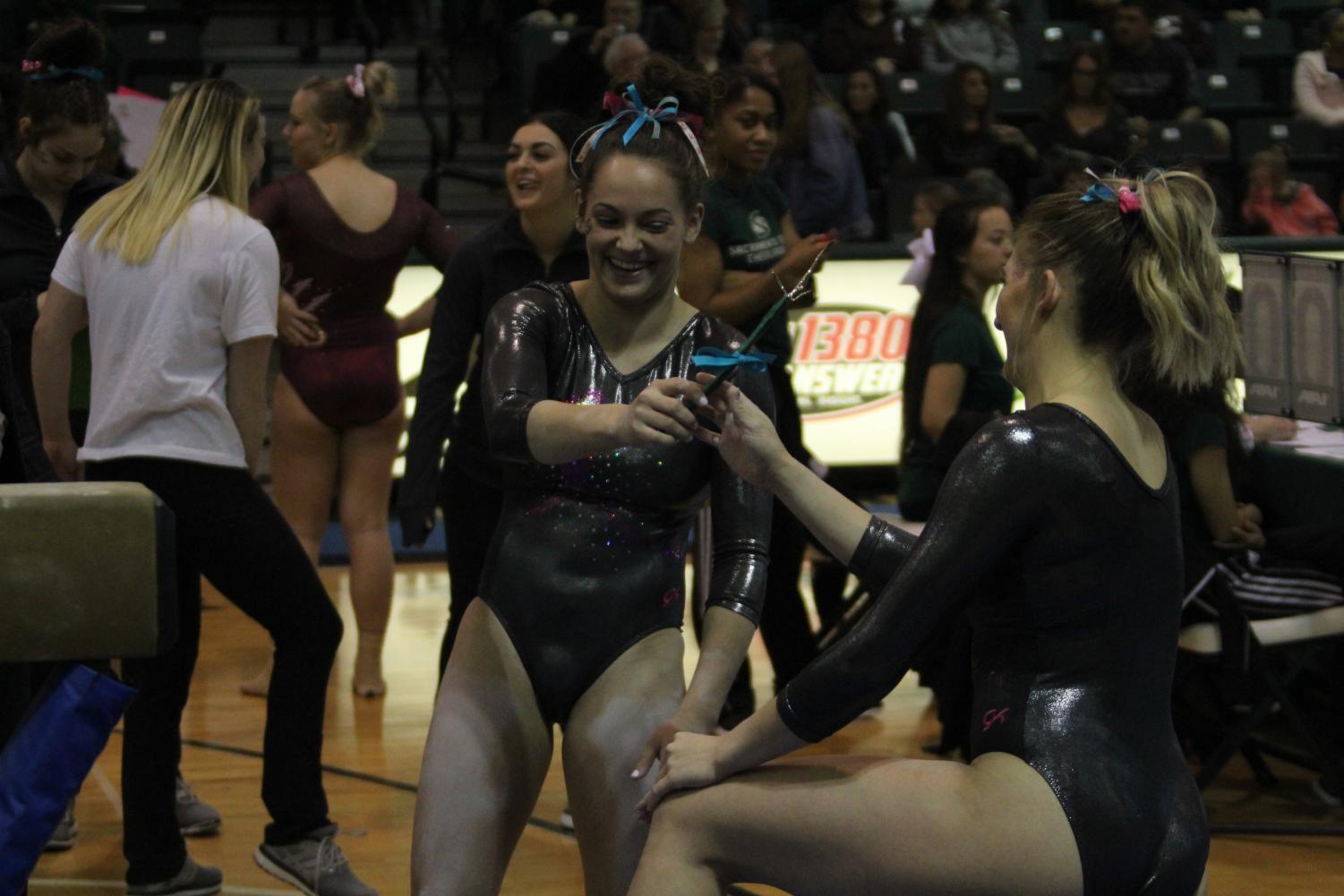 That day, freshman Kendra Braida was given the first stick in the first Sac State routine of the night when she performed a perfect landing on the balance beam.
The entire squad was smiling and the momentum carried the rest of the event as the Hornets put together a complete meet for the first time all season.
During the same competition in Alaska, senior Annie Juarez put together her best meet of the season as an all-arounder by reaching a career-high score of 39.125. Prior to that meet, she had counted at least one fall in every meet and hadn't scored over 38.000.
In the two following meets, not only did Juarez set new career highs in the all-around, but the team also set season highs with a 194.400 at UC Davis on Feb. 9 and then a 195.400 while hosting San Jose State and Seattle Pacific University on Feb. 16.
"The main thing we've been telling ourselves is just to relax and remember that we're having fun," Juarez said. "It's easy to get caught up in the pressure and to be hard on yourself when you don't do well."
Despite not setting a season high on Friday, the Hornets stayed in that high range with a 194.075 against Seattle Pacific University and Anchorage.
Juarez has won two events as an all-arounder this season, and in each one, Caitlin Soliwoda has been right behind her. On Friday, Caitlin Soliwoda took the all-around title with a score of 39.150.
"As competitive as I am, it's awesome that I get to compete with her on my side," Caitlin Soliwoda said. "I love seeing her be so successful and it drives me to work hard in practice and bring my absolute best to the meet."
One constant presence since the Alaska meet has been the stick. It returned home with the team and has since made appearances at the Nest, at UC Davis and in Seattle.
Juarez said the stick is good for the team members because it allows them to take everything one routine at a time. Every time someone is given the stick, the entire team breaks out into a smile, easing any tension that may have been there.
This has been especially important due to Rice, who is one of the main leaders of the team, being out with an ankle injury since Jan. 12. New gymnasts have been called upon to take bigger roles, including freshman Jordyn Brent and junior Jackie Sampson.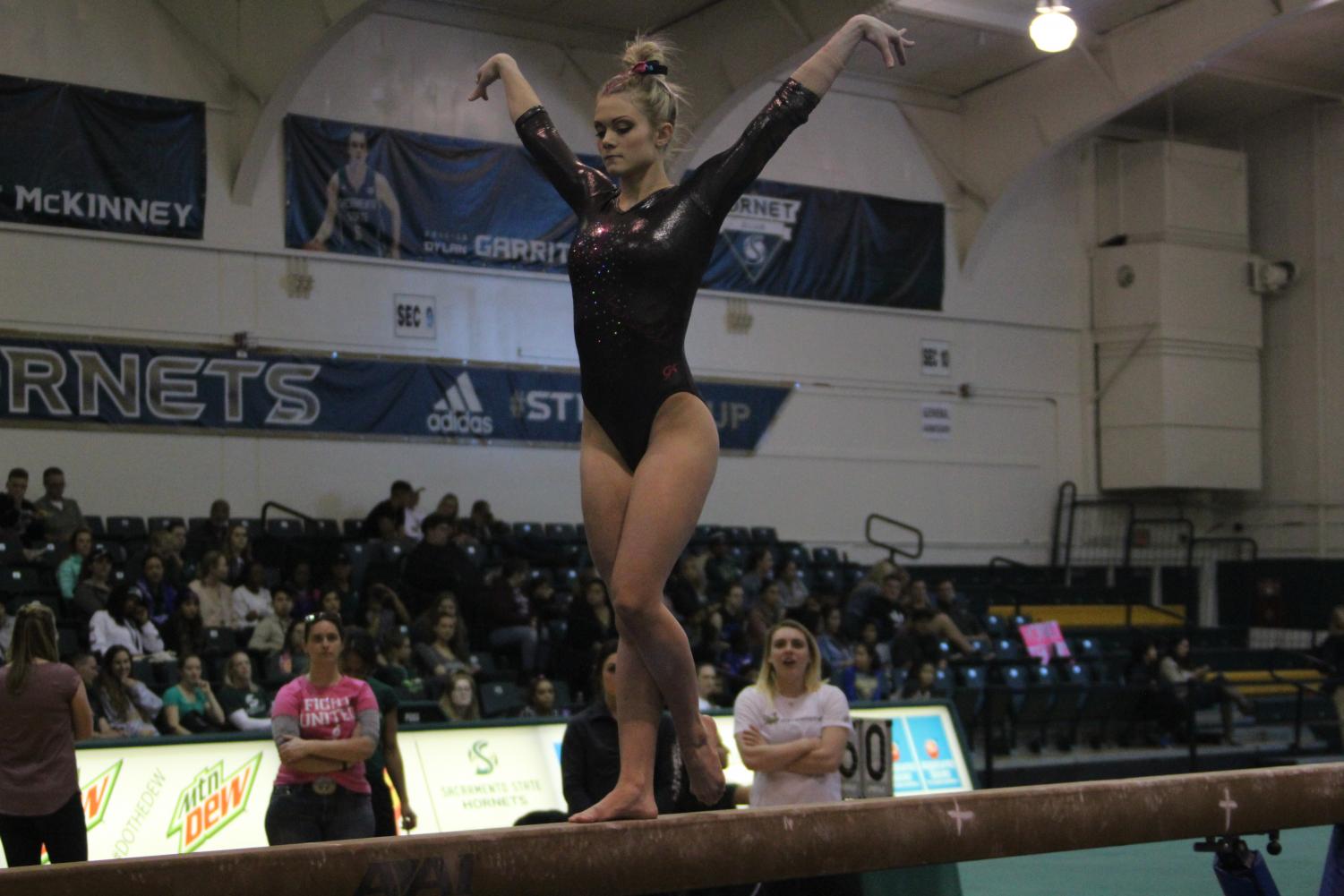 The pair have routinely competed in three events, while junior Lauren Schmeiss has competed on beam and floor.
Brent and Sampson's seasons have even started to take form since the team found the stick. On Feb. 9, Brent set career highs on vault and bars. A week later on Feb. 16, Sampson recorded season high scores on bars, beam and floor.
Schmeiss made her season debut on beam on Jan. 26 and has since moved into the floor lineup. Overall, five of her seven scores this season have been 9.750 or higher.
Senior Jennifer Brenner (floor) and Courteney Ng (bars) have also contributed high scores in their respective events.
"I'm really starting to see hungry competitors in everyone's eyes which makes me super excited for the next meets," Courtney Soliwoda said.
Sac State is currently ranked No. 55 in the nation. While this ranking isn't enough to qualify for an NCAA Regional (top 36 only) as a team, the Hornets have four gymnasts who are in position to qualify individually for an NCAA Regional.
Caitlin Soliwoda would qualify as an all-arounder, Brent would qualify on bars, Courtney Soliwoda on beam and Juarez on floor.