Sac State rolls out first student-curated art exhibit
A group of students participating in an experimental course at Sacramento State have opened an art exhibit titled One Ninety Six that features 19 pieces from the university's Art Department Collection.
The pieces shown in One Ninety Six were chosen by 14 students. The exhibit will be open until Feb. 15 in the gallery of the University Union. The theme is non-specific as the exhibit hosts a wide range of pieces from the collection.
The project was the main requirement of an introduction to curatorial studies course, a brand-new experimental course that was held during the fall 2017 semester.
According to Nancy Wylie, the professor of the course, students were responsible for selecting, researching and writing about a piece from the Art Department Collection, which culminated in the gallery show this semester.  
"Students have been key in working with [the collection], helping out, getting it inventoried," said Wylie. "This is the first [exhibit] where students are the curators."
Art history major Janina Lopez was in the course.
"It was definitely a lot of work for such a small class," said Lopez. "But it really came together in the end."
The Art Department Collection was started in the 1960s and has collected hundreds of pieces mostly through donations, according to its website. Wylie said that the most recent acquisition to the collection is a print by Mel Ramos that was donated by the artist in December.
"Any time you get a chance to blow the horn, it's great," said Wylie. "We wanted to say, 'Here's our collection, here's what our students are doing,' yet it's an eclectic group of paintings."
Each piece is paired with an essay detailing the historical background and purpose of the work and artist.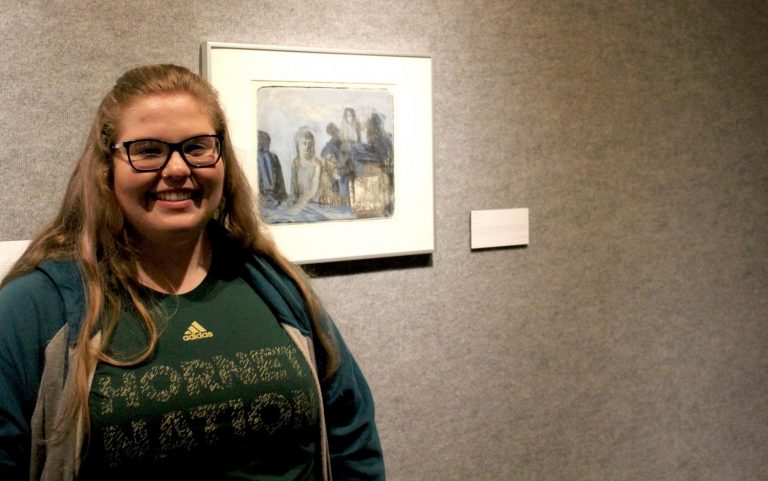 "It was really cool having the experience of being able to have the hands on work and really see it up close and personal," said Hannah Dickenson, a humanities major.
The experimental class is being offered again this semester and will be review by the art department to officially add the course to the catalog for fall 2018, according to Wylie.
"I think this is something the [art] department would like to add, so students can learn more about the curation process in exhibitions for art history majors and also studio art majors," said Wylie.  
The exhibit is available for viewing Monday through Friday from 10:30 a.m. to 3:30 p.m. with special evening hours on Wednesdays and Thursdays from 5:00 to 8:00 p.m.
Update: A previous version of this story incorrectly identified Janina Lopez as a history major. In fact, she is an art history major. Hannah Dickenson was identified as a master's student. In fact, she is a humanities major.