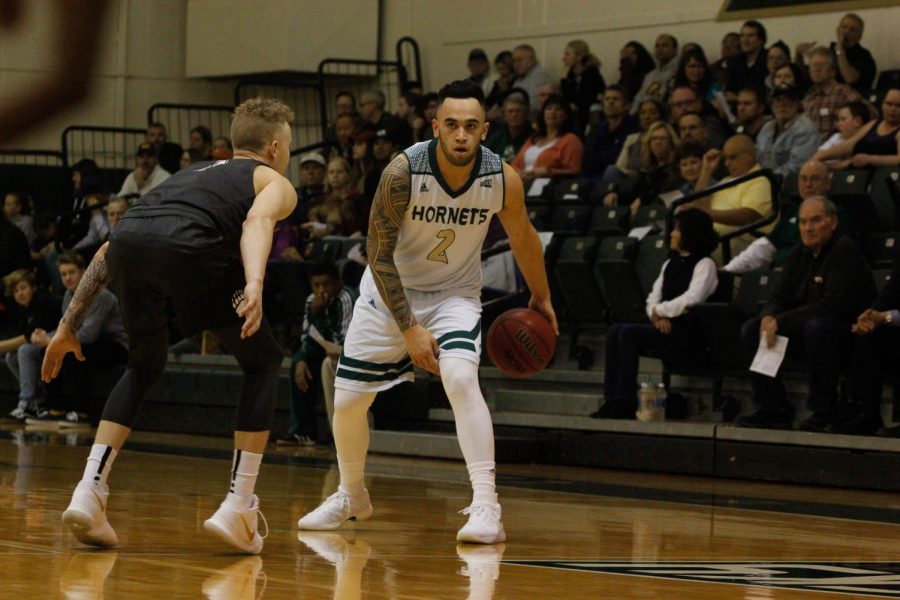 Thomas Frey - The State Hornet
After trailing 9-2 to start the game, the Sacramento State men's basketball team got into gear and defeated Montana State 87-68 on Saturday night at the Nest.
The Hornets (5-13, 2-3 Big Sky Conference) were led by senior forward Justin Strings' 31 points, but the game against Montana State (11-8, 4-2 Big Sky) was won with a complete team effort.
Strings was acrobatic and elusive all night as the Bobcats defense couldn't figure out a way to stop him. If he saw even an inch of space, Strings would drive by the defender and get the basket and if the defender was playing him close, he would fire and nail a shot with a guy in his face.
Sac State sophomore guard Izayah Mauriohooho-Le'afa was one of the players getting the ball to Strings.
Time and time again he dished the ball to open teammates to finish with 10 assists while adding 14 points on 6-of-8 shooting from the field.
"I don't think he could have done any more," sophomore forward Joshua Patton said. "He was doing his job well and he did exactly what he needed to do."
Defensively, Patton said that he knew he needed to play without fouling. In the first half, the sophomore from Manteca played less than three minutes after picking up two early fouls.
In the second half, he barely left the floor and stayed out of foul trouble. His focus on not fouling paid off and he blocked three shots from Montana State.
However, as good as Patton played defensively, his impact on the offensive end was equally impressive.
With the Hornets holding onto a slight 46-45 lead with 17:33 left to play in the second half, Patton scored 12 consecutive points and drew three fouls in the process to give the Hornets a 58-49 lead with 13:47 remaining. Patton finished with 18 points, 16 of which were in the second half.
"I thought Joshua played great tonight," Strings said. "Joshua did an excellent job of staying with the game and being ready when he went back in."
In Patton's first half absence, junior forward Calvin Martin and senior center James Herrick stepped up. Martin scored 13 points, grabbed seven rebounds and drew three fouls in 15 minutes. Herrick played seven minutes and made both of his shot attempts to finish with four points.
"All the boys played hard," Mauriohooho-Le'afa said. "We fought hard for the whole 40 minutes, and I don't think we did anything dumb. I'm just glad we got the win."
Montana State was led by junior guard Tyler Hall who is the Bobcats all-time leader in 3-point shots made with more than a year of eligibility remaining. The Hornets only allowed Hall to shoot six 3-pointers all night and didn't allow him to connect on one for the final 33:47 of the game.
Sac State coach Brian Katz said he wanted to limit Hall's shots from beyond the arc and he said the defense executed the game plan and that they were led defensively by junior guard Jeff Wu.
"(Wu) didn't score, and it didn't matter," Katz said. "His defense was just tremendous. He really played great defense, and that is the type of thing that doesn't show up in box scores."
The Hornets will travel on the road for three games before returning home Feb. 1 against Eastern Washington.