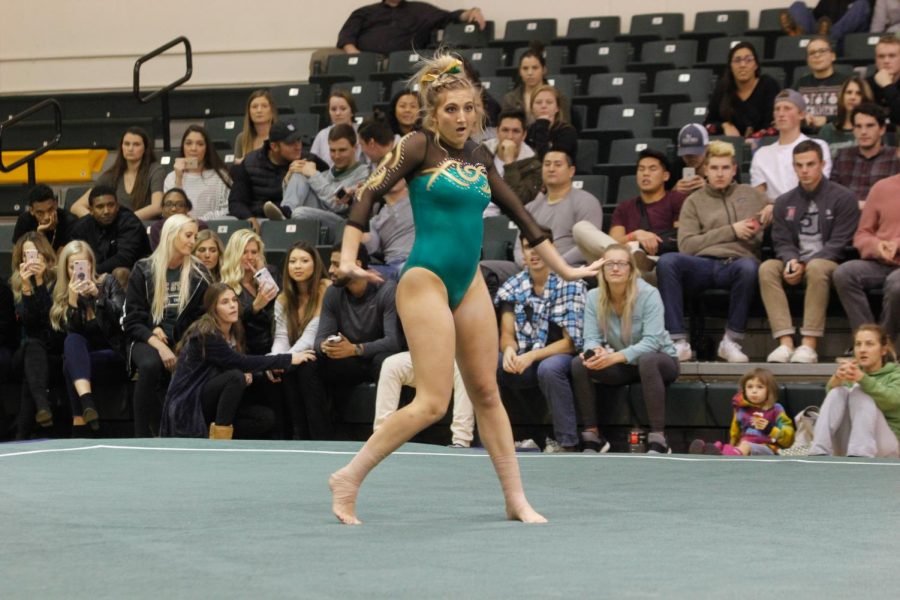 Thomas Frey - The State Hornet
The NorCal Classic did not go the way that Sacramento State gymnastics coach Randy Solorio expected it to on Monday at Stanford.
The Hornets had low scores on the uneven bars and on-vault finishing and finished in fifth place in the meet with a score of 192.875.
Sac State struggled on the uneven bars in its first event to start the night with junior Jackie Sampson scoring a 9.025 and senior Lauren Rice a 8.150.
"The bars falls were unexpected," Solorio said. "Both Lauren and Jackie had been hitting. I wasn't expecting that."
A career high of 9.850 on bars by senior Annie Juarez helped the Hornets score a 47.950 in the event.
Sac State picked it up on the balance beam by recording a 48.500 with a 9.800 from senior Courtney Soliwoda who is recovering from an Achilles tear and wasn't walking two weeks ago.
The Hornets continued their success on the floor routine and recorded their high score of the night, a 48.775 with all five recorded scores being at least a 9.725.
Senior Jennifer Brenner set the pace with a 9.800, but all of the Hornets dazzled the crowd with electrifying dance moves including freshman Jordyn Brent who made her college debut.
"She was outstanding," Solorio said. "She can get nervous, but she was poised tonight and channeled some energy. She has so much power and she is learning how to present."
Brent averaged a 9.708 during her three events: bars, floor and vault.
"I felt pretty good," Brent said. "I actually wasn't too nervous like I thought I would be. When the team is screaming at you and all you can hear is them, you don't even think of anyone else."
Juarez also participated in three events and recorded at least a 9.800 in bars and vault. After having two foot surgeries, Solorio said he thought Juarez would never vault again.
"I've been injured for basically three years," Juarez said. "Doctors told me I couldn't do it. It just felt really nice to prove them wrong."
Aside from Juarez's 9.800 on vault, no Hornet scored above a 9.625 on the event and the Hornets finished with a 192.875 in the event.
Stanford finished second in the meet and was led by senior all-arounder Elizabeth Price who recorded a perfect 10.000 on bars and won the all-around for the event. Cal won the meet while San Jose State and UC Davis finished third and fourth respectively.
Sac State has its home opener Friday at 7 p.m. against Washington at the Nest.