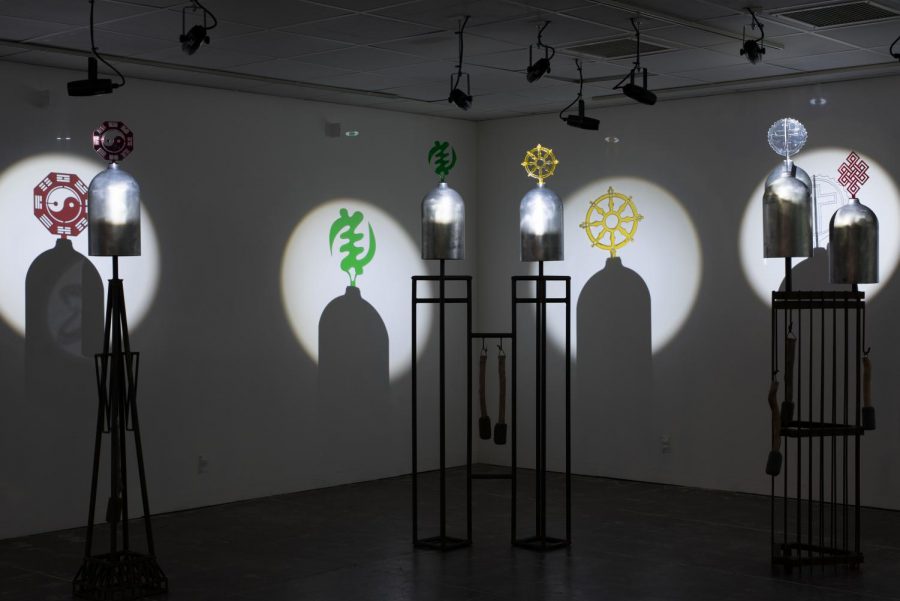 Photo by Mustafa Shaheen
Andrew Connelly, a Sacramento State art professor, has a new exhibit titled "All Exaltation: Meditations in Sculpture" available for viewing at the Robert Else Gallery in Kadema Hall.
A reception for the exhibit will be held on Feb. 1. from 4:00 p.m. to 8:00 p.m.
The show is the culmination of a series of sculptures that Connelly has created conceptually around the forms of rescued propane tanks used as bells.
Connelly picked Sac State for his show because he feels that students rarely get to see the various work he does outside of school. Since he showcases his art in different areas around the nation and world, many students are only limited to what they see on his website.
"It's an amazing teaching tool for me to bring my professional work here," Connelly said. "It is a way to let students know I am not just here as your professor, I am here because I am a professional artist, and this is what I do. I am a part of a larger community and you too can be a part of that community."
He also recognizes that the university has been a great supporter of his artwork and wants to give back in anyway he can.
Thus, for his upcoming event, his goal is to have people come into this environment and be transformed in some way.
Diana Daniels, an art history professor at Sac State, collaborated with Connelly on this project. She compared her job as curator — she worked as curator of contemporary art at the Crocker Art Museum — to that of being a visual editor.
"Playing this part was such an honor," she said. "I got to realize my ideal role by offering a sounding board, engaging in some fairly serious, often philosophical conversations with Andrew, and ultimately sharing my sincerest enthusiasm for the work as his idea evolved."
Connelly said that he wants people to remember his work. He will be interviewed by Daniels during a sit-in where students can come and have an open conversation with him.
"It's not about me, it's about us," he said. "I want us to engage in a larger dialogue."
He wants students to talk about what is being presented conceptually, and the different layers that are presented in his art.
Amber Ward is a art education professor at Sacramento State and has been acquainted with Connelly and his work for two-and-a-half years. She said she will be attending his Feb. 1 talk.
"I look forward to hearing what his perspective is during the art talk," Ward said. "It's a mysterious show in a way compared to a more traditional medium that you might see."
One thing that she particularly liked about this exhibition was that she was able to go inside and experience a sense of peace. After she left that space she was still able to carry that feeling with her, she said.
"I would encourage the community to come out and experience the show," Ward said. "I feel that it's successful especially because Sac State is a diverse community and I feel like professor Connelly does a great job of representing some of those diverse aspects that make Sac State a pretty fabulous place to be."