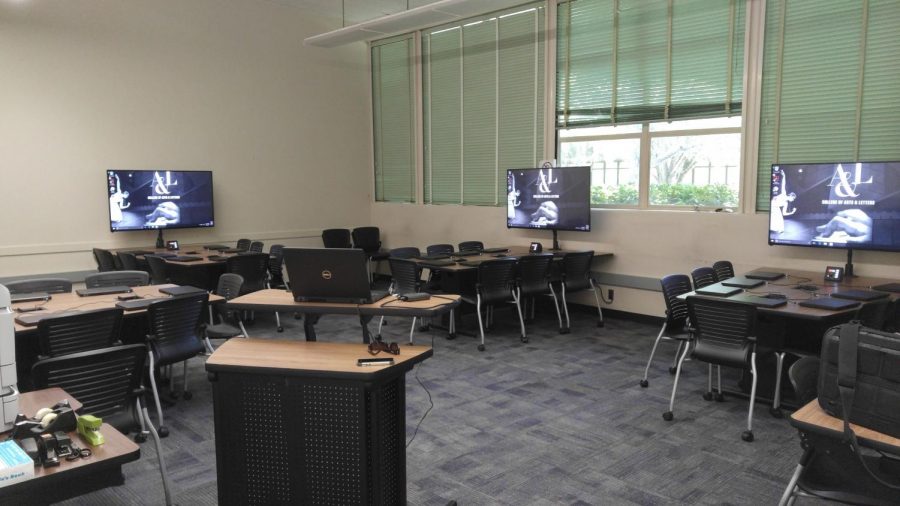 Courtesy of Christina Bellon
Sacramento State police are investigating an eBay listing from Oct. 27 selling 35 of the same model of laptops that were stolen from Calaveras Hall one week earlier, according to detective Jason Johnston.
On Oct. 20 at around 9 a.m., members of the English department called campus police after they discovered that 35 of the 36 new Dell Latitude 5480 laptops from the Calaveras 131 computer lab had been stolen.
One week later, exactly 35 Dell Latitude 5480 laptops appeared in an eBay listing for $350. The seller listed their location as San Francisco.
Police were made aware of the listing after a State Hornet staff member discovered it through a search of archived sales. The staff member then brought it to the attention of campus police.
The laptops matched those stolen in many ways. Both the stolen laptops and the laptops in the listing have i5-7300U processors at 2.6 GHz, 8GB RAM and 256GB hard drives, a fact which Information Technology Consultant Wes Tanton thought was a surprisingly close coincidence.
The post contained five images, including one showing a service tag on the bottom of the laptop. The serial number listed on the tag in the photo, however, didn't match any of the 35 computers stolen.
It is unknown if the photos posted with the eBay listing are photos of the laptops being sold.
Selling the computers online is one of the only options for the seller, according to Johnston. He also said that if pawn shops receive laptops, they are required to check a police database containing laptops that were reported stolen.
It only took 10 hours for the computers to be sold, since they were listed at nearly $750 less than Dell's estimated $1,099 MSRP.
The eBay auction is still being investigated by campus police, according to Johnston.
The English department purchased 35 new laptops to replace the ones that had been stolen from Calaveras Hall, according to Christina Bellon, the associate dean of the College of Arts & Letters. Bellon said the department is working quickly to have the room outfitted and ready to go for the spring semester.
"It will be tight, but we're working diligently toward that goal," Bellon said in an email. "We have also been working closely with campus police and Facilities to install new security measures in the classroom and building and to implement new security protocols, which will allow us to minimize the possibility for this happening again. Nothing is guaranteed, but it is imperative to do what we can to make it even harder for this to happen again."