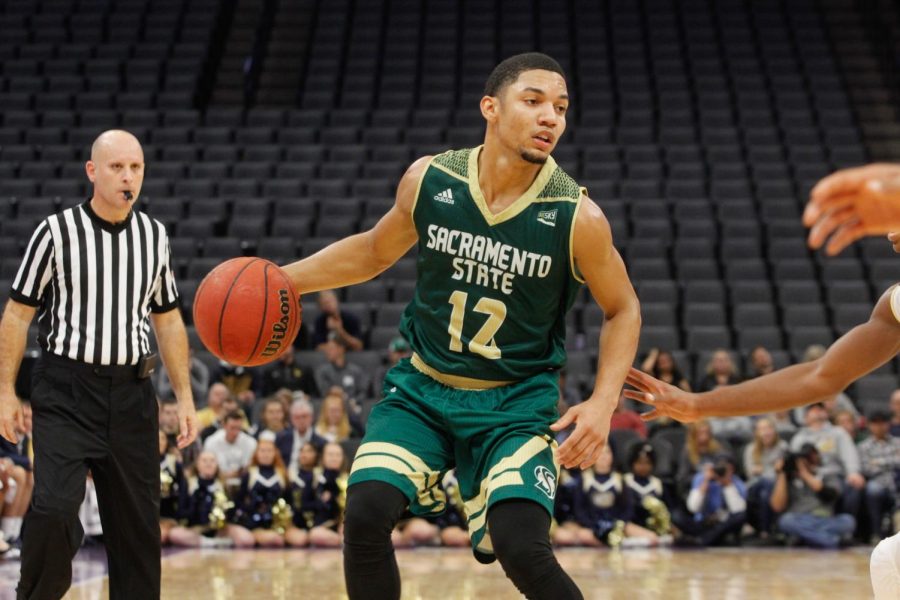 Thomas Frey - The State Hornet
The Sacramento State men's basketball team earned its third victory of the season after a 66-61 win over Cal State Northridge on Tuesday night at the Nest.
The victory is the Hornets' first against a Division I opponent this season, and it took several important plays from freshman forward Bryce Fowler to get the job done.
Fowler entered the second half with two points, but started his run to give the Hornets the win with 13:56 to play in what he called a "very physical game."
With Sac State (3-8) up 44-42, Fowler drove down the lane and threw up a reverse layup from behind his back as he was fouled. He tumbled into the front row, made the basket and earned a free throw, which he made to give the Hornets a 47-42 lead.
However, the Matadors (1-10) fought back into the game and took a 59-57 lead with four minutes to play.
Fowler, who had been sitting on the bench, came back into the game and immediately made an impact by grabbing an offensive rebound that he put back in to tie the game up.
A minute later, with the shot clock winding down, Fowler came out of nowhere to save an errant pass. Then he got open at the top of the 3-point line and hit a fadeaway shot as the shot clock expired to give the Hornets a 62-59 lead.
"It was a huge play," senior forward Justin Strings said. "I'm so proud of Bryce. As a freshman, starting, it's tough to do. We are asking a lot of him, but we know that he is a good player and he is capable of making those plays."
With 1:26 to play, Strings put a shot up with the Hornets nursing a 62-61 lead, but he missed. Sophomore forward Joshua Patton then grabbed the ball with two hands and slammed it home to give Sac State a 64-61 lead, forcing the Matadors to call a timeout.
After the timeout, the Matadors had one final chance to tie up the game and turned it into three chances by getting two offensive rebounds.
They had been 3-of-5 from beyond the arc up but weren't able to nail down any of their final three attempts to tie up the game before the Hornets won 66-61.
"It was definitely a battle," Fowler said. "The other team (we were) playing really wanted to get the win too. We worked hard and we pulled it off.
"I think this will just boost our confidence and get us going by getting a quality team win."
Sac State will next play Portland at 5:35 p.m. Thursday at the Golden 1 Center.