Senior trio leads women's basketball team into difficult season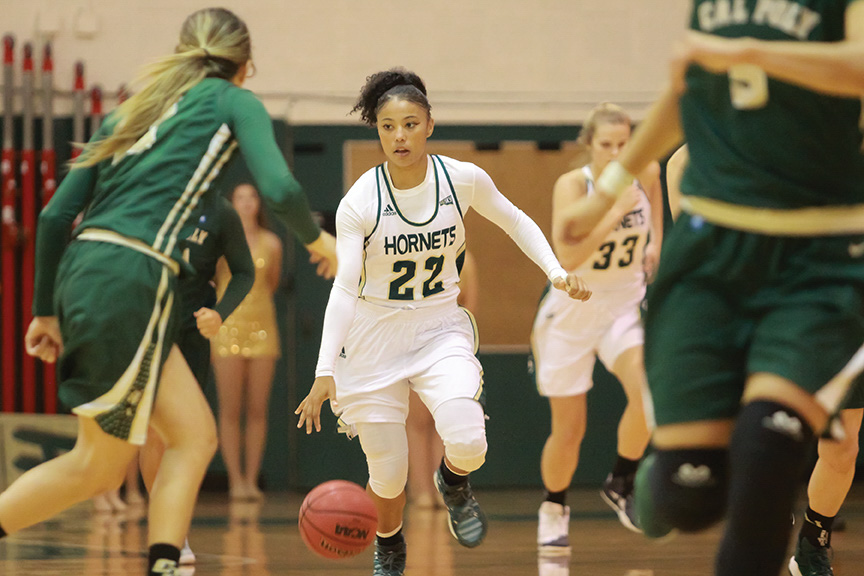 The shot Weber State hit with 2.9 seconds to go in overtime of the Big Sky Tournament to end the Sacramento State women's basketball season in March still stings senior guard Maranne Johnson.
"Weber (State) is a great team," Johnson said. "They just outworked us. I'm looking forward to playing everyone in the conference, and I'm hoping to outwork each team."
Johnson was one of five players to score at least 10 points for the Hornets in that first-round postseason game and is the only one returning. Fortunately for Sac State, almost every player who will play a key role this season saw big minutes off the bench last year.
"It's hard to win Division I basketball games," Sac State head coach Bunky Harkleroad said. "Moving forward, our kids that are here have a better understanding for what it takes to be successful."
Harkleroad, who is entering his fifth season leading the Hornets, will be throwing his team into road games against ranked teams in hostile environments. Sac State will play at No. 15 West Virginia and No. 24 Miami while also playing at Kentucky and Arizona State, which are both just outside the top 25.
Harkleroad said he set up the tough road schedule because it will help his team learn and improve while toughening them up.
Before Sac State begins its November road trip from Friday to Nov. 30, the Hornets defeated Holy Names University 100-53 in their only exhibition game of the season on Nov. 3 at the Nest. Johnson led the team with a game-high 24 points.
This will be a trend, as the team will lean heavily on Johnson all season. However, she'll have the help of fellow seniors and team captains Justyce Dawson and Kyhonta Doughty.
Doughty missed last season after tearing her meniscus, but she has worked with trainers to get back into playing shape and said she likes how the practices are going.
"We have had a lot of newcomers who have come in ready to play," Doughty said. "I think we will be able to capitalize on what we have now."
Doughty, who stands at 6-foot-1, is going to be a force against smaller opponents in the post, as she'll grab rebounds and block shots, Johnson said.
"She is a tough girl, one of the toughest on the team," Johnson said. "She is very strong down low for her size, and she plays bigger than how she appears."
Dawson rounds out the seniors who are expected to receive big minutes. Last season, Dawson led the team with 4.3 assists per game.
"Justyce is going to have to be steady and efficient for us at the point guard spot," Harkleroad said. "I think that there are a lot of people in here who can help us, and frankly, we are going to need something from everybody."
Harkleroad said that he expects his team to be 10 or 11 players deep. Sophomore point guard Tiara Scott is the leading returning scorer aside from Johnson. Scott averaged 7.4 points and dished out 2.9 assists per game.
Junior guard Raegen Rohn has improved the most in the offseason, Harkleroad said. She averaged 3.5 points and 1.4 rebounds per game last season, but in the three games she played at least 20 minutes, her averages increased to 11.3 and 3.3.
Last season, the team played in five games that were decided by four points or less, winning only one. After the one-point overtime loss to Weber State in the Big Sky Tournament, Rohn said the team has been working on conditioning so that they'll be in the best condition possible at the end of games.
"We definitely bring it up, and we use it as motivation," Rohn said. "This year, we are going to be better, and that isn't going to happen again."
Sac State will open its season at 4 p.m. Friday against Kentucky at the Memorial Coliseum in Lexington, Kentucky.