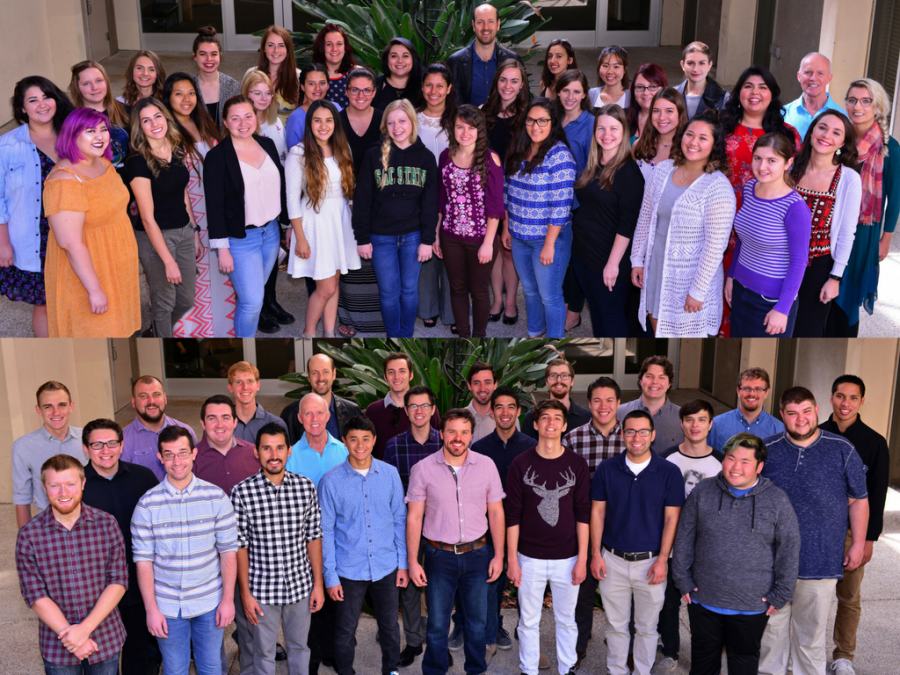 Courtesy of Don Kendrick
Thirty-three years ago, Director of Choral Activities Don Kendrick was inspired by the Christmas concerts he held in the cathedrals of Canada and decided to bring that holiday tradition to Sacramento State.
"Procession of Carols," brings together the men's choir, women's choir and the University choir every December for two performances. Kendrick said the administration was not very fond of the idea at first, having never done anything like it before. School officials later changed their minds after the first concert turned out to be a hit and seated a sold-out audience.
"Every year, on the same weekend, in the same church, at the same time, we promise to bring the first celebrations of Christmas on our campus," Kendrick said.
Paul Towber, a senior music major, leads the bass section in the men's choir. Towber has been performing in the concert for three years and said that the Christmas season helps to draw in more people than usual.
"Choral music is a very niche market and something that not many people who don't listen to classical music will come and enjoy," Towber said. "Christmas, however, is a different story because then people are expecting to hear choral music more often."
This year will be Kendrick's last Christmas concert before he retires in June. As the day of the event approaches, Kendrick said that he feels very nostalgic, and that he will miss being a part of the tradition alongside his students.
"I have to move on, but I'll miss the magic that this evening brings," Kendrick said. "I may be retiring from Sacramento State, but I'm not retiring from my church job and my choral society."
(Story continues below this video of Kendrick from April)
During his time at Sac State, Kendrick created the graduate program in choral conducting and formed the Sacramento Children's Choir. He has taken his students to a number of places in Canada, including Vancouver and Montreal, as well as various parts of Europe, over the years for concerts. After he retires in June, Kendrick will continue his musical journey by continuing his roles as the conductor of the Sacramento Choral Society & Orchestra and the music director at Sacred Heart Church.
"It's been a joyous journey working with so many wonderful students and preparing for concerts, recordings and international tours," Kendrick said.
Towber said Kendrick gave him a lot of opportunities to expand his musical talents by employing him to write and edit music for his concerts. Towber said that this upcoming Christmas concert carries a lot of weight, as it will be Kendrick's last, and everyone on the choir wants make him proud one last time.
Another of Kendrick's students, senior social work and music double-major Violetta Terzi, will perform in the concert for her second time. Terzi said that she looks forward to singing the music that Kendrick handpicks for the concerts, as well as the warm response of the audience.
As for the future of the Christmas concert, Kendrick said the University has begun a nationwide search for someone to take over his title.
"I love it that our community has something that they look forward to every year," Terzi said. "It's a bittersweet moment. I believe that it will be impossible to replace Dr. Kendrick."
"Procession of Carols" will be held at the Sacred Heart Church on Dec. 2 at 8 p.m. and on Dec. 3 at 2 p.m. Tickets range from $7-$15 and can be purchased at the Hornet Ticket Office.