Sac State announces $6 million donation for entrepreneurship center
Sacramento State President Robert Nelsen announced Monday during a press conference that a record-breaking $6 million donation will be used to develop an "entrepreneurial center" in the University Library.
The donation comes from Dale Carlsen, a Sac State alumnus and founder of Sleep Train Mattress Center, and his wife, Katy Carlsen.
The center, which will be called the Dale and Katy Carlsen Center for Innovation and Entrepreneurship, or Carlsen Center for short, is set to be finished in the fall 2018, according to a statement released by the University.
President Robert Nelsen announces that Dale Carleson has donated $6 million to develop the Center for Innovation & Entrepreneurship pic.twitter.com/N9qneEu97W

— Claire Morgan (@jemapelleclaire) November 13, 2017
The Carlsen Center, which will be located on the second floor of the Library, will act as a gateway for students who are interested in entrepreneurship and will provide "access to entrepreneurship education, programs and services," according to a University press release.
Nelsen said that the center will have 3-D printers, "Makerspaces" and other resources needed to develop products. It will also have Bloomberg Terminals, which are computers with specific software used to access and analyze financial markets.
"(Entrepreneurs) are going to have to have advertising campaigns, they're gonna have to have logos, they're going to have to have all these things to actually have a product and to sell it," said Nelsen.
The center will not be limited just to business students, Nelsen said after the press conference. His goal is for students of all disciplines to benefit from the center, whether it be through class projects or actual entrepreneurial ventures.
"This center is deliberately interdisciplinary, multidisciplinary and it represents everyone from the arts to chemistry to engineering to business to social sciences," Nelsen said. "Everyone is going to be part of what we try to do."
The donation is the largest private donation made to the University since Sac State was founded in 1947, Nelsen said. $1 million of the donation will be used for startup costs and hiring an executive director, and the other $5 million will be used as an endowment, the University said in a statement.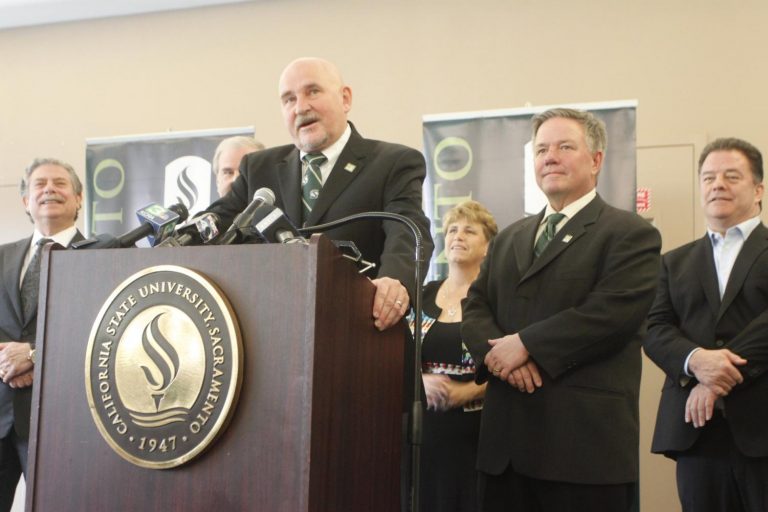 The Carlsen Center Advisory Committee is being formed in order to help govern the center's use. According to Craig Koscho, a public information officer at Sac State, the direction of the committee is "still in the planning stage."
"The ($1 million) is being used for the committee to work with consultants (by) guiding the process to find the best examples of similar programs throughout the country that meet our unique regional needs," Koscho said.
The committee will consist of 25 regional leaders and will be headed by Dale, according to Koscho. The committee will be supported by faculty representatives from each department on campus.
Dale graduated with a degree in business administration from Sac State in 1984. He said his main motivation in donating was to help foster the growth of innovation in Sacramento.
"(America is) not developing new ideas, new creative things like we used to," said Dale. "It is our belief that, if our region is to succeed, if our region is to grow and prosper and provide jobs and opportunities and give back to those that need it, we need to grow more entrepreneurs, more talent, ideas and innovation. We need to change the way we think."
Forbes magazine recently said in an article focused on Sacramento's bid to host a new headquarters for Amazon that Sac State "may provide the single largest talent pool in the region." In the same article, Nelsen is quoted saying that he planned to "adapt the curriculum to create a better-designed workforce for Amazon."
At the end of the press conference, Nelsen urged the audience to raise another $5 million in order to ensure that the program would continue for a longer period of time.
"We are going to challenge everyone in this room to raise another $5 million so that we have a $10 million endowment for this group," said Nelsen. "So that it goes on in perpetuity, and it lasts, and it grows, and it expands. So we can have four of these in this city."
Additional reporting by Dayla Cook