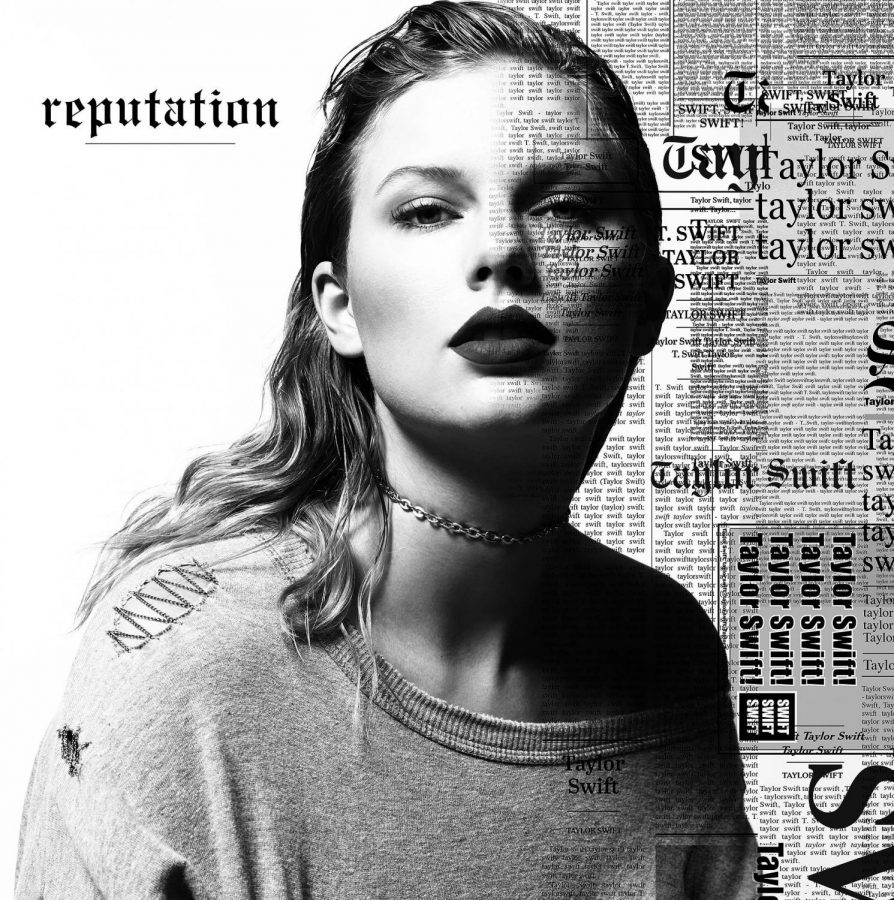 Courtesy of Big Machine Records
After her last album, "1989," dropped three years ago and a year-long social media blackout, Taylor Swift makes her return with "reputation," her newest album released on Nov. 10. The album brings out a new, darker sound from Swift as she sings of revenge and her reputation that has been tarnished over the years.
Not even her own fans, the ever-so-loyal "Swifties," were ready for it. Are you "…Ready For It?"
via GIPHY
It's no secret that Swift has had a number of feuds with celebrities in the past, and throughout the album, she sings about her feelings toward those feuds and her reactions to them. Swift was known as a forgiving person in the past, which may be the reason why it sounds like she's releasing all this pent-up frustration.
The album's first single, "Look What You Made Me Do," came as a surprise to many of Swift's fans. The rhythm had a creepy, vicious feel throughout the song, instead of the fun, upbeat tone they were used to. This album doesn't have a hint of the old Swift who used to sing those feel-good songs that made her famous.
In this song, Swift makes a clapback to Katy Perry's tweet that read, "Watch out for the Regina George in sheep's clothing…" The tweet, referencing a character from the film "Mean Girls," was speculated to be directed at Swift after she accused Perry of stealing one of her backup dancers.
"I've got a list of names, and yours is in red, underlined / I check it once, then I check it twice, oh!," Swift sings.
Like Perry's tweet, the lyrics referenced a scene from the film in which the George character writes in her burn book with a red marker. She calls her former friend who betrayed her a "fugly slut" and underlines the words for emphasis.
via GIPHY
"Call It What You Want" is another song about her relationship with a man who stands by her, even through all of the surrounding drama in her life. In the song, she mentions her disappearance from social media and that there were people calling her a liar. She credits the man for her doing better than she ever has before.
"All the drama queens taking swings / all the jokers dressing up as kings / they fade to nothing when I look at him / and I know I make the same mistakes every time / bridges burn, I never learn / at least I did one thing right," Swift sings.
While Swift is known for writing songs about her former relationships, the identity of this particular man is kept secret.
"This Is Why We Can't Have Nice Things" is a diss track aimed at Kim Kardashian and Kanye West. Swift speaks about her relationship improving with the couple, before West mentioned her in his song, "Famous."
"I feel like me and Taylor might still have sex / why? I made that bitch famous," West sings.
Swift initially denied West's claim that he came to her for approval of the lyric before the song's release. Kardashian later posted Snapchat videos of West on the phone with Swift to prove that they did discuss the lyric. After the videos surfaced, Swift said that the part where he calls her "that bitch" was left out of the conversation.
"And therein lies the issue / friends don't try to trick you / get you on the phone and mind-twist you / so I took an axe to a mended fence," Swift sings.  
It seems like Swift was working on changing her sound during her break from social media. And although "reputation" is different from her previous albums, the songs are still relatable to modern relationships, both socially and romantically. Listeners can expect to feel the intensity of Swift's emotions rising, while possibly connecting with her on a personal level.
Don't expect the old Taylor Swift to be back with a cutesy pop song anytime soon.
via GIPHY