Hornets continue postseason in National Invitational Volleyball Championship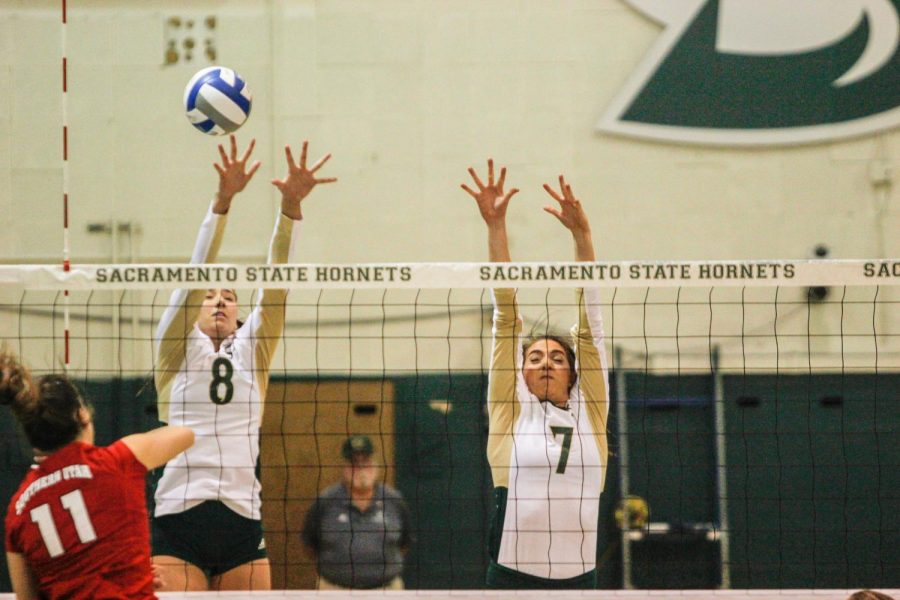 Instead of a trip to the NCAA Tournament, the Sacramento State volleyball team will continue its postseason in the National Invitational Volleyball Championship Tuesday at the University of the Pacific.
The Hornets, who won the most games (15) in the Big Sky Conference since 2007, looked well on their way to a NCAA Tournament berth after taking a 2-1 set lead over North Dakota in the Big Sky Championship game on Nov. 18. But Sac State lost two straight sets and the match against the No. 2 seeded Fighting Hawks.
Senior setter Kennedy Kurtz floated a perfectly-placed ball over her back across the floor to junior middle blocker Lana Brown who powered it into the ground to win the third set 25-18 in a game that was never close. The Hornets celebrated, and fans at the sold-out Colberg Court were in a frenzy.
However, it all came crashing down for Sac State. North Dakota ran away with the fourth set 25-15 before winning the final frame 15-10 to end the match with the conference title in hand.
"They put their heart and souls into it," Sac State coach Ruben Volta said. "It's incredibly difficult."
RELATED: Hornets fall to North Dakota volleyball in Big Sky championship match
The Hornets finished with the Big Sky regular-season title after going 26-9 with a 15-1 league record. They also took home the conference's top individual awards, as Kurtz earned most valuable player and Volta was named coach of the year.
"He's been awesome," Kurtz said. "He worked us through a really hard freshman season, and we had the biggest turnaround in the country my sophomore year."
Sac State went 3-13 in the conference during Kurtz's freshman year in 2014 and then rebounded with a combined 40-8 record in the Big Sky during her final three seasons.
Kurtz currently leads the nation with 1,593 assists on the season and could become Sac State's all-time single-season leader if the team makes a deep run in the NIVC. To do so, she'll have to catch up to Suzie Severyn who recorded 1,786 assists for a team that went 35-4 in 1995.
"Kennedy, she's our quarterback," senior outside hitter Shannon Boyle said. "If she's not setting the ball for us, we aren't getting kills. She's been awesome this season and the past three seasons before this."
Kurtz set career highs in every statistical category with 120 kills, 369 digs, 89 blocks and 52 service aces on her way to being named most valuable player this year.
Boyle and junior outside hitter Mikaela Nocetti were two of the beneficiaries from Kurtz's sets, and they were each named to the Big Sky first team.
"I have to give credit to my teammates," Kurtz said after earning the Big Sky MVP award, "my hitters get kills out of really crappy sets sometimes. It's an honor, I think I'm the sixth Hornet to get this award and to be put in the same conversation as the girl's (who have won before). That's a really big honor for me."
Boyle and Nocetti each set a career high in kills, and they each delivered in big games that helped Sac State win the regular season conference crown. In the first meeting against North Dakota on Oct. 5, Nocetti had 21 kills and 18 digs, while Boyle recorded a career-high 35 digs.
The duo also established double figures in kills and digs as the Hornets came back from a 2-0 hole to defeat Portland State in five sets on Nov. 4.
"This was kind of the definition to our season," Boyle said after clinching the Big Sky regular-season title on senior day. "Whether we are down 10 points, or we are down two sets, we come back, and we fight."
Brown, meanwhile, had 13 kills and a career-high 11 blocks during the win over Portland State and was later named to the Big Sky second team. She was a force in the middle all season after garnering 331 kills and is eighth in the nation with 164 blocks.
After the postseason, Sac State will graduate Kurtz, Boyle and Brigitte Murdock, who is 13th in the nation with 629 digs. But the Hornets will be left with Nocetti, Brown and middle blocker Brie Gathright to help lead a team that will include current sophomore outside hitter Sarah Davis, who had 16 kills in the Big Sky Tournament semifinals.
Current freshmen Macey Hayden and Cianna Andrews have also shined when called upon in minimal roles this season. In the Big Sky Tournament finals, Andrews had three kills while only playing less than one complete set.
For now, Sac State will turn its attention and efforts to the first round of the NIVC against UC Irvine at 4:30 p.m. in Stockton, California.