Danielle Muñoz helps more than 100 students with financial difficulties each semester
Student Affairs case manager works to add food, housing options for Sac State students in financial distress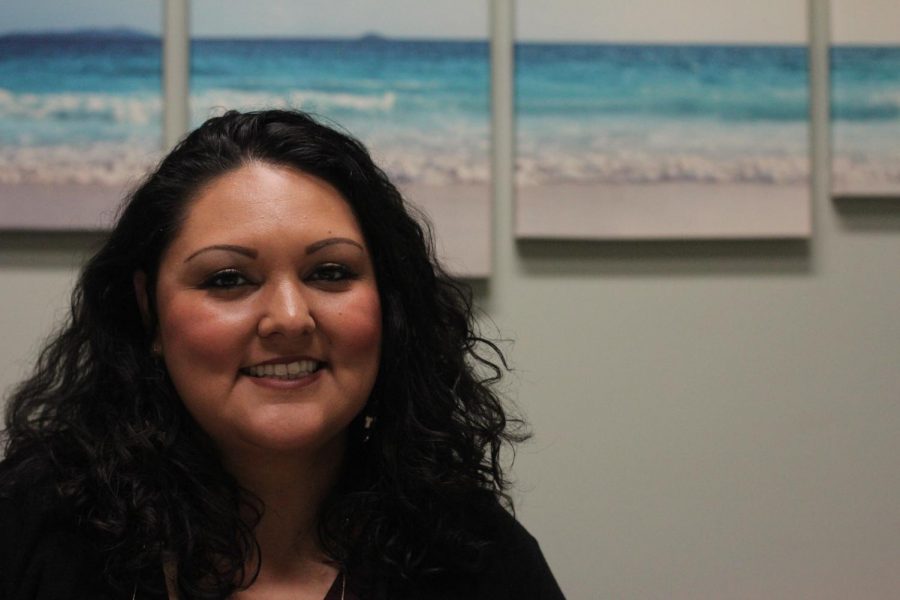 Without notice, the Behavioral Intervention Team at Sacramento State must be ready to help students who may be feeling suicidal, according to team member and Sacramento State Police Chief Mark Iwasa.
Within minutes of finding out a student could be in danger of hurting themselves or others, the team's goal is to have the student evaluated to see if further action is needed. That is normally where the team's job is complete, but one case manager on the team, Danielle Muñoz, isn't satisfied with stopping there.
Muñoz, a Student Affairs case manager, feels that there is more work to be done. According to Iwasa, Muñoz will either go to the hospital or call the student that night and the following days to make sure that they are able to transition back into school life.
That is just one of the many jobs that Muñoz does. In less than two years at Sac State, she has helped more than 100 students with financial difficulties each semester. Assemblyman Kevin McCarthy even gave Muñoz and Student Affairs a congressional recognition certificate during the 2017 Hunger & Homelessness Community Awards on Nov. 15 for the team's work.
Muñoz faced her own adversities while in college. As a child, she grew up in a military family who used not just every dollar, but every penny wisely. She said that she didn't have the flashiest clothes or a lot of spending money, but she had enough.
When it came time to pick a college, Muñoz said her parents told her that her choices may be limited due to financial constraints. She was accepted to UC Davis but began to realize her options were limited until she spoke with a counselor.
Muñoz said that her counselor told her to fill out as many scholarship applications as possible, which ended up being about 50. She said the days of waiting to hear back were long and scary, and she considered not going to college at all before she was  awarded 10 scholarships, which paid for almost everything she needed. However, it wasn't enough.
Muñoz attended UC Davis and played on the club water polo team. Shortly into her time as an Aggie, she began working at the pool as a lifeguard to make some extra money for food and rent.
"I totally hustled in college," Muñoz said. "I had all of those little jobs, I hustled for those scholarships. I just had to really work hard."
After her time at Davis, Muñoz attended graduate school for three years at Sac State. She said that she took night classes so she could work during the day. After she finished graduate school, she immediately became a case manager and therapist.
Muñoz said that she worked with adults with developmental disabilities to find jobs and housing.
"I would set up their schedule in the community," Muñoz said. "A lot of them have talents. They should just be called, 'differently-abled.' "
In addition, she also worked as a marriage and family therapist and volunteered three nights a week at the Gender Health Center in Sacramento.
When Muñoz arrived at Sac State, there weren't many options for students who were in financial distress. Muñoz's job as a case manager doesn't stop at checking on students who are undergoing emotional distress.
Mostly through referrals from faculty, students who are homeless or who could be facing the threat of homelessness can seek out Muñoz for help to find housing, which is usually temporary, lasting for a semester or longer.
When Muñoz started in spring of 2016, she continued volunteering and working as a therapist. Her workload at Sac State grew as more students requested her help. In order to give those students her full attention, Muñoz said she began to cut back on her work outside of school and eventually phased it out completely.
"I needed to have all my focus on my students because I didn't expect that we would have such a high volume of people coming in such a short amount of time," Muñoz said. "I'm now fully focused on Sac State efforts."
Muñoz said that she hopes that Sac State will add another member to the case management team in order to assist her with helping students in need.
"I go home everyday saying, 'God, if only I could clone myself five times over to help more students,' " Muñoz said. "If I could get to students sooner, that is just sooner that students could get back to studying."
Since Muñoz got to Sac State, she has worked to accommodate more than 100 students per semester and said she has already helped 118 this semester.
"I can't overstate how important she is," Iwasa said. "She makes sure the students are safe, and sometimes the person needs other resources. She has access to all of that. There are dozens of students that she is calling and following up on constantly."
"Helping people always made sense to me," Muñoz said. "I am really proud of students, and I'm proud of faculty and staff in becoming involved in these efforts."
---
Correction (Thursday, Nov. 23 at 9:45 a.m.): In the previous version of this article, we reported that Muñoz assisted with opening the ASI Food Pantry, when in fact she did not.  The ASI Food Pantry was founded by ASI Board members in 2015.