Women's soccer team keeps playoff hopes alive with 4-0 win
The Sacramento State women's soccer team's regular season may be coming to an end, but its playoff hopes stay alive thanks to a 4-0 win over Southern Utah Sunday at Hornet Field.
Going into this game, the Hornets were tied for sixth place, which is the coveted spot if a team wants to make the Big Sky Conference playoffs. After the win, they now sit tied at fifth place with Northern Arizona, North Dakota and Southern Utah.
Sac State (8-7-3, 3-3-3 Big Sky) freshman forward Kylee Kim-Bustillos and senior midfielder Andrea Boehm each scored a goal in the first half to give the Hornets an early 2-0 lead.
"I think, in the first half, they weren't very rough, and then in the second half, they kind of realized that they needed to get it together," Boehm said. "I think we came back a little bit stronger, which made us get a little bit more calls called on us."
With its playoff lives on the line, Southern Utah (5-13, 4-6 Big Sky) entered the second half with a more aggressive play-style. Several rough plays from Southern Utah even had the crowd audibly calling out the referees.
"You know, I'm not allowed to say anything about the refs, but it was what it was," said Randy Dedini, the Hornets head coach. "I thought our girls did a good job of keeping their cool, and fortunately, we got out of there with just some nicks and bruises, but nothing major as far as injuries."
Sac State countered the Thunderbirds' attack with scores from both Kim-Bustillos and Boehm for a 4-0 advantage.
"I mean, 18 shots to 4 shots pretty much does that right there, and on top of that, a 4-0 win," Boehm said. "It's great."
With time dwindling, Sac State freshman goalkeeper Aaliyah Fesili was subbed out for senior Meghan Glisson in honor of senior day.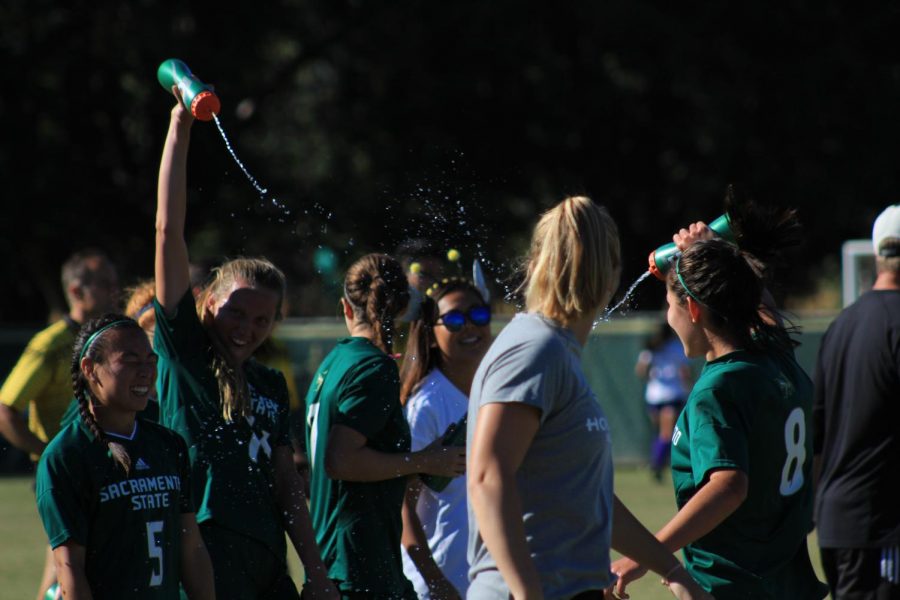 "Honestly, I think we deserved to be in the playoffs more than anyone in the conference," Kim-Bustillos said. "We all work really hard, we all want it, and we're definitely more than capable of getting into the playoffs and winning the conference. It's just a matter of performing and executing."
The Hornets' win over Southern Utah eliminates a threat to their playoff lives. With one more game left in regular season, they face one more challenge before they can guarantee a spot in the postseason.
"I mean, overall, I think the better team won," Dedini said. "I think that's the most wins (Southern Utah has) had since they've been in the conference. Having four wins was exciting for them, but clearly I thought we were the better team, and the better team won in this game."
Sac State's last game of regular season will be against Northern Arizona at 3:30 p.m. Friday at Hornet Field.