Sac State women's soccer team shutout 1-0 against Northern Colorado
The Sacramento State women's soccer team suffered its first loss in Big Sky Conference play against Northern Colorado 1-0 Sunday at Hornet Field.
The Hornets (6-5-2, 1-1-2 Big Sky) outshot the Bears 14-4. Sac State senior midfielder Andrea Boehm, freshmen Kylee Kim-Bustillos and Alyssa Baena all had shots on goal in the first half but were blocked by Northern Colorado goalkeeper Madeline Burdick. Kim-Bustillos ended the game with four shot attempts, followed by Boehm and freshman midfielder Ariana Nino with three each.
"(It's) disappointing since it's at home and everything," said Caitlin Prothe, a junior midfielder for the Hornets. "First half we came out a little slow but our team; we fight until the end. We outshot them 14-4 and (we were) just unlucky today."
Northern Colorado capitalized early on Sac State's misfortune by scoring in the 14th minute by way of senior forward Brooke Braden.
"It's a little annoying to have so many shots from our side," Baena said. "It was 14 shots as opposed to their three. They had one good chance and they just got it in the back of the net."
The game didn't get any better for Sac State after a second half collision between Boehm and Burdick resulted in a momentary pause in play and a yellow card for Boehm. A total of three yellow cards were given in the game, two of which were called on the Hornets.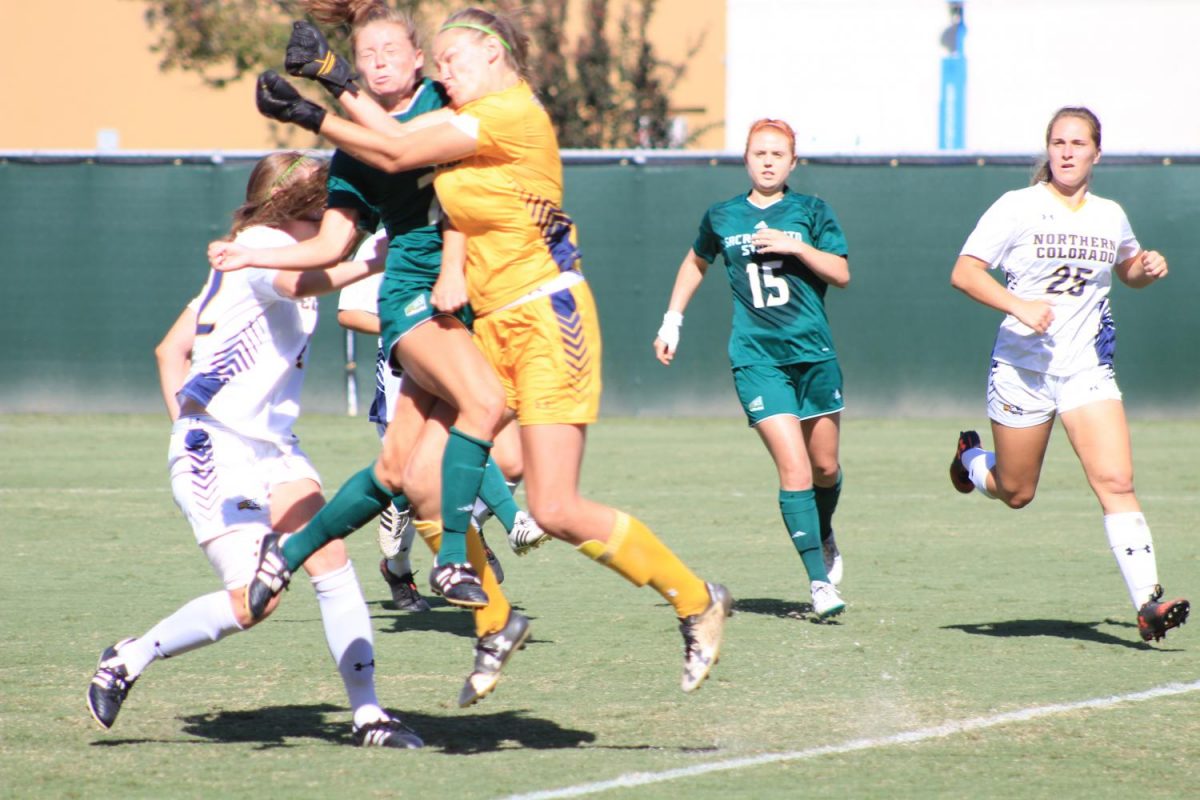 With a over 30 seconds left in regulation, Sac State senior defender Chelsea Arnold took a corner kick to set up a potential game-tying score. Freshman defender Christina Lazar came close to punching in Arnold's cross but shot too high and missed the net.
Other than the one goal allowed, Sac State freshman goalkeeper Aaliyah Fesili was reliable as usual and stopped two potential goals. However, Burdick proved to be better with six saves for Northern Colorado.
"I think we ran into a hot goalkeeper today," said Randy Dedini, the Hornets' head coach. "She made about three or four saves that normally, a couple of those go in, so I think she saved their butts today."
Sac State will play the University of Montana next at 2 p.m. Friday in Missoula, Montana.