Sac State volleyball remain undefeated, in control of Big Sky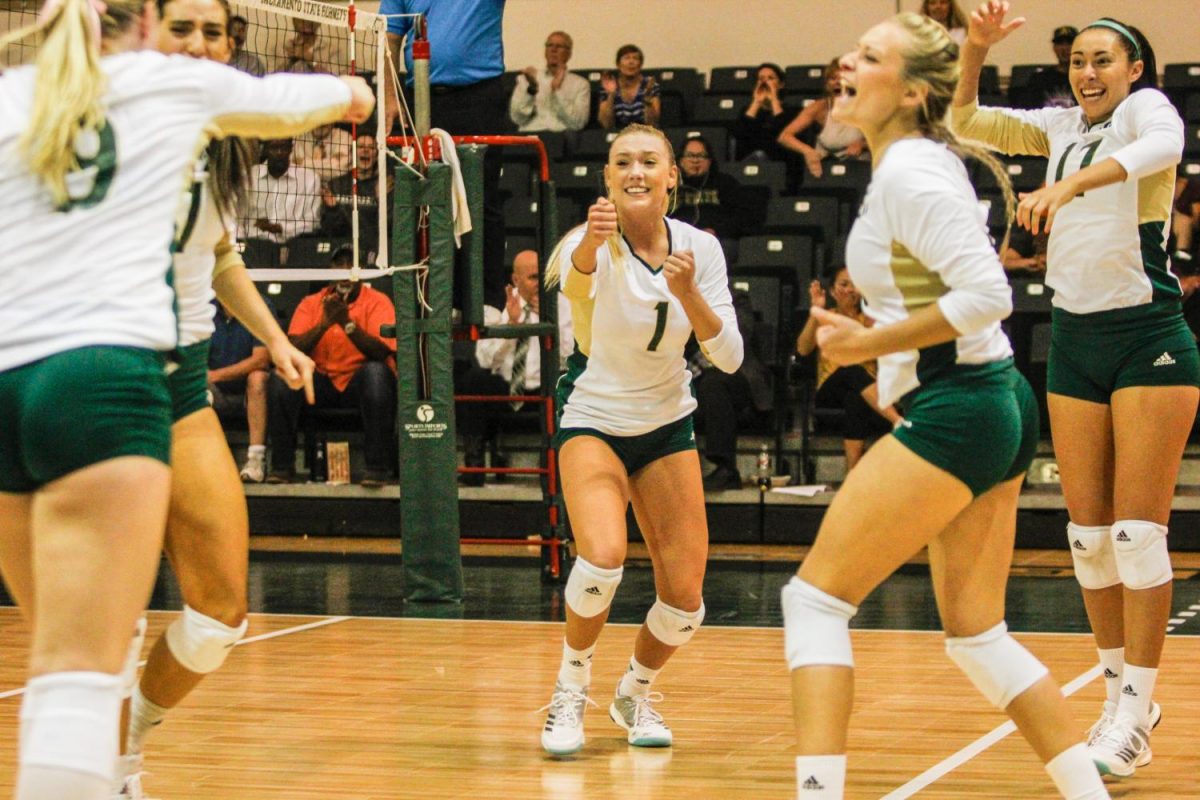 After taking down reigning Big Sky Conference champion North Dakota on Oct. 5 and Northern Colorado on Oct. 7, the Sacramento State volleyball team improved to 6-0 in conference competition.
With 10 games remaining on the Big Sky schedule, Sac State is showing its seasoned leadership with six of the teams' seven starters either being juniors or seniors.
Aside from North Dakota (25-20, 24-26, 25-15, 22-25, 15-12), the Hornets have finished off their five other opponents in four sets or less, including four sweeps. Sac State (15-7, 6-0 Big Sky) is now in sole possession of first place in the conference and are the frontrunners to host the Big Sky Conference Tournament from Nov. 16-18.
"To be honest, I think the conference tournament is going to be (in Sacramento)," said Mark Pryor, North Dakota's head coach. "I think (Sac State) is going to win it. It's only a third of the way through, but right now they're playing at a high level and playing with more passion."
Since taking an 11-day trip to China in June to play five matches, the Hornets have been together almost non-stop.
It's also helped having a difficult non-conference schedule, which included games against BYU, Missouri and Boise State. Sac State cruised through the first four games of conference play before facing North Dakota.
When the Hornets stepped on the floor to play the Fighting Hawks five days ago, it had been one day short of a full year since the Hornets fell in five sets at the Betty Engelstad Sioux Center in North Dakota.
The five-set match left the Hornets devastated. Sac State had dominated in set four before falling behind 13-10 in the fifth. The Hornets then scored three straight points to tie the game up before the Fighting Hawks closed out the game 15-13.
"That fifth set (last season) was heartbreaking," said Mikaela Nocetti, the Hornets junior outside hitter. "This year, we were ready to play them for major revenge."
Wow Sac State wins Game 5 15-12 to win the match. Hornets improve to 5-0 in conference. Here is the game winner pic.twitter.com/e1FZ52Cs1F

— Thomas Frey (@ThomasFreyRP) October 6, 2017
After sitting with that loss for nearly a year, all of the Hornets starters put up big numbers in this win over North Dakota. Senior outside hitter Shannon Boyle had 13 kills and 35 digs, junior middle blockers Lana Brown and Brie Gathright had 13 and 11 kills, respectively. Nocetti tacked on 21 kills and 18 digs, while senior libero Brigitte Murdock had 23 digs.
"To be a part of such an important win in conference like that is one of the best feelings I've had as a college athlete," said senior setter Kennedy Kurtz after she recorded 57 assists, 14 digs and seven kills in the win.
Sac State now sits in the lead to host the Big Sky Tournament after winning its first six games in conference play for the first time since 2007, but Kurtz said the team can't afford to think about that right now with Southern Utah coming to Sacramento Thursday at 7 p.m.
"Does being (6-0) mean that we can let up at all? Absolutely not," Kurtz said. "I think that we just need to keep grinding. Being (undefeated) is such a big accomplishment, but there is so much more of conference left. We just have to remember that.
"You can be (unbeaten) and then lose the rest of your games, and then being (6-0) doesn't mean crap."