Sac State under audit of CSU for safety conditions in science labs, lead contamination
A group of employees plan to sue the university for workplace hazards resulting in medical conditions
The California State Auditor's Office is currently conducting an investigation into health and safety at four CSU campuses — including Sacramento State.
Four state legislators requested an audit of the four campuses (which also include Sonoma State, San Diego State and CSU Channel Islands) in June, citing what they called a "disturbing trend" of threats to student and employee health.
These threats included a chemical spill in 2016 and the questionable method of chemical storage on campus which multiple Sac State employees now claim left them with health problems including compromised fertility, and the fact that the school did not publicize the presence of lead above state and federal standards in school drinking water for 10 months.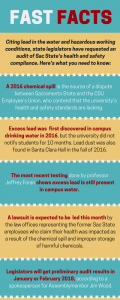 In May of 2016, lab technicians were called to clean up a chemical spill in an advanced chemistry class. The chemical they were called to clean up was dimethylformamide, known as DMF.
According to the Center for Disease Control, DMF is a chemical that can cause liver, skin, and respiratory problems if ingested or inhaled.
According to Kim Harrington, the chapter president at Sac State of the CSU Employees Union, the initial focus of the CSU Employees Union was to get campus administration to address the group's safety concerns.
Harrington said that the Sac State CSU Employees Union vocalized their concerns about the May 2016 DMF spill and the improper storage of chemicals to Sac State President Robert Nelsen.
Initially, Nelsen was receptive of their requests, and moved the employees out of the chemical storage rooms, but according to Harrington, they moved back in shortly after.
"They had a spill there, and it was an accident, but how they responded is a big problem," said Patrick Gantt, the president of the CSU employees union. "The university was not willing to remove them (employees) and put them in a better place. That's a contentious point between us and the administration, and some of the employees have since left the university."
The Sac State employees who said they were suffering from health issues are now being represented by Hughey Law Group. The individuals affected declined to comment on this story, instead referring questions to their attorney, Kevin Hughey.
"Hughey Law Group continues its investigation and due diligence into the gamut of CSUS problems of campus and facilities safety, student and employee hazardous materials exposure, and complete and total lack of adequate response or handling by CSUS leadership," said Hughey. "This is one of those cases and situations in which the deeper down we drill, the more suspect or actionable material we find."
Hughey believes that the results of the audit will likely find "additional student and employee safety issues," and said that his group will likely file suit this month.
Sac State commissioned the UC Center for Laboratory Safety to perform an audit of the chemical storage room. Thirty-two pages of the 50 page report has been redacted, due to attorney-client privilege according to the document.
According to Gary Rosenblum, senior director of Risk Management Services at Sac State, the report indicated that air quality is consistent with established safety limits.  He also said that the Laboratory Safety Task Force made recommendations which are being implemented, including improvements to the air conditioning systems and safety and spill procedures.
"When employees, faculty and students raise questions or concerns about safety and health on campus, we respond swiftly and measure and mitigate the hazards that are confirmed," said Rosenblum. "The primary concern is the safety and health of all employees, faculty and students."
Legislators also cited in their audit request the continuing lead contamination of drinking water sources on campus. A test of all drinking fountains and sinks meant for consumption on campus found that 43 campus sources were above the EPA action level for lead contamination, 15 parts per billion.
More recent testing by a campus research group suggests that, though those 43 sources were remediated over the summer, the concentrations of lead are highly variable and remain unknown at this point.
Auditors are asking all other CSU campuses to self-report their compliance with state health and safety laws.
The audit was proposed by Assemblymember Jim Wood, D-Healdsburg, and passed with unanimous bipartisan support from the Joint Legislative Audit Committee.
"It was obvious that a deeper investigation was warranted," Wood said. "Whether it was lead in drinking fountains, storage of hazardous materials dangerously close to staff offices, or the unknown, and possibly permanent, harm to staff who responded to chemical spills, all made it clear to me that CSU had major deficiencies in these areas and we need to get to the bottom of it."
The Joint Legislative Audit Committee will get preliminary results of the audit in January or February 2018, according to Cathy Mudge, Wood's communications director.
"Safety is the real issue at Sac State — it has been for years in spite of what they're trying to put in place now," said Harrington. "We tried to do everything on campus but are fortunate the legislature is helping us. This audit is probably best for our people throughout the system."
Additional reporting by John Ferrannini
---
UPDATE (Sept. 14 at 1:27 p.m.): This story was updated with a quote from Gary Rosenblum, senior director of Risk Management Services at Sac State