Sac State soccer falls in double overtime to No. 24 Cal
The Sacramento State women's soccer team met its stiffest competition yet after a 2-1 double overtime loss against the No. 24 ranked Cal Golden Bears Friday at Hornet Field.
Cal took possession of the ball first, but quickly turned it over to the Hornets as control of the ball went back and forth. Shots on goal were tied 4-4 before Sac State freshman forward Kylee Kim-Bustos scored a goal with an assist from senior defender Chelsea Arnold to give them a 1-0 lead in the 35th minute of the match.
"The first half, I was so nervous," freshman goalkeeper Aaliyah Fesili said. "When we came off we were very happy with the outcome, but we were also looking towards the second half. We weren't really focused on the score, we were like 'OK, we gotta finish off on a good note.' "
The Golden Bears responded with a quick play of their own as they rushed the ball down and attempted a shot on goal, but Fesili dived to prevent the score.
"Props for our freshman goalkeeper who is playing outstanding," said Randy Dedini, the Hornets head coach. "She made some big saves today and she's looking incredibly strong back there for us."
The second half started with junior midfielder Caitlin Prothe absorbing a hard collision with a Golden Bear that knocked the wind out of her and caused a momentary pause in the game. Arnold, a key member of the defense, also fell down on a play with eight minutes left in the second half that forced in a substitution.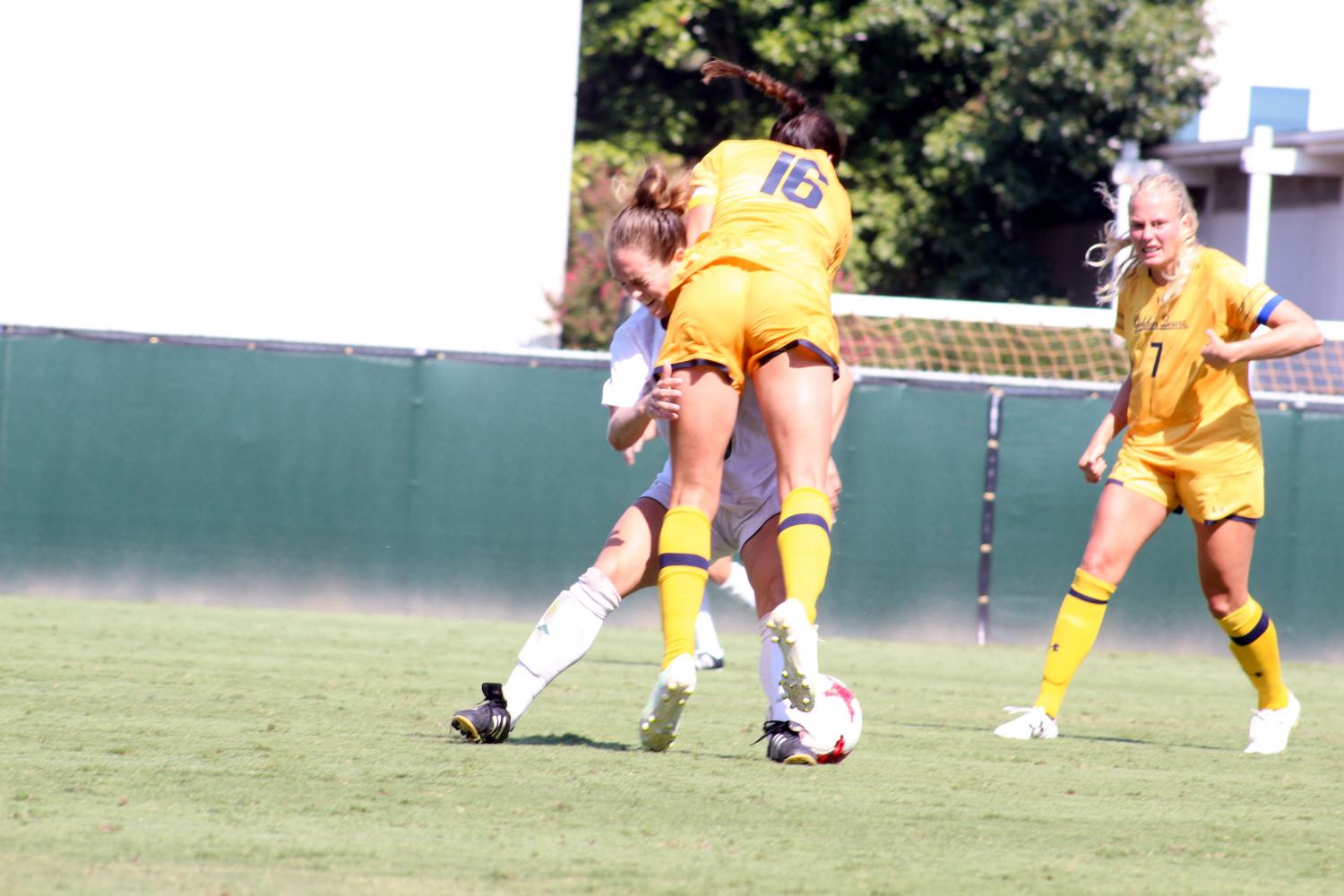 Clutching onto a 1-0 lead, the Hornets watched as Cal forward Miranda Nild took advantage of the defense and scored a goal to tie it up with only four minutes left in regulation.
"With five minutes left in the game, we could have stalled out time a little better and we kept giving them possession and they ended up scoring," Dedini said. "That's a mistake that we've got to learn from and I'd rather have it happen now than in conference, but with five minutes left we had a good chance to win this game, if we had just played smart."
With little time remaining in regulation, the Hornets pushed the ball away from their own goal as Sac State freshman midfielder Skylar Littlefield went down and needed to be subbed out.
After remaining scoreless in the first overtime, Cal midfielder Abigail Kim scored the final goal of the game in double overtime to secure a 2-1 victory for the Golden Bears.
"We played really well, but it was a disappointing loss because I definitely think we played well enough to win," Arnold said. "Going into overtime, I think we felt pretty good. It was a little demoralizing getting scored on at the end of that game, but I think we put up a good fight in overtime and it was just an unfortunate goal."
Sac State will hit the road for five-straight away games beginning with UC Davis Monday at 4 p.m. at the Aggie Soccer Field.