Sac State football team drops season opener at Idaho 28-6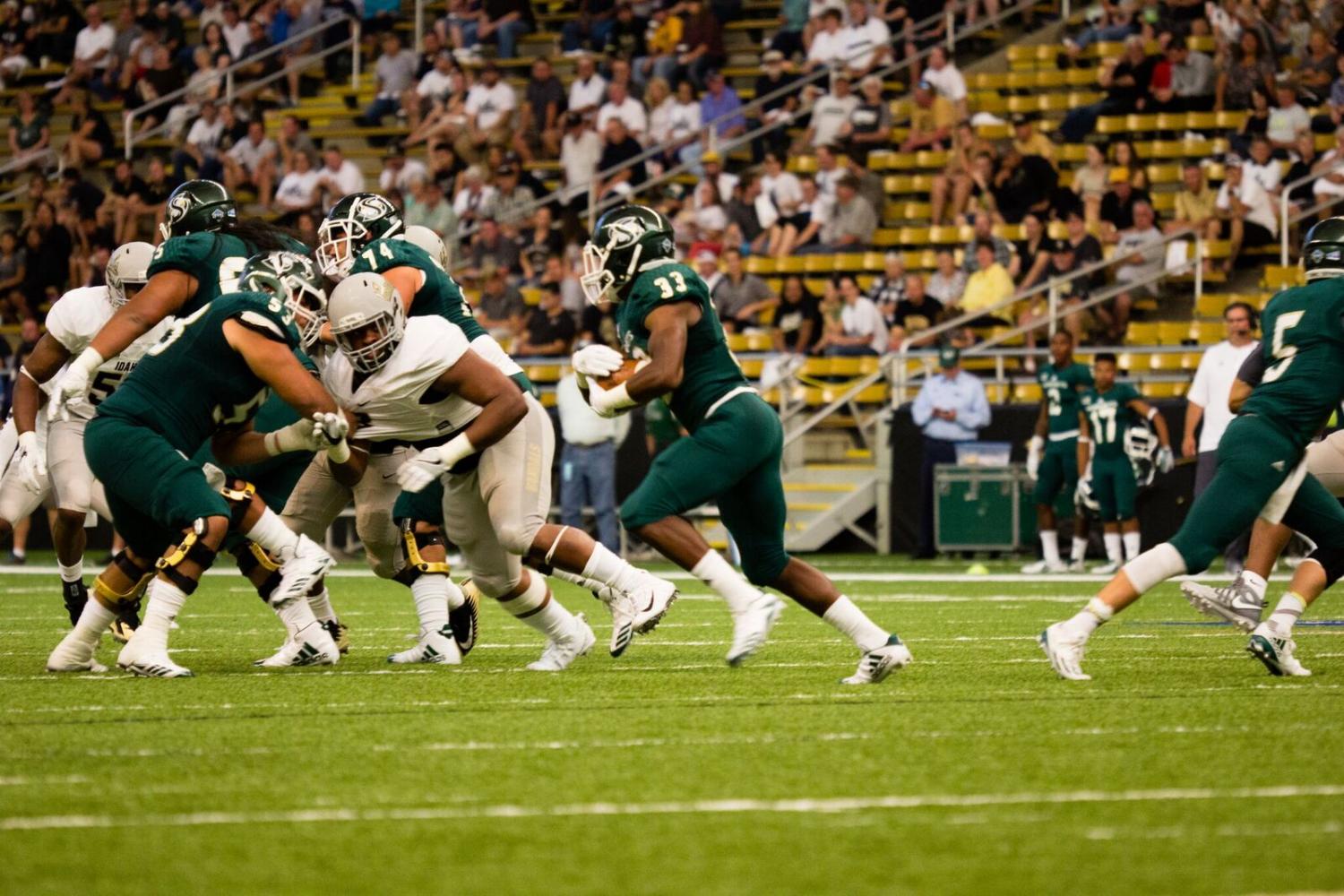 For brief moments in the second quarter, the Sacramento State football team had control in the season opener at the University of Idaho's Kibbie Dome Thursday night.
The Hornets (0-1) held a 3-0 lead late in the second quarter against their FBS opponent due to three strong runs by true freshman Elijah Dotson and a defense that was putting opposing quarterback Matt Linehan on his back.
In less than three minutes, that lead, and the game were well out of the Hornets hands and as they went down 14-3 before ultimately losing 28-6 to Idaho (1-0).
The Hornets chose junior Kevin Thomson, a transfer from UNLV, as the starting quarterback and he struggled out of the gate. He threw for 50 yards in the first half and finished with 95 yards on 10-of-21 passing. The offense stalled on nearly every drive and only had a 1-15 conversion rate on third downs.
The Vandals — who finished 9-4 last season — and Manning Award watch list quarterback Matt Linehan stalled early against the Hornets. Sac State junior defensive lineman George Obinna forced a fumble and sacked Linehan twice while junior defensive back Dre Terrell recorded a sack and picked off Linehan in the endzone to stop an early threat.
With a 3-0 lead in the second quarter, the Hornets had the ball and momentum after back-to-back sacks from junior linebacker Malcolm Thomas and Obinna, and were coming off their best possession of the night when Dotson rushed for 40 yards on three carries to set up a 52-yard field goal that junior kicker Devon Medeiros booted through the uprights.
It appeared as if the puzzle of figuring out which Hornet running back would be the starter was over, but it wasn't as Dotson only ran for six more yards the rest of the evening and Sac State was forced to punt.
On second and 10, Hornets sophomore defensive lineman Josiah Erickson nearly pulled down Linehan for a sack, but the 239-pound quarterback escaped and fired a short pass to Aaron Duckworth who broke tackles and turned the play into a 49-yard gain. Three plays later, the Vandals were in the endzone.
"I was pleased at times but we let guys get out of a couple of tackles which resulted in big plays," Sac State coach Jody Sears told Hornet Athletics. "At the end of the day, we didn't tackle well enough against a good football team. There are no moral victories. They ran the ball for 193 yards which is inexcusable and that's because of too many missed tackles."
Idaho forced another three-and-out on the next Sac State possession and took advantage by scoring again on three plays to go up 14-3 with three minutes, 39 seconds to go in the first half.
With 11 seconds left in the first half, Obinna recorded his second sack and forced a fumble which set the Hornets up with a field goal to head into halftime down 14-6.  
The Vandals capitalized on their first possession of the second half by scoring a touchdown to go up 21-6 and the Hornets never threatened to make it a close game again.
"I thought our defense played well," Vandals coach Paul Petrino told Idaho Athletics. "They flew around and did good things. Offensively, we didn't play well at all. It was pretty easy to watch that. But we ran the ball well enough to win."
Sac State will next host Incarnate Word in its home opener Sept. 9 at 6 p.m. at Hornet Stadium.