Phoenix Rising dance concert inspired by social climate
Sacramento State students from the Department of Theatre and Dance will rise like a phoenix born from its predecessors' ashes in their upcoming dance concert, "Phoenix Rising."
Phoenix Rising will open the fall 2017 show season on Sept. 13 and will be directed by Vice Chair and Dance Coordinator Lorelei Bayne, who wants the concert to convey a message of encouragement for people to continue to rise in today's society.
"Phoenix Rising is from Greek mythology," Bayne said. "The phoenix (is) the bird that keeps rising up even after it's pummeled down. So, just the idea that in our current social cultural political situation, we all need to continue rising up and the work of artists helps us do that. (It) helps us get in touch with our humanity and our hearts."
This will be this concert's first time incorporating original works from dance faculty, guests choreographers and a select set of students. Bayne said that this dynamic gives the audience an opportunity to engage in the works of artists in different stages of their careers.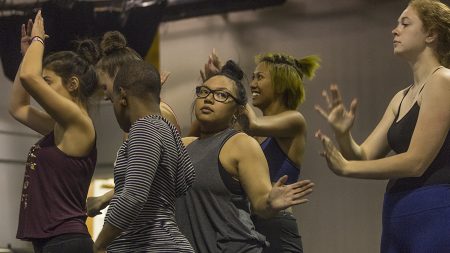 At the same time, student performers are given the opportunity to get hands-on work and experience alongside professional choreographers, including Raissa Simpson of San Francisco's PUSH Dance Academy and Sac State alumni Melisa Cervantes and Diego Campos.
"I believe (Phoenix Rising is) more of a gathering of various voices, choreographically speaking," Campos said.
Different fusions of modern, contemporary, dance theatre, and tango will be performed at the concert. Different themes such as feminism and women's representation in the past, present and future will be on display.
Not wanting to give too much away, Cervantes said that a lot of pieces will seek to transform the small space and utilize it in the pieces.
"There's a lot of variety (in dance styles) and I feel like students would gain from seeing something different," Cervantes said. "It's a different experience because it's so intimate in here."
The space in Solano Hall 1010 is smaller than other dance studios on campus, something Bayne said will allow for a closer exposure between the performers and the audience and add to the overall experience of the concert.
"Dance is a live art form and it really can touch people very viscerally," Bayne said. "Being in a small space of the dance space, the audience is so close to the performers. We really hope that the audience will be touched by what they see in some way, that they will have a reaction, they'll be in touch with their emotions and they'll let themselves just go on the journey with us."
Phoenix Rising will run on Sept. 13-24 in Solano Hall 1010.