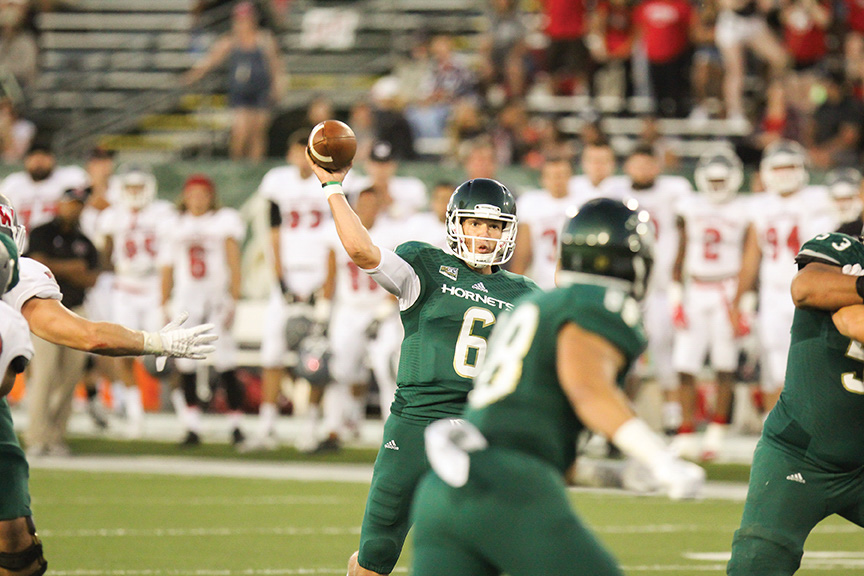 Matthew Dyer
After back-to-back 2-9 seasons, the Sacramento State football team will look for a new quarterback in 2017 to lead them to an above .500 record for the first time since 2014.
Two-year starting junior quarterback Nate Ketteringham was asked to transfer earlier this spring semester and has been granted his release along with the permission to talk to other universities.
Ketteringham, who sources said is expected to transfer to Big Sky Conference rival North Dakota, started 15 games for the Hornets during the past two seasons and finished his Sac State career ranked 11th in program history in passing yards (3,391), 10th in completion percentage (.548), eighth in completions (293), fourth in yards per game (199.5) and fourth in 300-plus yard passing games (5).
"I'm basically open to everything, looking at my options and weighing the best ones, seeing (which  program) fits me best," Ketteringham told Skyline Sports regarding where he plans to transfer. "The coaching staff is the biggest thing. I still have my redshirt year, so I can go into a program, sit out and then play my last two years."
The dual-threat quarterback rushed for 267 yards, scored four rushing touchdowns and averaged 15.7 rushing yards per game in two seasons.
Ketteringham, who originally planned to redshirt his freshman year, was asked to play midway through the 2015 season after starting quarterback Daniel Kniffin and backup Kolney Cassel both suffered season-ending injuries.
Senior offensive lineman Pailake Aiono started the past two seasons alongside Ketteringham and watched the four quarterbacks on the roster compete for the starting job during the spring.
"I was surprised when the news broke on Nate, but given the past two seasons I was aware that it was a possibility," Aiono said. "Ketteringham's athletic ability was a one-of-a-kind thing and I am going to miss his elusiveness."
While Sac State still has four quarterbacks on its roster, head coach Jody Sears and offensive coordinator Paul Wulff have yet to name a starter for the 2017 season.
The quarterback with the most experience in a Sac State uniform is Cassel. As a 2015 transfer from Southern Methodist University, Cassel has a 54.5 completion percentage (61-for-112), threw for 637 yards and three touchdowns and has yet to throw an interception in eight games for the Hornets, but he missed all of spring with a shoulder injury.
Kevin Thomson — a junior transfer from the University of Nevada, Las Vegas — has not played a snap nor recorded any statistics at the collegiate level, but Aiono described him as the best leader of the four quarterbacks.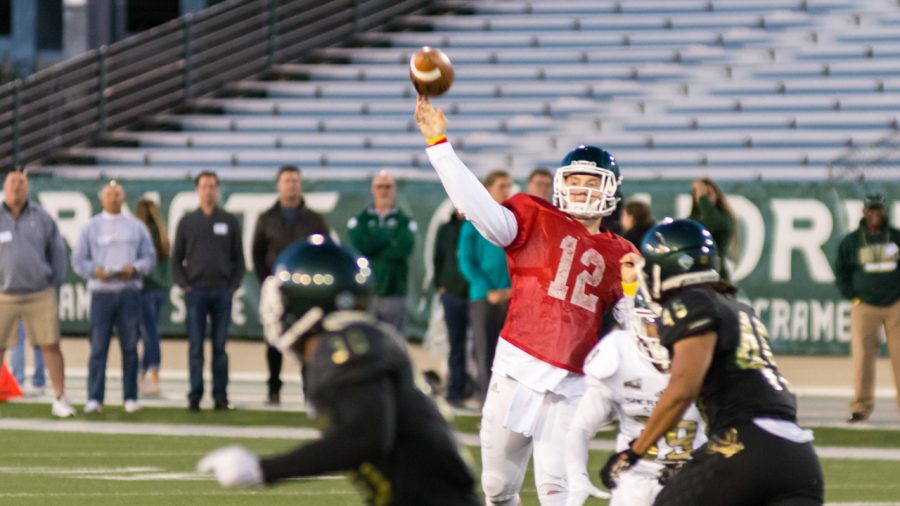 Wyatt Clapper, a junior transfer from Modesto Junior College, threw for 2,078 yards with 17 touchdowns and 5 interceptions to earn himself all-Valley Conference honors last season for the Pirates. At 6-foot-3, Clapper is the tallest of the four quarterbacks, but Aiono described him as the most timid of the bunch.
Roman Ale, a freshman who redshirted at Sac State last year, is the fastest of the four quarterbacks, but a lot of the aspects in his game are still developing, Aiono said.
Despite the void at the quarterback position, the Hornets do have one of the most experienced offensive lines they've had in the past few seasons. Sac State is returning all five offensive linemen from last year, including 2016 all-Big Sky honorable mention Aiono.
"In college football, it is hard to have the same offensive line for two-plus years," Aiono said. "Returning all five guys is a huge boost for our chemistry and this year (so) there is no excuse for us (not) to be better."
In seasons past, the offensive lines' inexperience was a big part of the struggles from Ketteringham and the other quarterbacks. Despite paving the way for an average of 171.8 rushing yards per game in 2016, the line also allowed 35 total sacks in the same year and 61 in the past two seasons.
Whoever the starting quarterback is in 2017, the biggest thing the team is looking to improve on is decision-making.
"At (the quarterback) position, you have to make the best decisions on the field," Aiono said. "Since Garrett (Safron) left, we have just lacked (in that) aspect at that position."