PRIDE Center celebrates 10th anniversary with party
The PRIDE Center celebrated its 10th anniversary with a birthday party filled with party favors, music, dancing and staff members old and new sharing their stories and experiences.
Chris Kent, the program coordinator of the PRIDE Center, wanted the celebration to reflect a birthday party. Colorful balloons in the shape of stars and hearts floated near the stage.
Assorted party hats, plastic crowns decorated with rhinestones, horn blowers and small bottles of bubbles were just some of the items that sat at each table.
"I think our style has always been fun and informal and if we're going to celebrate ourselves then it has to be in our own style," Kent said. "We wanted it to be fun and colorful and part of making sure people are having fun is giving them things to play with."
The event brought together many current and former students of the PRIDE Center, Multi-Cultural Center (MCC) and Women's Resource Center (WRC). Allies and off-campus LGBT people also came to celebrate the center's birthday.
A "wall of fame" showcased former staff members and volunteers of the three centers for diversity and inclusion. Short biographies provided some insight on the work they accomplished during their time at Sac State and what they are doing now in their lives. (Story continues below)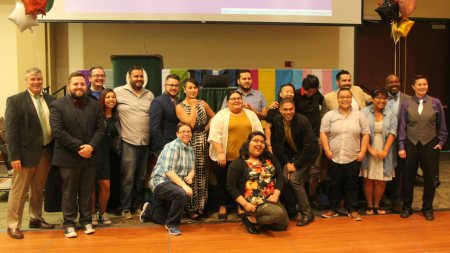 Keyko Torres, a PRIDE Center alumnae, graduated in 2011 but still visits the PRIDE Center often. Torres was one of the many featured on the wall of fame; she credits the PRIDE Center for giving her a taste of working in a social justice-oriented space.
"I have loved watching the PRIDE Center grow into a well-known and respected resource on campus from very, very humble beginnings and foster a lot of leaders that are out in the community," Torres said. "(I enjoyed) seeing old faces (tonight) and getting to find out where a lot of people from back in the day ended up. I know a majority of the people on the wall, so it's really cool."
Bonnie Sugiyama, a Sac State alumnae, was at the party to accept the founder's award for her role in helping to establish the PRIDE Center. Sugiyama spent six of her nine years as a student working at the WRC, where she also planned programs for the PRIDE Center before it was officially founded in 2007.
Sugiyama and other LGBT students pushed for a PRIDE Center on campus by attending former Sac State President Alexander Gonzalez's town hall meetings. She strategically placed students at the front row, where they were captured on the live broadcast. So, the president would have to answer their questions if they raised a hand, Sugiyama said.
They would keep coming to the meetings, and the turning point came when one of the students asked a question that, according to Sugiyama, had the president at a loss for words.
"The president didn't know how to answer this question, he didn't know what the issue was, and he would just get really red and hot under the collar." Sugiyama said to the crowd. "So, that is actually how we got the PRIDE Center. Because queer was on the agenda at the president's cabinet and he wanted to continue to have his town hall meetings, but didn't want to have us continue to disrupt him." (Story continues below)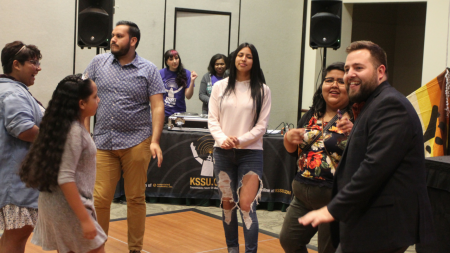 Cynthia Dela Cruz, former coordinator of the PRIDE Center in 2007, was the student that stumped Gonzalez at his town hall meeting. Dela Cruz described herself as shy and introverted; she planned to just be present on that day and did not intend on speaking.
Dela Cruz later found herself in a difficult position when she needed to use the restroom, but was unsure of which one to use. Dela Cruz is lesbian and genderqueer. She said she has faced discrimination in women's restrooms before where other women would often stare or point out that she is in the wrong bathroom. Dela Cruz said that one woman once called security to have her removed.
"Because there was a lot of people around the Union, I didn't know if I should go use the women's restroom," Dela Cruz said. "Sometimes, I'll just use the men's bathroom cause I know I could pass and nobody would look at me — it's easier. So, I told (President Gonzalez), 'I just drank this whole bottle of water while you were talking and I have to use the bathroom, which bathroom do you think I should use?' and he didn't know how to answer that."
Another special guest to speak at the event was Edward Mills, the vice president for student affairs, who was also marking his own 10 years as a staff member at Sac State — the first campus for Mills to work at that had a center for the LGBT community.
When Mills arrived to Kansas State University as a freshman, the first thing he saw as he pulled up to the residence halls were protestors from a local church holding up signs on the lawn that read anti-LGBT messages.
Mills said that he was looking forward to being himself at his new campus, but was not sure how the residence halls where he was moving to would accept him as a gay man.
There was no LGBT center at Kansas State. There was no LGBT center at Pennsylvania State, either, where Mills attended for a master's degree. The same goes for when he attended Cleveland State.
"I'm incredibly proud of of the individuals that have worked (and) have grown at the center," Mills said. "(They) have provided an opportunity for students at Sacramento State to not to see the messages that I saw, but to see a welcoming message that invites them in to be a part of this campus, to feel safe on this campus and to explore who they are as part of our hornet family."
Of course, no birthday party is complete without a cake. The night ended with music, dancing and a chocolate cake that read "Happy 10th Birthday PRIDE Center!"
"I had a good time and it seems like other folks had a good time," Kent said. "Obviously we wanted to reflect and look towards the future and what not, but at base level, we just wanted to have fun. It was a birthday party, so that was what it was all about."