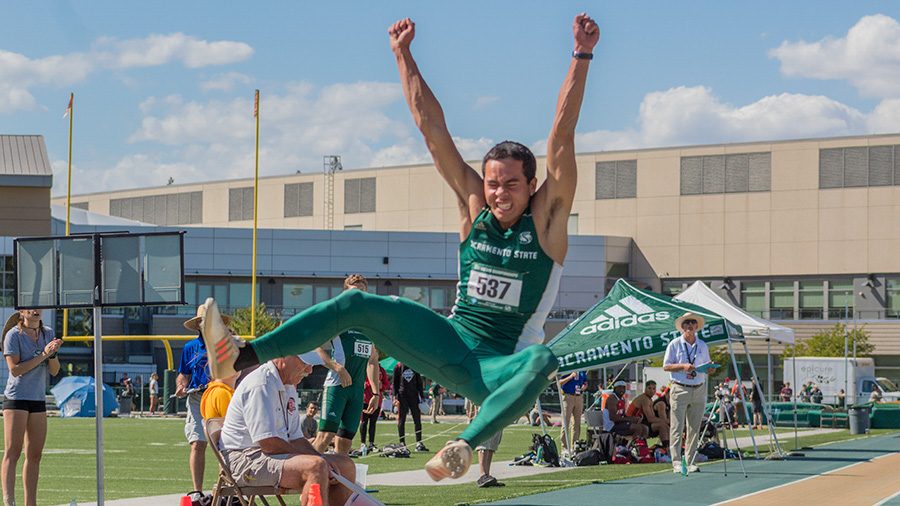 matthewnobert
The Sacramento State men's and women's track and field teams finished first and third, respectively, in the Big Sky Conference Championships from May 10-13 at Hornet Stadium.
Sac State's men's team finished with a total of 131.20 points, while the women's team finished with 107 behind Montana (116) and Northern Arizona (125).
"I couldn't be prouder of our teams for finishing first and third in this meet," Sac State Track and Field Director Jeff Magley said. "This means everything to me for the (seniors). They are the epitome of being a family from day one. To be able to say you get to end your collegiate career as a championship team — that is the storybook ending that we are all looking for."
The Hornets got off to a strong start in the first two days of the meet as the team was led to victories by seniors Elizabeth Venzon in the heptathlon and Max Jette in the decathlon.
Venzon used career bests in all three events on Thursday to win the heptathlon after entering the the final day in fifth place. She scored a total of 5,322 points, ranking second in school history. Venzon had a long jump mark of 18-10.00, a javelin throw of 135.09 and a time of 2:20.45 in the 800 meter race to secure her heptathlon title.
"I was able to (get a personal record) in seven-of-the-seven events that I work on every day, which is hard to do," Venzon said. "After winning the high jump and winning the (heptathlon), there is nothing more that I could really ask for."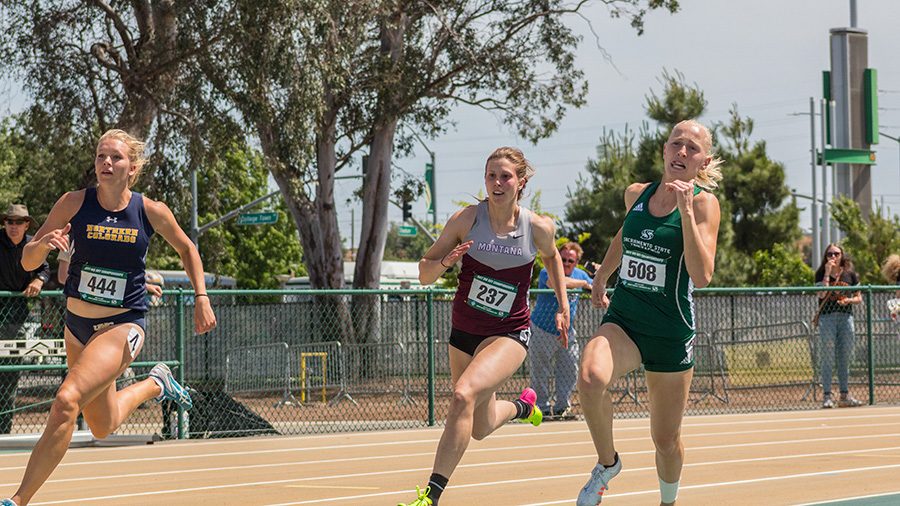 Along with 10 points from Venzon, Sac State also got contributions from senior Kassandra Corrigan — who placed second — and junior Julia Grimm who finished sixth to help give the team a total of 21 points. Corrigan moved into fourth place in school history with 5,163 points in the heptathlon, while Grimm moved into seventh place in the Hornet record books with 4,937 points.
In the decathlon, Jette finished with a total of 6,960 points, which is a career best and is the fourth highest score in school history. Going into the second day, Jette was ranked seventh. Entering the 1,500 meter race, he was second behind Montana's Brenden Thurber-Blaser who led by nearly 150 points at the time but suffered a right leg injury on the second lap, knocking him out of contention and leaving the door open for Jette.
Jette ran a 15.17 in the 110 hurdles, had a discus throw of 113-8 and recorded a seasonal best for the pole vault at 14-06.26.
Coming in fourth place was senior Alec Acevedo, who led the decathlon after the first day and early the second day. Acevedo finished with 6,734 points and scored five points towards the team total. The Hornets also got a point from junior Andrew Stitch after he accomplished a career best of 6,379 to place him 10th in school history.
Senior Michael Turner continued his dominance in the outdoor long jump after winning his second Big Sky title on Friday. Turner moved into second place in school history and ninth all-time in the Big Sky record books with a jump of 25-08.00. His mark also places him into a tie for the 16th place in this year's NCAA Division I rankings.
"I won back in 2015 and to get back to where I should is a blessing," Turner said. "I'm more of a speed jumper than a power jumper so when I got that high I knew it was far."
Junior Cory Barger came in fourth in the long jump and gave the team 15 points in the event with a jump of 24-03.50. Sophomore Kyle Peterson (168-02) and freshman Kyle Carrillo (164-09) placed fourth and fifth in the discus, respectively.
Junior Candice Dominguez added a Big Sky outdoor championship to her resume in the high jump after she tied the school record with a leap of 5-10.50.
"It's pretty awesome to win after coming in second last year," Dominguez said. " Also, having had a (neck) injury from the indoor season, I feel like I am getting better and better each time I jump."
Junior Danielle Brandon and Hayley Ann Carbullido placed second and third in the pole vault with jumps of 13-00.75 and 12-10.75, respectively. For Carbullido, that mark was a personal best and it also moved her into fourth place in school history.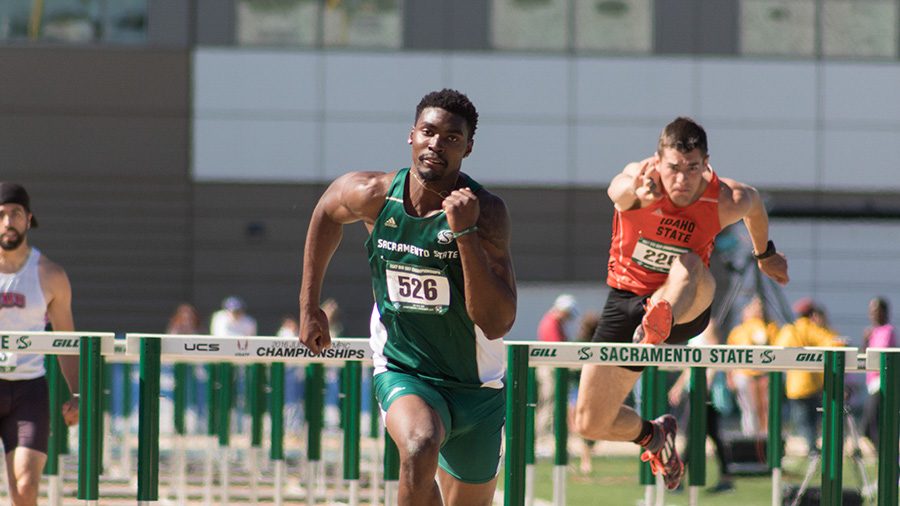 Sophomore Andre Lindsey (14.08) and senior Aric Walden (14.30) posted two of the fastest times in the qualifying heats of the 110 hurdles.
Sophomore Cassidy Zurn ran a personal best and moved into the ninth place spot in school history with a 1:00.20 time in the 400 hurdles. Sophomore Angelica Cusworth ran a personal best as well with a time of 1:01.73.
Juniors Ashley Kittle and Denise Reis both set career bests in the 800 meter race. Reis moved into the ninth place spot in program history with a time of 2:20.29, while Kittle finished with a time of 2:09.44.
On Saturday, junior Darius Armstead took the title in the triple jump with a mark of 51-07.25. Finishing in third for Sac State was freshman Jah Strange who had a jump of 50-04.00. Sophomore Daniel Onuoha placed third in the high jump with a leap of 6-09.75.
"We got the team title and we sent our seniors out the right way," Armstead said. "I knew that we had a chance to win (triple jump). We had some really good jumpers from (positions) one to five and I knew I had to bring it — (and) Jah did his thing and I knew that if I just did what I normally do then we would have a chance."
In the women's field events, sophomore Nirie Boglino came in third in the women's triple jump with a mark of 39-05.75.
Lindsey took the 110 meter hurdle title with a time of 14:05, while Walden came in a close second with a time of 14:11.
"Before the race, I was just thinking about my technique — staying low and making sure that I get over the hurdles," Lindsey said. "It was a close race between me and Aric, we were passing each other up and when I finally pulled away I had to do it for my mom, who is looking down on me."
Two of the Sac State relay teams finished in second place while one relay team finished in third. The women's 4×100 meter relay team finished in second with a time of 46.84 while the 4×400 men's relay team finished second with a time of 3:13.65. The women's 4×400 relay team finished third with a time of 3:41.76.
Turner continued to have success in the final day as he came in third in the 200 meter finals race with a time of 21:40. Zurn finished third in the 400 meter finals race with a time of 1:00.34.
Sac State will now wait for Wednesday to find out who has qualified for the NCAA West Preliminary meet that will take place from May 25-27 in Austin, Texas.
Additional reporting by Matthew Nobert