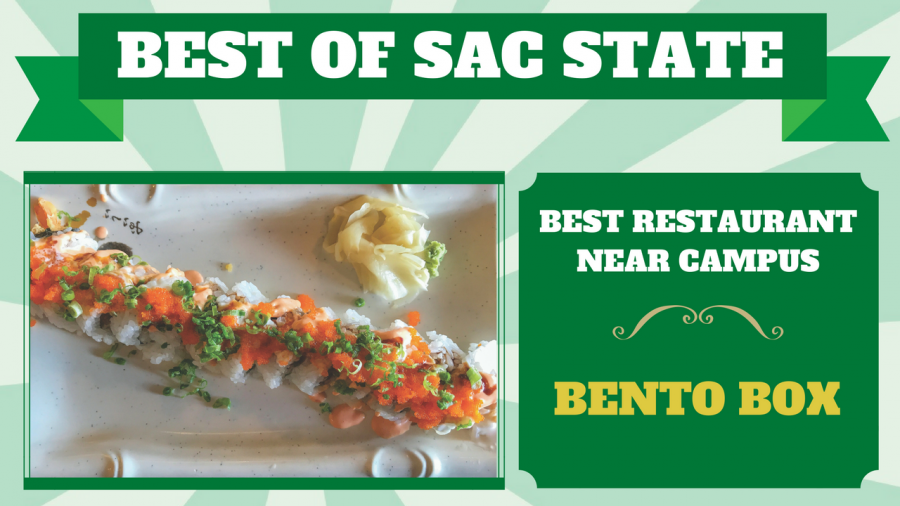 Click here for full results.
The campus has spoken.
Bento Box was voted by The State Hornet's readers as the best restaurant near campus, beating out Boudin SF, Sushi Hook, Fahrenheit 250 and Barwest.
The menu consists of over 100 items, including 20 different choices of teriyaki plates, bento box, traditional Korean bibimbap and more than 70 other options for sushi rolls.
Additionally, Sacramento State students receive a 10 percent discount on non-pre-discounted items at the 65th Street and Fair Oaks Boulevard locations.
Waitress Miga Davaakhuu said that since the restaurant is just a 15-minute walk from campus and located in the same plaza as the Upper Eastside Lofts, she often sees students flocking to have their sushi-slash-bento box cravings fixed.
Junior child development major Jerania Dedios said that she visits the eatery quite frequently and opts to sit at the bar each time.
"I like the atmosphere there a lot," Dedios said. "Every time I go in there, I don't feel like people are looking at me. I don't feel (like I'm) being judged."
But despite the restaurant's iconic name, Dedios said she has never ordered a bento box meal. For her, it's all about the rolls.
Choua Vang, a music education major, said that the most appealing factor about Bento Box is how close it is to campus.
Bento Box has three locations near campus — 65th Street, Fair Oaks Boulevard (Loehmann's Plaza) and 16th Street (Midtown).