Women's basketball team falls to Northern Colorado on senior night
On a night when Sacramento State said goodbye to five seniors, the women's basketball team suffered a 102-74 loss to Northern Colorado Friday at the Nest.
Seniors Margaret Huntington, Gretchen Harrigan, Brianna Burgos, Emily Easom and Ashlyn Crenshaw all played their final home game for Sac State (10-19, 6-12 Big Sky), but Northern Colorado (22-7, 14-4 Big Sky) outscored the Hornets in every quarter except the fourth.
"They haven't had an easy path but I respect them because they have kept fighting," Sac State coach Bunky Harkleroad said about the team's five seniors. "Tonight was a terrible night for our team, but in terms of our seniors, I am proud of them."
Crenshaw said that all games are important, but this one in particular was on the top chart in terms of how much it meant to her.
"With all of the people surrounding you and watching you for the past years, it is a good experience," she said. "I'm sad that it's over, but it was definitely a game that was important to me."
Sac State struggled offensively, shooting 36.8 percent from the field and 11-of-36 from the 3-point line. The Hornets also committed 14 turnovers.
Junior guard Maranne Johnson, who now holds the program record for made 3-point shots (89), led Sac State in scoring with 18 points. Burgos had 14 points and Tiara Scott finished with nine, while Crenshaw and Harrigan both contributed eight points.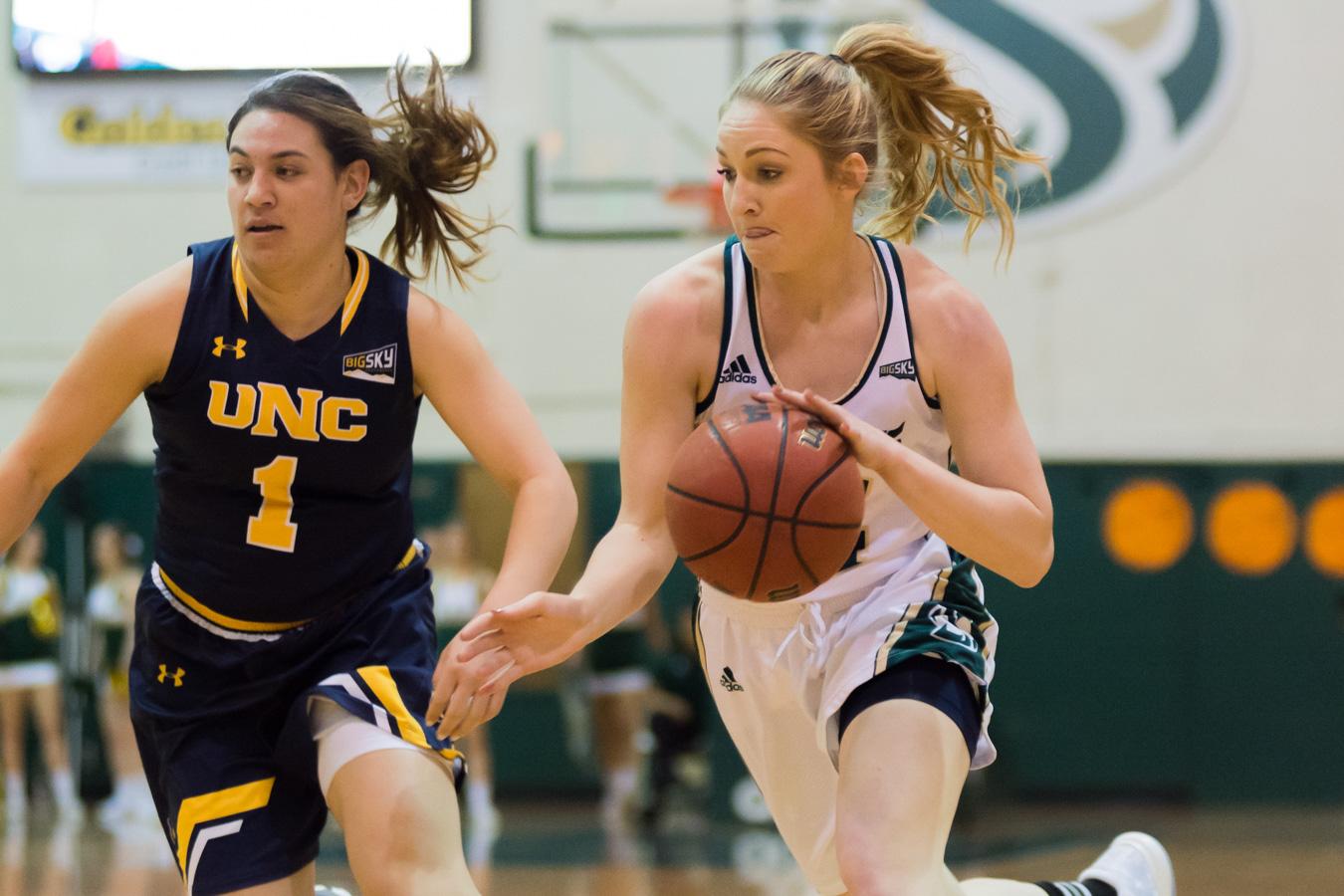 Northern Colorado shot 62.7 percent from the field as a team and had three players score 20 or more points in the game.
Junior guard Savannah Scott (25), sophomore guard Savannah Smith (20) and sophomore center Courtney Smith (24) combined for a total of 69 points scoring. Courtney Smith was perfect from the field, going 12-of-12.
"I thought we should have had more energy defensively," Harkleroad said. "Northern Colorado played good offense, but we have to show a lot more toughness defensively than we did tonight. I just did not like the way that we guarded them."
The first quarter included four lead changes and three ties. Sac State forced the Bears to commit six turnovers, while the Hornets shot 58.8 percent from the field. Northern Colorado shot 72.2 percent from the field, outscoring Sac State 29-25.
The second quarter belonged to Northern Colorado after shooting 66.7 percent from the field, while holding Sac State to 22.2 percent from the field. The Bears outscored the Hornets 24-14 and entered halftime with a 53-39 lead. Scott lead the team with eight points in the quarter.
Northern Colorado outscored Sac State 29-15 in the third quarter and only allowed the Hornets to shoot 28.6 percent from the field. The trio of Courtney Smith, Savannah Smith and Scott combined for 19 points, along with senior guard Katie Longwell, who added 11 points.
In the fourth quarter, Sac State went on a 10-2 run, but the Bears would respond by going on a 18-10 run to end the game.
Senior night marked the end of the regular season for Sac State, and the team will now prepare for the Big Sky Conference Tournament on Monday.
The Hornets have earned the ninth seed in the tournament and will be going up against eighth seed Weber State at the Reno Events Center at noon. On Feb. 19, Sac State lost to Weber State 66-60.
"We had some execution lapses and our energy was inconsistent in that game," Burgos said in regards to the Hornets' loss to Weber State this season. "As long as we keep our energy consistent throughout the game, we should be fine."