'To Whom It May Concern': Hornets take a political stand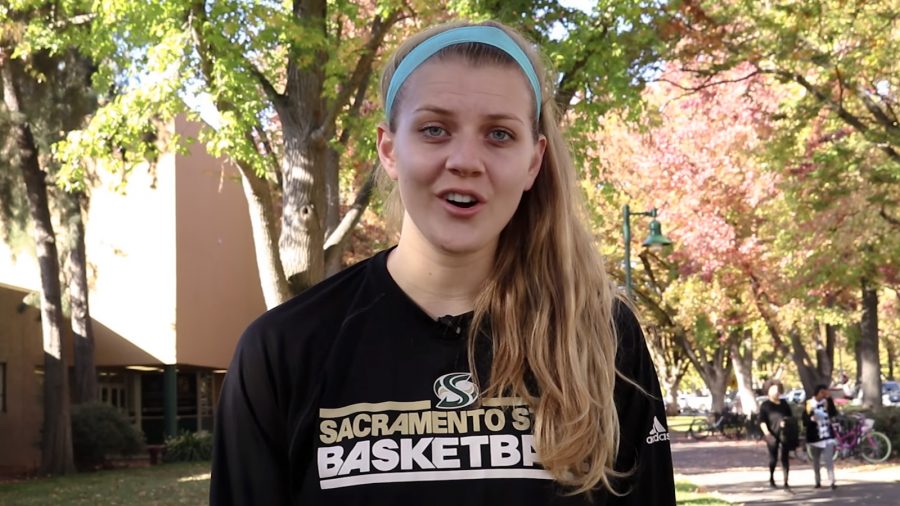 Many people were surprised at the election of Donald Trump as president of the United States last November, and the result disappointed those hoping to see Hillary Clinton become the first woman elected to the office.
Sacramento State senior forward Margaret Huntington decided to turn that negative energy into positive reinforcement. In late January, Huntington, along with various members of the women's basketball team, released a video titled "To Whom It May Concern" to help those who were upset by the results of the presidential election.
"On a team with young women and a lot of diversity and different thinkers, most of the team was concerned with what happened in November with the election," Huntington said. "It affected our team for a while, but we wanted to stay positive and share this message of hope we created."
Senior guard Brianna Burgos, who was a part of the video, felt that the message showed solidarity on a team level.
"Being on the same page and knowing that everyone is in unity together, regardless of what happens outside of the locker room, we're going to stay a team," Burgos said. "That was really cool — that we are all supportive of each other in that particular cause."
During the video, members of the team spoke about how the glass ceiling for women is still firmly in place, a reference to the loss by Clinton, who had been expected to win.
Despite the loss, however, the team talked about how it was important not just for women, but for all people regardless of gender or race, to stand together for what they believe and remain civil.
Sac State coach Bunky Harkleroad discussed what it meant to him for his players to take a stand on such an important topic.
"It made me proud that they were engaged enough in national news, regional news and local news in their community to use their platform to express an opinion that was positive in nature and didn't denigrate anybody," Harkleroad said. "Honestly, I think it's refreshing when young people show they're involved. I was proud of Margaret and her teammates because they took extra time to do that."
"Regardless of your views — when people speak up and have an opinion, that's what makes America such a great place to be and live."
For Huntington, a film major, this wasn't about trying to discredit anyone who may have supported Trump, but about giving people a sense of hope that may have been lost due to the results of the election.
The video, which was shared on Huntington's YouTube page as well as other members' social media accounts, has gotten attention since being released on Jan. 25.
The video has garnered 832 views, and the feedback that Huntington and the team have been receiving has been very welcoming, Burgos said.
"Being able to use your talents — it puts you on a platform," Burgos said. "To be able to have Margaret on the team and using her talents, not just in basketball but in filmmaking — to be able to get that out there is awesome. People kinda look at athletes sometimes and key in on them, so to be able to spread it using our skills is very cool."
To Huntington, the feedback that the team received serves as affirmation that they are doing a good thing.
"We've been getting a lot of positive responses from the video and a lot of encouragement," Huntington said. "I think people were thankful; a lot of people were upset with what happened, (and) I think people were thankful to see (the video)."