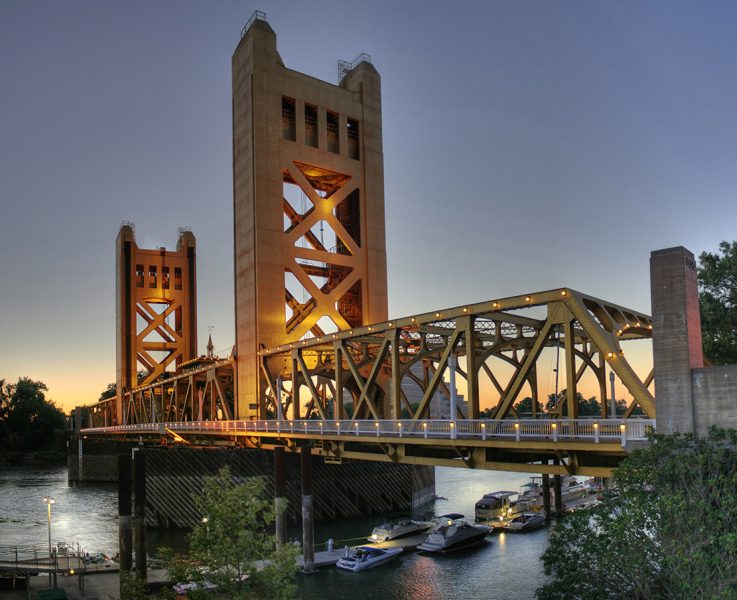 Are you a proud Sacramentan?
I had never asked myself that question before until one day when I was sipping on my craft coffee on the patio of a trendy new business while watching spandex-clad bikers compete with Teslas on the road.
Yet giving Sacramento something to be proud of seems to be one factor driving the recent push to make the city more appealing to bourgeois sensibilities.
If you're a native, you know it when you see it: the "farm-to-fork" dinner on the Tower Bridge and the new reference to it on the water tower, for example, or hipsters driving up rent prices on the edge of Oak Park.
If the city's identity crisis could be summed up in a question: is Sacramento a valley cowtown or is it San Francisco's ritzy and glamorous (if baby) cousin?
But what's so often overlooked in considering this question is the fact that while some Sacramentans look to the Bay, Portland or Seattle as models, those locales are simply not paying much attention to us — which makes the "Sacramento Proud" t-shirts and constant talking up of our city by civic leaders come across less like genuine enthusiasm and more like pep rally cheerleaders for a middling high school, at best.
Take, for example, an advertisement for the Sacramento Republic soccer team that features a group of drinkers in a bar singing "Glory, glory Sacramento."
The song itself is a rip-off of "Glory, glory Man United," a song released by Manchester United in the '80s.
More power to the Republic, but it is not some storied team like Manchester United. And I think I speak for many a Sacramentan when I say that if I walked into a bar of people singing a drunken hymn to our five year old soccer team, I'd be moved more to eye-rolling than to tears of pride.
The ad is an obvious testament to Sacramento's inferiority complex, but at least it doesn't reek of the condescension displayed in an open letter published on Facebook (which has since been taken down) by social media analyst Thomas Dodson on the occasion of the opening of the Golden 1 Center last year.
"Dear Sacramento Region Residents, Please don't screw this up. I beg you," the letter began. "We get one chance to show the world what we're all about. We owe it to ourselves to do our part."
Dodson went on to explain how he didn't want there to be fighting near the arena and asked people to consider the ramifications of bad-mouthing it on social media.
As if Sacramento were somehow uniquely violent (the county-wide crime rate here is lower than in San Francisco and Alameda counties), or as if some crime just doesn't occur in dense urban areas of every stripe — or as if the residents of the cities Dodson might prefer to pattern us after have ever feared that their civic reputation might be blighted by criticizing a building on Facebook.
Whether Sacramento continues down the path of aspiring to be a trendy hub or not, civic pride isn't inculcated either by exaggerating your own strengths or being proud of what you'd like to be.
Civic pride has to be based in reality. Sacramento certainly has much to be proud of as the state's capitol, a pivotal player in the Gold Rush and as one of the top 10 most diverse cities in America, according to an NBC News report last year.
Yet the very pleasures of the new, upscale Sacramento rub shoulder to shoulder with the city's many problems. You can walk to craft donuts, but only after passing homeless people — 81 of which died on the streets in 2016 according to county statistics. You can enjoy float therapy in Oak Park, but with the knowledge that nearby housing is becoming less affordable.
Maybe crafting unique solutions to these problems while moving forward with the city's cultural renaissance, which plague most cities our size and larger, will make the cities we crush after give us the time of day.