Injury-riddled basketball season leaves Hornets hanging their heads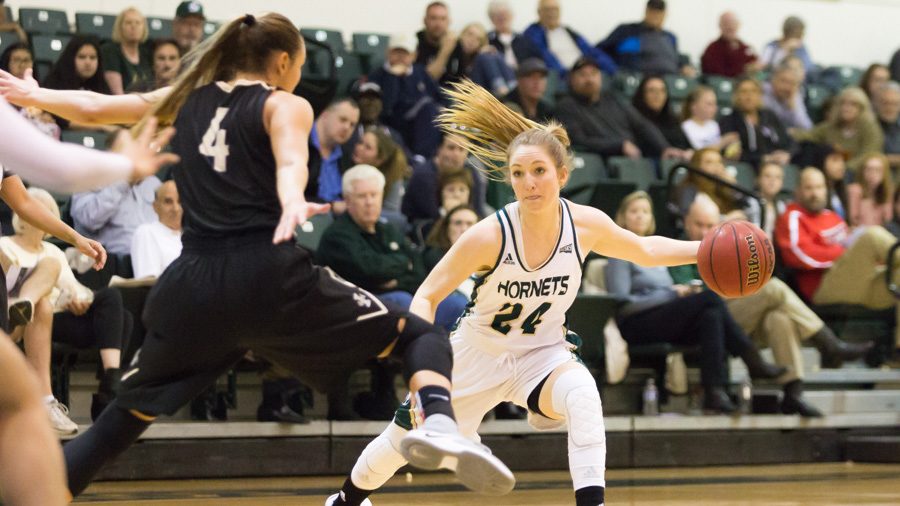 With the deepest senior class in over 10 years and two of the top-three scorers returning, the 2016-17 season was not supposed to end abruptly for the Sacramento State women's basketball team.
Sac State — which had a lack of depth due to injuries — finished the year 10-20, the worst record since 2010-11 (4-25) and the worst in the four-year tenure of coach Bunky Harkleroad.
"We're disappointed with the results," Harkleroad said. "The energy was good — the chemistry was OK — there was a lot of positives and we grew, but we were never able to get over the hump."
Senior guard Emily Easom, who was the team's third-leading scorer at 12.3 points per game, said she was also surprised at the results of this season.
"I really did think this team was going to make a run this year," Easom said. "I was very confident (and) my teammates were confident with the group we had coming in. Unfortunately, it didn't go our way in the end, but we kept fighting the whole way."
After losing only three seniors last year, the Hornets had the most seniors (six) that any Sac State women's basketball team has had dating back to the 2004-05 season.
However, the injury bug bit hard before the first exhibition game as five of the team's 17 players were sidelined for various injuries. Three of the team's six seniors (Brianna Burgos, Gretchen Harrigan and Kyhonta Doughty) missed a combined 52 games — with Doughty sitting the entire season.
The lack of depth led to Harkleroad only having the entire team suited up for three games. The end result led to a statistical fall from seasons past, when the Hornets led the nation for three years running in 3-pointers made, offensive rebounds per game and turnover margins.
"We lacked a lot of continuity," Harkleroad said. "I like to think that's a big part in why we never had that breakthrough. We always got to a certain point then we stopped."
Sac State had four stretches where it lost three or more games in a row. The final loss of the season — a 98-97 overtime loss to Weber State in the first round of the Big Sky Tournament — occurred after the Hornets led by four points with less than a minute left. Sac State allowed Weber State to tie the game and force overtime, then watched as Deeshyra Thomas hit the game-winning jumper with three seconds left for the Wildcats.
"The biggest problem we were having (was) accountability," freshman Tiara Scott said after finishing the season second in assists per game with 2.9. "We weren't really getting on each other, or we took it too personal when someone did get on somebody, and that was just something that hurt us a lot toward the end."
Despite multiple team setbacks, junior guard Maranne Johnson led the NCAA at one point in 3-pointers per game at 3.85, and finished in the top 25 in five statistical categories (steals, steals per game, 3-point field goals made, attempted and per game). Johnson will be one of the five juniors returning to the team as a senior in 2017-18.
"Maranne has the most on her shoulders going into next year," Easom said. "It's her senior year — she's been a big part of Sacramento State women's basketball since her freshman year — and she's gonna be someone the coaches really turn to next year as a leader and as an all-around player."
Next year's team also brings in four recruits, including ESPNW's 50th nationally-ranked wing player Dana Degraffenreid of Ridgeview High School in Bakersfield. The team will also be the tallest that Harkleroad has ever had in his time at Sac State, with five players standing 6 feet or taller.
"We're excited about the future, but it still stings," Harkleroad said. "I think we stayed together as best we could, and we had some adversity this year."
Easom, who looks to become a high school coach after she graduates this spring, said she hopes next year's team finds different results than this season's squad.
"Obviously, me and my teammates didn't expect this year to be what it was, but they could build off (it) and learn from a lot of what happened this year and implement it into next year," Easom said. "If they can get the chemistry going early next year, they'll be a scrappy good team."