Hornets try out for US Women's National Volleyball Team
Sacramento State volleyball was represented on a national stage after juniors Kennedy Kurtz and Shannon Boyle competed at the U.S. Women's National Team open tryouts from March 3-5.
Kurtz and Boyle were among 250 of the nation's best indoor volleyball players from more than 90 colleges and high schools who were evaluated at the U.S. Olympic Training Center in Colorado Springs, Colorado.
Three-time Olympic gold medalist Karch Kiraly — a member of the U.S. national indoor volleyball team in 1984, 1988 and 1996 — oversaw the evaluations.
"It's a really good opportunity for them to play with our nation's best players from all levels," Sac State volleyball coach Ruben Volta said. "I'm excited for them to be challenged and be around that level of play."
Kurtz (setter) and outside hitter Boyle are the first Sac State volleyball players in program history to try out for the national team. Kurtz and Boyle played important roles in the Hornets' regular season success (20-12, 13-3 Big Sky) as leaders of the team in total assists and attacks, respectively. The team finished first in the Big Sky South Division, earning a share of the regular season conference championship for the first time since 2006.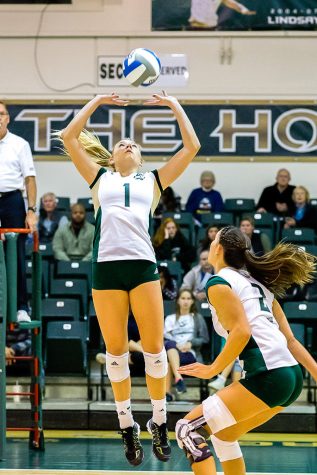 Kurtz and Boyle were informed of the tryout by Volta — who selected the duo to represent Sac State.
"Ruben (Volta) brought Kennedy and me into his office one day and said he had a question to ask us," Boyle said. "At first we were a little afraid, thinking we did something wrong, but he asked us to go to the tryout if we were interested and of course we were."
Boyle was a second team All-League selection along with teammates Madeline Cannon, Courtney Dietrich and Lexie Skalbeck. Boyle averaged 3.49 kills, 3.14 digs and 3.83 points per set.
Kurtz, who was a first team All-League selection, averaged 11.29 assists and 2.70 digs per set, while ranking 11th in the nation among all Division I women's volleyball players in total assists.
"We've been training a lot right now so I've just been preparing myself to impress all of the coaches there," Kurtz said.
The tryouts at the U.S. Olympic Training Center provided an opportunity for Kurtz and Boyle to compete for a spot on three national collegiate level teams.
The selection process will be finalized at the end of March for groups consisting of 12 players training and playing matches in Europe and Thailand. The next level of athletes chosen will be the 36 players invited to Minneapolis in June to compete for the USA Girls' Junior National Championships.
"It would be really awesome to represent Sac State and represent my team," Kurtz said.
U.S. Women's National Team tryouts come at an eventful time for Kurtz and Boyle as Sac State began its beach volleyball season with a 3-2 win on the road Wednesday against Santa Clara.
The Hornets will also be making an international trip to China in May, where the team will play five matches over an 11-day span in Shanghai, Nanjing and Beijing.