Sac State gymnastics team bounces back against Alaska Anchorage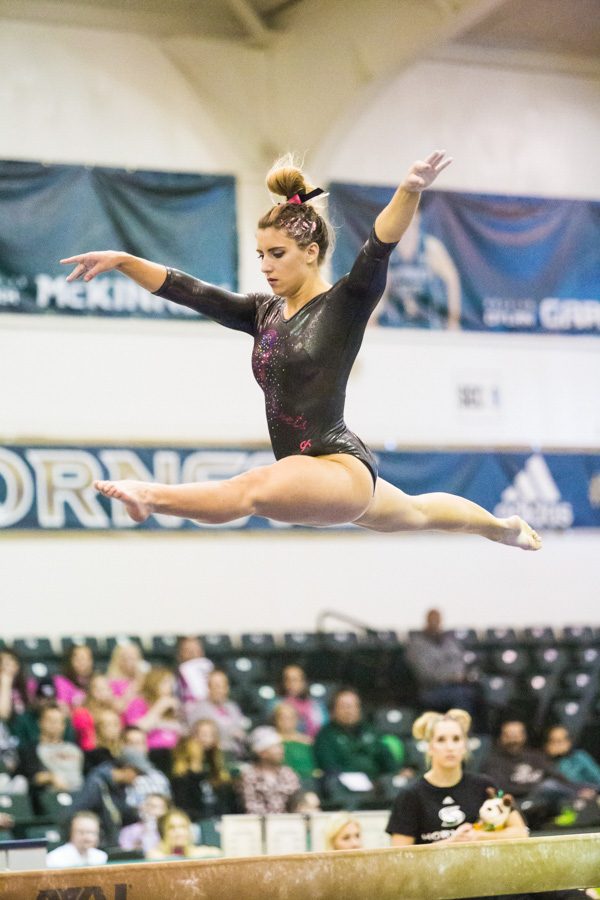 The Sacramento State gymnastics team bounced back from Sunday's loss to UC Davis after beating Alaska Anchorage 194.000-190.900 at the Nest on Friday.
The gymnastics team's quote for the entire weekend was "bounce beyond." With help from the home crowd, the Hornets were able to secure the lead in the first rotation with a score of 48.725 on vault to Seawolves 46.950 on bars.
Sac State (6-2) had a big scare when junior Lauren Rice suffered a terrifying fall on bars where she hurt her knees. However, Rice was able to walk off after the incident and continue competing.
"Your stomach drops out and first and foremost you want to make sure she's ok," Sac State coach Randy Solorio said. "Just the fact that she was able to get up and walk away and live another day, I'm good with that, I have no problem taking her off of floor knowing she's ok."
After bars, the Hornets faced difficulties on beam with an uncharacteristic fall from senior Julia Konner. Sac State would bounce back as Rice came back from her fall on bars and win first place on beam with a score of 9.825.
"To me I know that I can't fail my team, I can't just quit on my team just like that because one thing happened, I just know I have to get back up there and do the best that I can," Rice said. "If I didn't do that then I'd be letting everybody down, so to me it's just pushing through to the end."
Sac State took first, second and third place in their final floor event, giving them the all-around win for the meet.
Junior gymnast Caitlin Soliwoda secured a career-high score of 39.150 where she won first place in bars, floor and all-around.
"I stuck it," Soliwoda said. "I had a good meet this time. I needed it, our team, we needed that, all around. It was good."
Even after the win over Alaska Anchorage, the Sac State gymnastics team still sees room for improvement.
"We had a good meet, we didn't have a great meet," Solorio said. "You know, 194.4 isn't bad, but it's not where we need to be. It needs to be up in the 95s."
Soliwoda put emphasis on how important the team is over the individual.  
"It's awesome that I did good individually, but that's not what it's about," Soliwoda said. "It's about the team and the team, we want to make it to regionals as a team."
Soliwoda also put emphasis on how much fun and entertainment the team needs to have from performing in gymnastics.
"Yeah, the scores matter, but that's not what we're supposed to be focusing on," Soliwoda said. "What we need to focus on is each other and keeping each other lively and remembering to have fun, remembering why we started gymnastics, why we're doing this, is because we love it. It's because we have a passion for it. That's what makes it fun."
Sac State will next travel to meet San Jose State Friday at 7 p.m.