PRIDE Center hosts discussion on gender stereotypes, transgender issues
The PRIDE Center kicked off "Love Your Body" week on Tuesday with "Love Your Trans Body," an interactive workshop that discussed body image and gender classification in society.
Alex Beskeen, a student assistant at the center, hosted the discussion about what it means to be "masculine" or "feminine." Activities were also put together to help attendees better understand and reinforce the conversation.                                                                                                  
Beskeen said that the purpose of the event was to destigmatize what bodies are supposed to look like.
"I hope that (attendees) learn that there are existing stigmas that society puts onto us," Beskeen said. "I hope that they're able to walk away with those broken down and with more appreciation for their body as it is."
Beskeen opened the conversation by first asking attendees what they thought was their most meaningful body part and which personal pronoun they'd prefer to be called. The answers received were "he," "she" and "they."
Attendees were given two jars, one marked "girl" and the other marked "boy." Cutouts of images that normally associated with specific genders like cars and dresses were passed out, and attendees were told to put them in the jar they think those belongs to.
"These jars are supposed to represent society and culture," Beskeen said. "When we're born, we're shoved into them. For most of us, we were assigned to one of these."
Mylo Henschel, a senior psychology major, decided to attend because they were interested in an event that was dedicated to the transgender community, something that they don't see much of.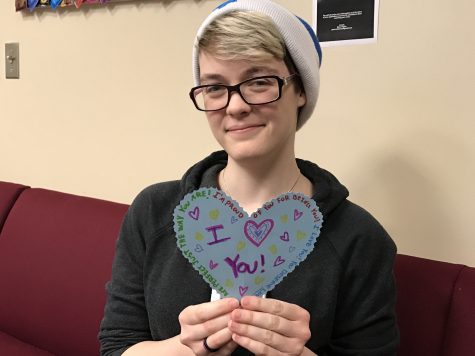 "I think (the jar activity) forces people to consider the social connotations of stuff that might not be a face or a body," Henschel said. "You don't realize you think of a car as 'male' or a kitchen tool as 'female,' but society teaches you to think that way."
Another activity that initiated a discussion was a slideshow with images that are seen as "social taboos" that break the norm of what people are supposed to look like. Among those were of different transgender bodies, men with makeup and women with muscles.
One topic of discussion was about body hair — how even though everyone naturally grows hair, it is considered unnatural for those who look feminine to keep it unshaven. Another topic that arose from the slideshow was that certain hobbies, such as painting nails, are only considered normal for the female gender.
"Everyday, you don't think about the stuff that you classify as male or female, you know, that's a 'guy' thing or that's a 'girl' thing," Henschel said. "Even for people who aren't transgender, they go through that too. They think about stuff like that everyday. So it was important that we had people who weren't trans who were here to kind of open their mind up and think 'Oh, why do I think cars are male?' and things like that."
"Love Your Body" week holds events that are designed to educate students about different body images. Students learn how to maintain a healthy body, regardless of their gender, size or racial background.
The week-long event, organized by Student Health and Counseling Services, will end on Feb. 22.