Men's tennis team abuzz with excitement after sweet start
Following a 4-3 win in the season opener against Fresno State on Jan. 21 and promising performances in fall tournaments, the Sacramento State men's tennis team is looking forward to more competition.
"I didn't expect that we would even be close with (Fresno State) and I think it was pretty amazing that we were able to to take 'em down, but I think now that we've kind of tasted that sweetness, I think we want more of it," Sac State sophomore Donald Hall said. "So, we are going to keep pushing ourselves against the other great teams that we are going to play."
Although assistant coach Kevin Kurtz described Fresno State as a deep team with good players, he said the win wasn't necessarily a surprise.
"We knew we were better this year," Kurtz said. "So, we knew we had a big chance — and especially to win at their place was kind of fun."
Kurtz explained that, while the players on the team have had a "good cohesive niche" for the last five or six years off and on the court, the skill level is "probably up about 30 percent" compared to last season, with their top two freshman, Louis Chabut and Hermont Legaspi, helping to make up the top six spots.
Sac State coach Slava Konikov said he is looking forward to the rest of the season because the previous one had been difficult due to injuries, inconsistencies in performance and not always having a full team to play for each match.
"I am very excited for this year compared to last year," said Konikov, noting that the overall energy of the team has improved. "The last couple years were not easy, but this year I feel much, much better because everyone tries hard, everyone likes to compete (and) everyone wants to win."
Junior Christopher Clayton, who was named Big Sky Conference Player of the Week following his deciding-match victory against Fresno State's Jeremy Moser, echoed his coach's sentiments and said the players making up the current team are possibly the best collective group he has played with at Sac State.
"The strength of the number two is pretty much the same as our number six guy," said Clayton, adding that even if a main player gets injured there are one or two other players who could step in. "It's not like they are coming in and there's a weak link there. It's still very strong. I think this will be very key, especially in some conference matches where a lot of the other teams might not have a strong depth."
While defeating Fresno State was described by Clayton as a "big win," Konikov told them to forget about it and focus on the team's upcoming matches against Portland State and Portland in Portland, Oregon, on Jan. 28. The Hornets (2-1, 1-0 Big Sky) responded with a 6-1 win against Big Sky opponent Portland State, but fell 6-0 to Portland.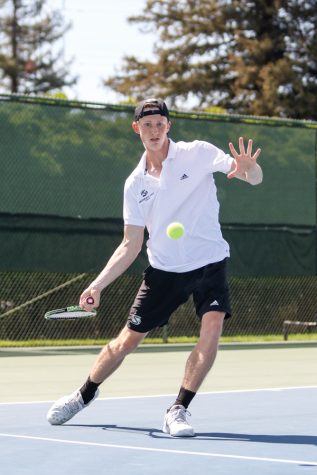 But Kurtz said Fresno State, Portland State and Portland are not the only tough opponents the Hornets will face this season. Sac State will also compete against the No. 23 ranked team in the nation, Southern Methodist University (3-2), who Kurtz said "whooped" them a few years ago; University of Texas, Arlington (0-1), and Drexel (3-1).
Sac State's eight-player roster consists of two juniors, three sophomores, three freshmen and no seniors. But a young roster can sometimes be a plus because the players don't have any expectations of the opposition and are able to just play without psyching themselves out, Kurtz said.
However, leaders are needed on every team and Clayton, who has won Big Sky Player of the Week honors twice in his career, has stepped into this role.
"It's funny, the transition from the youngster and now I'm the oldest one on the team, and you can sort of realize some of the stuff the guys are going through now, you were going through before," Clayton said.
As Clayton starts his last season with the Hornets, it is with both mixed emotion and reflection because at this time next year he will no longer be on the team.
However, that has not stopped him from looking forward to his upcoming games, which he hopes will lead to a conference win and a chance at a national competition — something Clayton has not gotten to do yet.
But first he and the rest of the team will have to face Southern Utah (1 p.m.) and North Dakota (3 p.m.) during a doubleheader at the Spare Time Indoor Tennis Center on Friday.
Out of the last 12 years of coaching together at Sac State, Konikov and Kurtz have led the team to six Big Sky Conference titles and success at the NCAA tournament. But Kurtz and Konikov said those are always the goals and have them in their sights this year as well.
"We are ready to play," Konikov said. "We are ready to win."