Men's basketball team struggles to outrebound Northern Arizona in 73-69 loss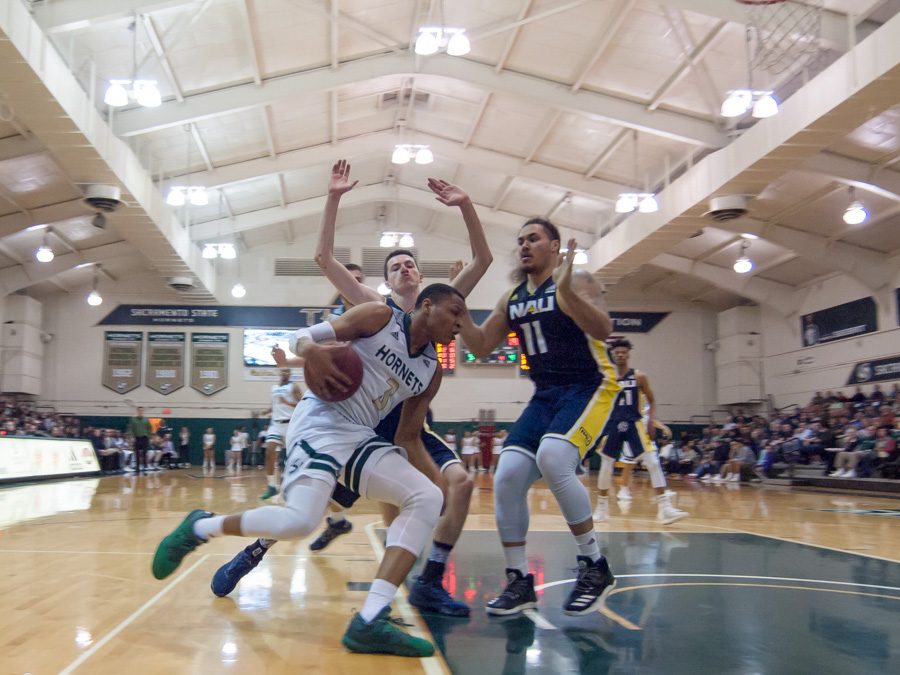 The Sacramento State men's basketball team struggled rebounding the ball in Thursday night's 73-69 loss against Northern Arizona at the Nest.
Coming into the game, the Northern Arizona Lumberjacks (8-20, 5-10 Big Sky) were the No. 1 rebounding team in the Big Sky Conference, averaging 38.1 rebounds per game. Tonight, the Lumberjacks outrebounded Sac State (10-16, 7-8 Big Sky) 38-27.
"We told our guys that (if Northern Arizona wins) they would beat (us on the boards)," Sac State coach Brian Katz said. "That is exactly how they did beat us — they had 17 offensive rebounds — to me that was the game."
In the first half, Sac State was imposing its will defensively with full-court pressure and double teams, forcing the Lumberjacks to commit a total of eight turnovers. The Hornets scored 15 points off those turnovers and outrebounded the Lumberjacks 14-13 in the first half.
Sac State also shot 57 percent from the field and 43 percent from 3-point range. Junior guard Marcus Graves set the tone on offense scoring 16 of his 22 total points in the first half. Senior center Eric Stuteville — who set a program record after appearing in the most games in school history with 120 in his four-year career — finished with 14 points, while senior forward Nick Hornsby and junior forward Justin Strings were also among those who scored in double digits for the Hornets with 12 and 11, respectively.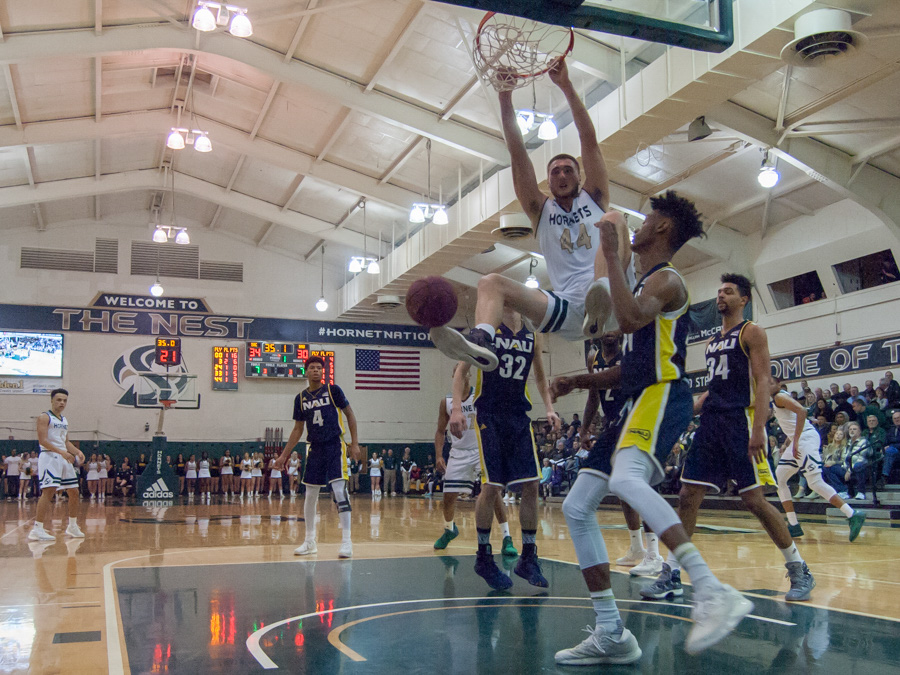 "Offensively they couldn't stop us," Graves said. "When we play good defense and limit our opponent to one shot, we get stops and that's what we have to do to win and we didn't do that in the second half."
Senior forwards Jordyn Martin and Ako Kaluna led Northern Arizona in scoring as they put up 14 and 17 points, respectively. Martin, who finished with eight rebounds, was also the Big Sky's top rebounder coming into Thursday with 8.8 rebounds per game. Kaluna also contributed 11 rebounds as well.
Sac State also ran into problems shooting and rebounding the ball in the the second half. Northern Arizona had a total of 25 rebounds in the second half, 11 of them being offensive rebounds. The Lumberjacks also shot 46.4 percent from the field and 44.4 percent from 3-point range after adjusting to Hornets' full-court pressure and only committing six turnovers in the second half.
Sac State will look to end its two-game losing streak Saturday against Southern Utah at the Nest as the Hornets celebrate senior night at 7:05 p.m.
"Our main thing is to continue to attack right out of the gate," Strings said. "This is our seniors last game at home so we have to do what we can to send them out right."