Dreamers workshop navigates legal rights of the undocumented
The 50 seats available for attendees were quickly filled as students, faculty and staff came to the University Union on Thursday to attend a "Know Your Rights" workshop focused on undocumented students.
The presentation, hosted by Sac State's Dreamer Resource Center, was given by two attorneys from non-profit organizations specializing in immigration issues — Kelsey Yoro of Opening Doors, Inc. and Sara Bobbitt of the Sacramento Food Bank and Family Services Immigration Legal Services.
The workshop, which lasted little more than an hour, provided information on relevant subjects such as the types of visas available and laws regarding sanctuary cities.
But it was the impact of President Donald Trump's travel ban and his campaign promise to end Deferred Action for Childhood Arrivals (DACA) that gained the most attention.
"Right now we are still not sure if and when that would happen," said Bobbitt, referring to Trump's 2015 campaign promise to end DACA.
Bobbitt explained that the program, which currently gives certain undocumented individuals who were brought to the United States as children renewable two-year work permits and two-year temporary petitions from deportation, is not a law but a 2012 executive order enacted by then-President Barack Obama.
That means "it can be easily taken away by a future president."
It is important for those who are currently wondering whether they should try and gain DACA status to know the risks before making any decisions, one of which could be exposing themselves to deportation, Bobbitt said.
"If you are here undocumented, and you have never applied for DACA before, when you submit your application there's certain information that you have to include in the application — like your address and that kind of thing — that could be used in deportation proceedings in the future," Bobbitt said.
As a result, the organization she works for is recommending not going forward with any new DACA applications.
Yoro said that Opening Door, Inc. is also not currently handling any fresh cases.
If you are up for a DACA renewal it won't add anymore risk to your current situation to apply for it, said Bobbitt, because U.S. Citizenship and Immigration Services (USCIS) already has your information.
But DACA is not currently on hold, said Bobbitt. Renewal applications have been processing fairly quickly and new cases have been approved since Trump took office on Jan. 20.
Although, she added, Trump recently promised to announce what he plans to do with the program sometime this month.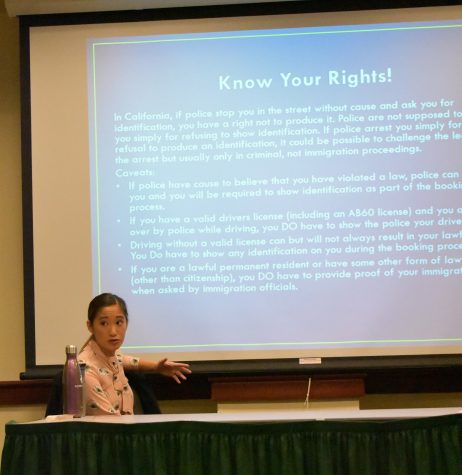 Bobbitt advised staying up to date on upcoming legislation regarding immigration issues, which could reveal alternate paths for DACA recipients and others who qualify to remain in the country legally. She also said it is a good time to get a "legal checkup" to find out if you can upgrade your current status.
"If you are eligible, at times like this where everything is changing, it's always recommended that you get to higher ground," Bobbitt said.
Trump's travel ban and the shift in executive branch priorities on immigration, which have caused confusion and protests across the country over the past week, are among some of the changes non-citizens need to understand, especially if they are planning to travel.
The travel ban is currently not being enforced nationwide after a federal judge issued a temporary restraining order against it late Friday.
For example, if a DACA recipient is outside of the country and the program is done away with, they might not be able to return, and lawful permanent residents could have trouble as well depending on how Trump directs federal agencies.
Those with residency should be mindful that being out of the country for more than a year could put their status in jeopardy.
"Regardless of your status, it's just a very high risk time do any sort of traveling," Yoro said, but clarified that each situation is unique and an attorney should be consulted before any traveling, most importantly if you have a criminal history.
But those who have pending visa applications, or have been recently approved for one, only need to be concerned if they are from one of the seven predominantly Muslim countries singled out by Trump's travel ban — Syria, Yemen, Iran, Iraq, Somalia, Libya and Sudan — because their visas are put on hold, explained Bobbitt.
The rest of the applicants who are eligible should not be affected due to current immigration standards previously approved by Congress.
"There is a whole procedure that needs to be followed to change a law or change a regulation, which is slow," Bobbitt said.
Bobbitt gave advice about warrants, having a plan in case you get detained, sanctuary cities and when you can and cannot be compelled to show ID, which may require different approaches depending on whether you are dealing with local or federal authorities.
But there is one right, said Yoro, that stands out above the others — the Fifth Amendment right to remain silent.
"We recommend that you don't talk without an attorney, at all," Bobbitt said, because every case is different and what you should disclose can vary depending on the situation.
Yoro explained that it is an affirmative right, which means you must tell anyone questioning or trying to detain you that you are not going to speak to them, as well as sign any forms, without legal representation present.
Yoro even offered little red cards people could take that read in English, "I don't want to talk to you" and "I don't want to answer your questions."
After the presentation, the audience was invited to ask questions, which ranged from the price of attorneys to petitioning citizenship for family members.
The presenters reaffirmed it is always a good idea to seek advice from an attorney or a Board of Immigration Appeals (BIA) certified representative, especially when filling out paperwork.
Sac State senior Unaisi Takiveikata, who will graduate in May with a degree in family and consumer studies, said she came to the workshop "just to be informed and be in the loop with the new administration," and that the presentation was helpful and informational regarding DACA and the California Dream Act.
Some, like public policy and administration graduate student Brian Martin-Rojas, came to the meeting just to understand federal policy and be supportive, "because everything is changing."
Norma Mendoza, the program coordinator for two student equity programs on campus — the Serna Center and the Dreamer Resource Center — said that the main takeaway is that at this time it's critical for the undocumented and documented alike to be informed and know their rights under the law because they are enshrined in the U.S. Constitution and "don't change overnight" in spite of executive actions.
Throughout the semester, Mendoza said the Dreamer Resource Center will hold a variety of workshops and informational sessions, including alternating bi-weekly drop-in immigration consultations and policy briefings happening at the Dreamer Resource Center in the River Front Center, Room 1027.
For those who were unable to attend the workshop, a live-streamed video is available on the DREAMers Facebook page.