Hornets swarmed by Montana State women's basketball team 104-82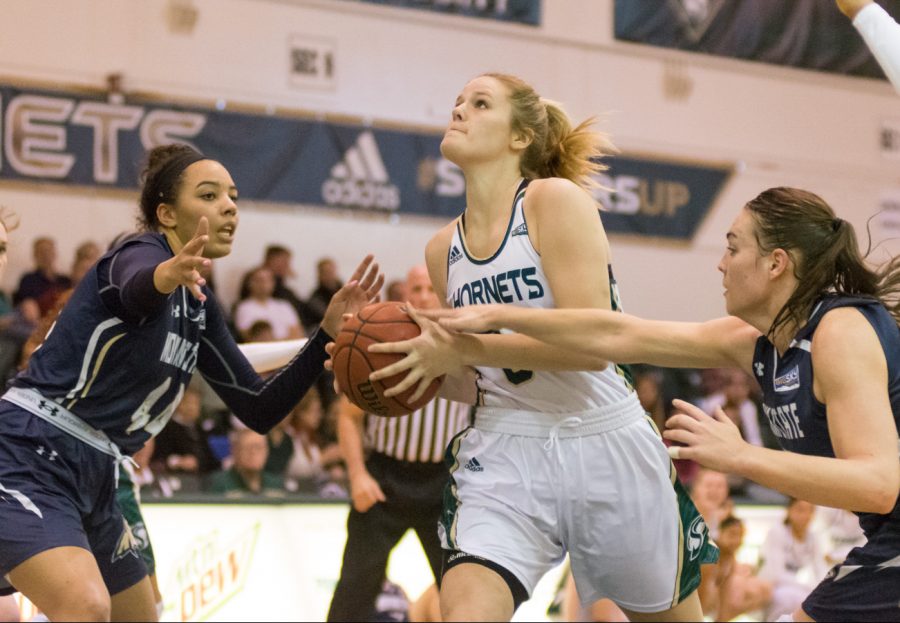 Fresh off a 30-point win over Montana on Thursday, the Sacramento State women's basketball team looked to keep that momentum alive Saturday against the visiting Montana State Bobcats.
However, the Hornets (9-16, 5-9 Big Sky Conference) allowed 62 points in the second half en route to a 104-82 loss. The 104 points by Montana State (19-6, 12-3 Big Sky) represents the third-highest total Sac State has allowed this season, and the first time Montana State has scored 90 points or more all season.
Senior guard Emily Easom, who scored 14 points in the game, felt that there was a different energy to the Hornets, which contributed to the defensive lapses that plagued Saturday's game.
"Coming out of Thursday, there was a different vibe about us — I'm not sure what it was," Easom said. "It's hard to come out with the same energy if not more. That was pretty killer."
The first quarter started off with Montana State scoring the first four points off of jumpers by senior Peyton Ferris. Sac State responded with consecutive 3-pointers from Easom and freshman guard Quayonna Harris. The teams fought back and forth, trading baskets for most of the quarter. Ultimately, Montana State would end the first quarter with an 18-14 lead, with Ferris responsible for seven of those points.
Freshman guard Tiara Scott started the second quarter by making three 3-pointers in a two-minute stretch to keep Sac State within fighting distance. However, Montana State held the lead for most of the quarter, up until the halfway mark.
A layup by Sac State junior Dajhae Mullins tied the game at 30, and both teams traded baskets until the end of the quarter. Going into halftime, Montana State and Sac State were tied at 42.
As has been a continuing trend most of the season, Sac State came out flat to start the third quarter, allowing Montana State to take over the game. An early 3-pointer by senior Riley Nordgaard put the Bobcats up 45-42, and Montana State scored 16 points in the paint in the quarter to finish with a 74-63 lead.
Going into the final quarter, Montana State junior Delany Junkermier scored seven of her nine points in the closing frame, as the Bobcats scored 30 in the quarter overall. Despite eight fourth-quarter points from Scott — including five in the final 25 seconds — the Hornets weren't able to keep up, being outscored 30-19.
Sac State coach Bunky Harkleroad didn't sugarcoat things when it came to the overall performance on Saturday.
"I think we felt sorry for ourselves when the ball wasn't going in the basket," Harkleroad said. "We shot the ball poorly today, and I think our energy level at times was dictated by whether the ball was going in the basket or not. We spent too much time in our heads, and hanging our heads when we weren't successful on the offensive end of the court."
Montana State had five players score in double figures (Rebekah Hatchard, Annika Lai, Madeline Smith, Ferris and Nordgaard), while Sac State only had three (Ashlyn Crenshaw – 12, Easom – 14, and Scott). Scott finished with a career-high 25 points, shooting 7-of-11 from 3-point range (9-of-14 overall).
"During practice, I was really focused on going game speed and going harder than usual to get open and shoot," Scott said. "My teammates really encouraged me to just keep shooting. It would have been nice if we won, too."
Sac State's leading scorers on the season, junior guard Maranne Johnson and senior forward Gretchen Harrigan (left the game in the first minute with an undisclosed injury), combined for only four points. The Hornets also shot 30-of-90 overall, including 11-of-54 from 3-point range (20.4 percent).
Sac State goes on the road for the next two games against Northern Arizona (Feb. 23) and Southern Utah (Feb. 25) before coming home March 1 against North Dakota at the Nest.