Hornets lose their sting against Idaho women's basketball team 72-58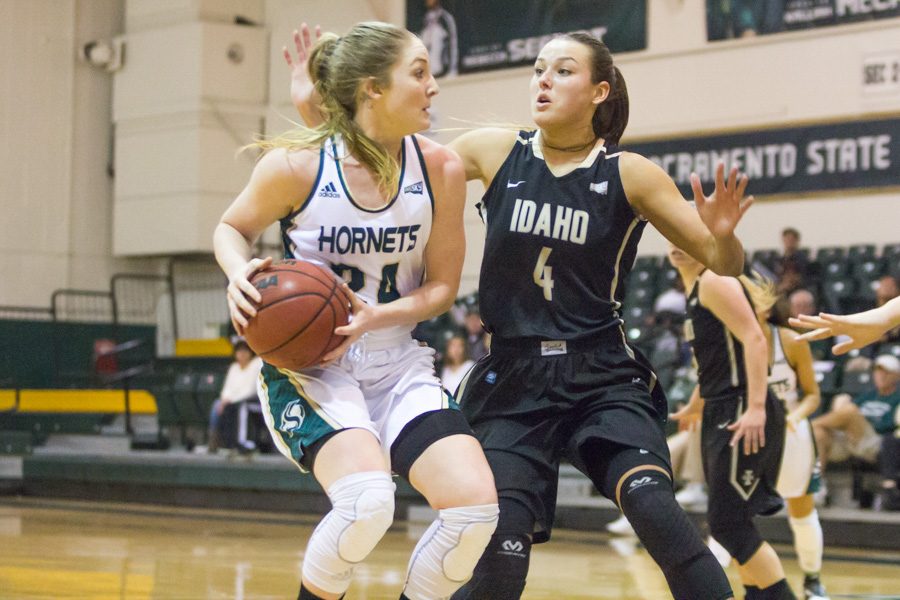 In a contest that saw history made and carried so much potential, Sacramento State's women's basketball team couldn't seem to get its game going at all on Saturday.
Shooting a season low 13.3 percent from 3-point range (2-of-15), Sac State (8-13, 4-6 Big Sky Conference) lost a crucial conference game to the defending Big Sky champion Idaho Vandals (12-10, 7-4 Big Sky) 72-58. The overall performance by the Hornets was something that coach Bunky Harkleroad was nearly at a loss for words over.
"I'm just very disappointed in our effort from top to bottom," Harkleroad said. "They're a really good basketball team and they're the best we've seen. Right now, I just think they're at a higher level than we are and you got to give them credit."
The loss — the Hornets' second straight at home — overshadowed what was an historic moment for junior guard Maranne Johnson, who scored her 1,000th career point in the third quarter. Johnson, who rebounded from a scoreless first half to finish 4-of-12 from the field, now has 1,007 points in her career and is only the fifth player in Sac State history to accomplish it in three seasons.
Johnson, however, wasn't too thrilled in the manner of which it happened.
"Honestly, it would've been better with a W," Johnson said. "I'm not too happy about it. It's cool, but I wish it would've happened if we won. I definitely would've appreciated it a lot more."
Sac State started off the game quickly, with senior guard Ashlyn Crenshaw getting an early layup to put the Hornets ahead 2-0. Idaho quickly responded with a 3-pointer from Taylor Pierce, then a layup to put the Vandals up 5-2. From there, Idaho wouldn't trail again.
Sac State kept it relatively close in the first quarter, only trailing by six (19-13) to end it. The Hornets would've had it cut to four, but a jumper by senior guard Brianna Burgos was waved off after officials saw that it left her hands after the buzzer sounded.
The second quarter was not the prettiest basketball played by either team, but Idaho did a much better job at playing it than Sac State. Idaho rode the hot hands of Mikayla Ferenz (two 3-pointers in the quarter) to a 33-21 lead to end the first half. Sac State, for the second game in a row, failed to score more than 25 points in the first half, and went 0-for-7 from the 3-point line.
"We lacked enthusiasm," Johnson said. "We weren't switching and making the right decisions, defensively. Honestly, instead of stopping them on defense, we were focused on the scoreboard. Unfortunately, our shots weren't falling and that hurt us."
Coming back from halftime, it looked like Sac State began to pick up the pace on offense. The team went 9-of-14 from the free throw line in the third quarter, accounting for over half of the 16 points they scored. Idaho was too much of a problem offensively, though, scoring 29 points and going 7-of-11 from beyond the arc.
Sac State went on a tear in the fourth quarter, led by Gretchen Harrigan, who went 3-of-4 from the free-throw line in the quarter. The team scored 21 points, but with Idaho up by as much as 28 in the quarter, Sac State couldn't make any headway.
Idaho had four players in double figures, led by Ferenz, who finished with 17. Harrigan led the way for Sac State with a career-high 23 points on 13-of-14 shooting from the free-throw line. Johnson, the team's leading scorer at 15.9 points per game, finished with nine. Overall, the team's top four scorers finished 11-of-41 (Emily Easom, the third-leading scorer, was a late scratch due to injury and Crenshaw finished with 4 points), a fact that Harkleroad was not happy about.
"If our leading scorers are gonna go 11-for-41, we're not going to win basketball games," Harkleroad said. "I'm really disappointed in the way we handled the things we could control, and I'm telling you that Idaho's the best team we've played in the Big Sky all season."
With the loss, Sac State has now lost its last three in a row against Idaho, and are now 4-8 all-time in head-to-head matchups. The only upside in the loss is that the Hornets are still tied for seventh in the conference standings, after Portland State lost to Eastern Washington 68-62 on Saturday.
Sac State will be on the road for the next two matchups, facing currently ninth-ranked Weber State (Feb. 9) and sixth-ranked Idaho State (Feb. 11), before coming home to play against last-place Montana on Feb. 16.