Hornets leave the Nest for final two regular-season games
With two games remaining in the regular season, the Sacramento State men's basketball team edges closer to the Big Sky Tournament in Reno on March 7.
Big Sky Conference competition started rough for Sac State (11-16, 8-8 Big Sky) as the team dropped its first three games — with two home losses to Northern Colorado and North Dakota and another at Portland State. The Hornets snapped their three-game losing streak with two straight wins against Northern Arizona and Southern Utah, but failed to continue the momentum.
Despite a 4-4 record in February, Sac State coach Brian Katz said he believes the team has improved in terms of consistency.
"I think that we will bounce back," Katz said. "I don't think that losing back-to-back games (on Feb. 18 and Feb. 23) was a step backwards for us in terms of going back to the drawing board."
Sac State has won four of its last six games and is averaging a total of 72.1 points per game — while only permitting 68.8 points per game — and shooting 46.7 percent from the field over the course of those six games.
This puts the Hornets at seventh place in the Big Sky standings, which means that the team is unlikely to be able to secure the fifth place spot that would have earned them a bye in the first round of the tournament.
Sac State will next play the No. 1 team in the conference — North Dakota (18-8, 13-3 Big Sky) — which is riding a five-game winning streak. The Hornets last played the Fighting Hawks in a losing effort on Dec. 31 at the Nest after Sac State rallied from a 21-point halftime deficit before falling 90-82 in overtime.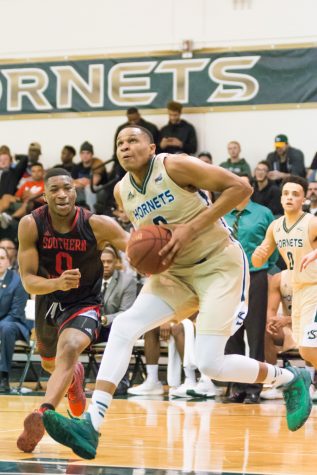 "I don't think that we followed our (scouting report) as well that game," senior forward Nick Hornsby said. "We weren't ready or as aggressive as we have become so I think that plays a huge factor into it."
The Hornets will conclude the regular season against Northern Colorado (9-17, 5-10 Big Sky) — a team that will not participate in the Big Sky Tournament due to NCAA violations. However, this will be a test for the Hornets as they look to even up the season series after losing 69-53 to Northern Colorado on Dec. 29 at the Nest.
"Last time we played (Northern Colorado), they kind of baited us into doing things that we didn't want to do," senior center Eric Stuteville said. "I think that we have gotten progressively better since then. Going into that game we have to play to our strengths and away from our weaknesses"
Stuteville is enjoying his best season of his career with a 13.3 points per game average in conference play and a shooting percentage of 63.1 from the field — the highest shooting percentage in the Big Sky.
Sac State will look to gain more momentum in its last two games after defeating Southern Utah 86-76 on Feb. 26 at the Nest. Junior forward Justin Strings expressed confidence in his team's ability to finish the season strong heading into the Big Sky Tournament.
"We're very confident in what we can do," Strings said. "We know that we can beat every team in conference as long as we stick to the game plan. We trust our coaching staff and we have to trust ourselves and continue to be aggressive."
The Hornets will travel to Grand Forks, North Dakota at 7 p.m. Thursday to play the Fighting Hawks at the Betty Engelstad Sioux Center.