Leaders in arts honored at Sac State's annual gala
Sacramento State hosted Interlude to the Season, an annual arts awards gala held by Blue Line Arts, on Wednesday night to honor individuals and organizations for their artistic contributions to the local communities.
The awards ceremony honored a total of 30 nominees who were nominated by community members in 12 different categories, such as Arts Educator of the Year, Leadership in the Arts and Next Gen Creatives.
Gale Hart, a local artist who works in mediums such as sculpture, paints and metal, was among the three nominees for Visual Artist of the Year. She credits "Missing the Mark," a sculpture depicting a deconstructed game of darts installed in the Golden 1 Center as a notable accomplishment of the year.
"I feel loved forever in this city," Hart said while accepting the award. "It's where I ended up, and where I made my living."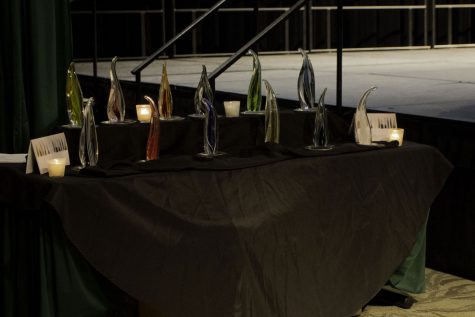 Also present at the event was Sacramento Mayor Darrell Steinberg, who highlighted his appreciation of arts in the community in his keynote speech.
Steinberg spoke about his plans to use a $500,000 proposal to improve the city's art programs that involve food, art and architecture as a way to attract more people to Sacramento.
"If we are serious about growing a private sector economy, we need to focus on culture and arts," Steinberg said. "It's not just the jobs, not just the housing that will attract people to Sacramento, it's the culture. It's the belief that this is a place where there is not only so much to do but where there is a lot of emphasis on creativity."
Shelly Willis, the former executive director of Sacramento Metropolitan Arts Commission, was the project manager responsible for the public art program that brought works like Jeff Koons' "Coloring Book" and Sac State alumnus Bryan Valenzuela's "Multitudes Coverage" to the Golden 1 Center.
Willis accepted the Muriel Johnson Award for Arts Advocacy at the gala. In her speech she echoed Steinberg's belief that art has an important place in the community.
"Art advances education, cultural equity, contributing to the economy and vitality of a place, they get people to come here and gets people to think about ideas and issues," Willis said. "It allows us to reflect on our lives and what it means to be human, what it means to be a part of a community."
Master of ceremonies Rob Stewart led an auction-styled donation by encouraging attendees to raise $10,000 to fund programs by Blue Line Arts, which include organization meetings, artists workshops and the Sacramento Region Art Fellowship.
According to William Ismael, Blue Line Arts board member and event chair, the fellowship will award an artist with funds to work on a year-long project.
Artists who are interested in this scholarship are able to apply online and a panel of judges will decide the recipient.
Ishmael was also the recipient of Artist of the Year in 2011—a recognition, he said, that has continued to inspire him to do what it takes to keep the event going for years to come.
"A lot of artists work by themselves," Ishmael said. "So this gives an opportunity to recognize people who've worked really hard and deserve recognition for it."