Gymnastics team falls to UC Davis in Causeway dual meet
The Sacramento State gymnastics team fell to UC Davis 194.925-193.050 in the Causeway dual meet at the Pavilion on Sunday.
The meet also acted as a celebration of the 40-year-old rivalry between the two gymnastics programs. Alumni from both the Sacramento State and UC Davis gymnastics teams were in attendance for the competition, stretching back to the 1970s.
Also in attendance was Sac State President Robert Nelsen, who also served as the special assistant coach for the event.
"I'd say it's friendly right now but when they get out on the mats, it becomes very competitive," said Nelsen on the rivalry between the Hornets and Aggies.
Both Sac State and UC Davis have great respect for their rivalry as expressed by the Sac State gymnasts.
"I love the Ags (and) I love Davis," Sac State junior Courtney Soliwoda said. "Davis is the most mature rivalry I've ever experienced."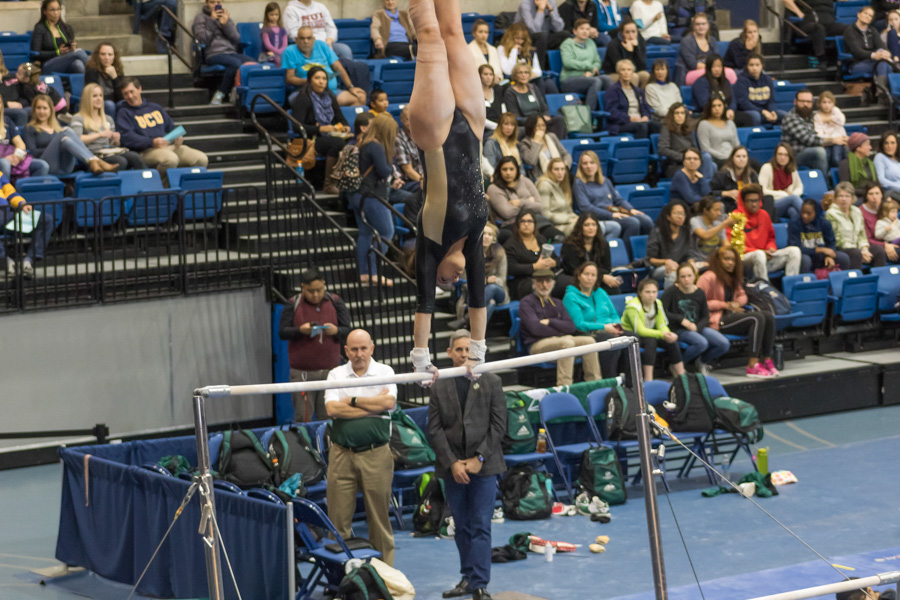 The Aggies took the lead in the first rotation, securing a 48.400 score on vault over Sac State's 48.100 on bars en route to the Hornets' (5-2) first dual meet loss of the year.
"Two things: one was we lost — didn't feel good about that," Sac State coach Randy Solorio said. "Two, we didn't have a good performance; our athletes just didn't do what they're capable of."
Junior gymnast Lauren Rice had solid routines to help the Hornets in the running, scoring a 9.775 on bars and a 9.700 on beam.
"I definitely think we had our flaws," Rice said. "But in the end it was a pretty good turnout and we got some more experience and that's all we could ask for out there."
Soliwoda would also help push the meet, scoring a 9.725 on bars and a 9.600 on beam.
"I hope we make it to regionals this year," Rice said. "We haven't made it since I've been here. I'm hoping this year we'll be good enough to make it, but we're going to have to perform better than tonight."
Though the Hornets suffered a losing effort to UC Davis, the team seemed to be undeterred.
"I'm proud of my girls, they deserve every victory that comes their way," Soliwoda said. "I want them to have more faith in themselves than I do in them."
Sac State will next meet with the University of Alaska Anchorage at the Nest on Friday at 7 p.m.
(Video by Sami Soto)