Former walk-on women's basketball player among NCAA leaders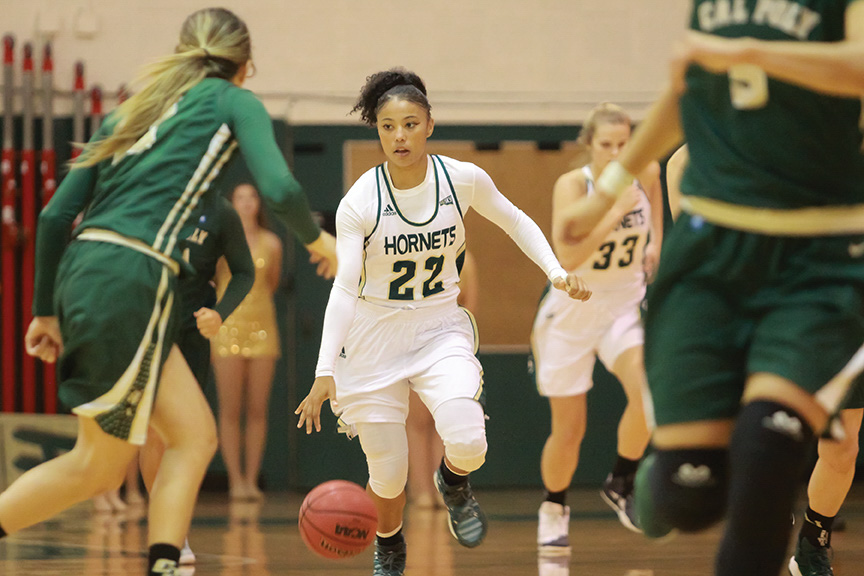 Sacramento State junior shooting guard Maranne Johnson has built her way up from a quiet freshman to a face that the rest of the NCAA may not soon forget.
Not bad considering that she wasn't a highly-ranked recruit coming into her college career.
Johnson, who is currently ranked in the top 20 in the NCAA Division I in three categories (tied fifth in 3-pointers made per game, tied 13th in 3-pointers made and tied 19th in steals per game as of press time), said that the growth of her game has just been a matter of applying herself all the time.
"Honestly, it's the transformation coming in from high school," Johnson said. "As a freshman, I understood that it was going to be more competitive. So coming in, watching Fantasia Hilliard, playing with Adella (Randle-El), it showed me that I had a lot to improve on."
The transformation that she speaks of has been noticed by many who has shared time with her on and off the court, including Sac State coach Bunky Harkleroad.
"Her improvement has been at a nice, steady rate," Harkleroad said. "Her shot and handles were good when she got here, but now she's getting better. She's also become a better teammate. Not that she was ever a bad one, but going from being a freshman who walked on the team, she has genuinely become one of the faces of Sacramento State athletics."
As a four-year letterwinner at Deer Valley High School in Antioch, she was the Bay Valley League MVP and all-East Bay selection after leading Deer Valley to a 10-0 conference record as a senior in 2013-14. However, Johnson was not necessarily a top priority for local colleges. It was an unplanned call from Harkleroad that led to Johnson becoming a Hornet.
"We had some recruits on campus and we had heard about Maranne, so we invited her to play against the recruits as basically an unofficial visit," Harkleroad recalled. "Maranne came over, and she was better than some of the recruits we had, so she stood out."
As a result of that show of faith, Johnson has rewarded the team with consistent effort and at times, star-level play. Last season, as a sophomore, Johnson ranked fourth in the Big Sky with 75 steals, the seventh-most in Sac State program history. In the Big Sky Tournament, she scored 31 points in a first-round win over Southern Utah, then scored 25 in a near upset of Eastern Washington.
This season, Johnson has taken the reigns as the leader on the court. On Nov. 29, she scored a career-high 37 points against Stanislaus State (ninth-most in a single game in program history), then set the single-game record for steals in a game on Jan. 12, when she recorded nine against Southern Utah. According to Johnson, stepping up was just something she knew she had to do for the sake of the team.
"Last year, when we lost Brianna Burgos, knowing she was number three in the nation (at time of her injury, she was third in 3 pointers made per game), I understood that I had a lot more shoes to fill," Johnson said. "I knew that once I got the ball, I had to let it fly. So every time if I catch it and I'm open and I feel like I can get the shot off, I pull it. I have to give huge thanks to our point guards for giving me the opportunity and trusting in my shots, because without them I wouldn't be anywhere near ranked."
As of press time, Johnson currently has the second most 3-pointers (189) and third-most steals (214) in program history.
Johnson's progress, according to senior forward Gretchen Harrigan, is just an indictment of the work she has put in during her time at Sac State.
"Every season you grow, and she's going into her junior season, which is a big season to have," Harrigan said. "She's picked up everything she's learned from her first two season and applying it, and that's huge. To be a player and to be able to look at your own game and see the progress, and then apply the things you learned, it's what makes good players great."
For Johnson, being a great player isn't enough. She's seen the impact that playing for Sac State has made on her life, and does her best to be a good example in all aspects of life.
"In high school, I came in with a tough past," Johnson said. "Coming in, knowing I'm going to be at a higher level, I had to pick it up because I had younger people looking up to me, as well as my team. By doing that, I try to push my teammates to be the absolute best."